Norway Days 8 & 9: The Quiet Before the Gale
818 views |
June 26th, 2019
The crew of Challenger 4 enjoy (perhaps a little too much) their last stop in Norway, before heading back out to sea to return home. There wasn't much wind on the way up and they've been hoping for some wind on the way back – be careful what you wish for at sea…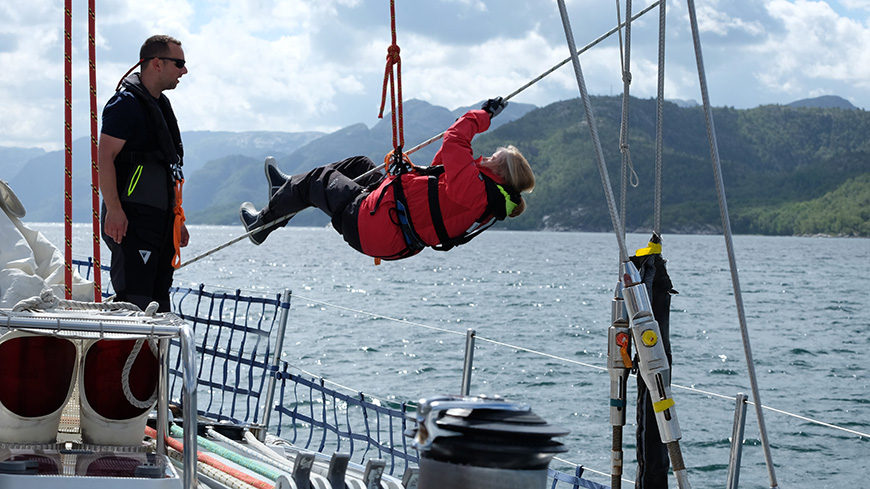 Day 8: Midnight Swim in the Fjord Anyone?
In the morning we put the pole up for us to climb and take some photos from above – some of us conquering internal fear of height demons. This was super fun and everyone ended up having a go – photos to follow.
Following the incredible scenery in the Fjords we undertook the mammoth task of mooring the Challenger for the night in a quiet little spot – enjoying the silence and spectacular views we went to undertake a 'social collaboration' exercise with some of Britain's finest army chaps on land who were there for a team building exercise – this resulted in a 4am alcohol-induced swim in a very cold Fjord (naturally none of Challenger crew were involved in any these activities).
Our quest for John (watch leader) to see any form of wildlife other than a seagull continues – following many sightings of dolphins and pilot whales along the way John seems to have missed out on all…?
We are on our way to Haugesund today for a final Norwegian visit – this is the birthplace of someone who may have been Marilyn Monroe's grandfather according to our Shipping forecast book.
Having been on the boat for a week it's incredible to see how people have gotten much more comfortable manoeuvring around the boat and adapting to the tasks and life on the Challenger.
I need to make sure I consume a Norwegian waffle before we set off tomorrow – they are delicious.
We have been promised wind which we are excited about – let's get this boat sailing!
Marlies
Day 9: Gale Inbound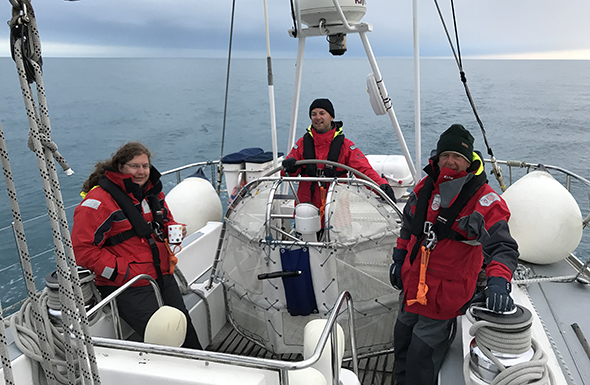 We are 36 hours into our voyage home and are gently motoring south following a shift in the weather. By midnight, perhaps sooner it will fill in and we will again be sailing.
Less than 12 hours ago we were wrestling with lively conditions. I saw 45 knot gusts and sustained wind speeds of 38 kts apparent. This is considerably more than the forecast but once we had popped in the third reef in and dropped to a stay sail she was once again only playful. The rain was rather demanding even insistent and we were proper soaked.
The crew rose determined to the task and it's fair to say are now more experienced mariners.
We are also grateful for the respite before round 2 is upon us.
We march steadily towards Holland where we plan a brief pause then homeward bound.
Challenger 4 – OUT
Posted by: First Class Sailing