Norway Days 4-6: Final Approach to Norway and the Fjords Discovery
774 views |
June 24th, 2019
After a day of rest the crew of Challenger 4 set off on a fjords discovery tour for a few days. But first, Flo considers how far they have come as they approach Stavanger in Norway.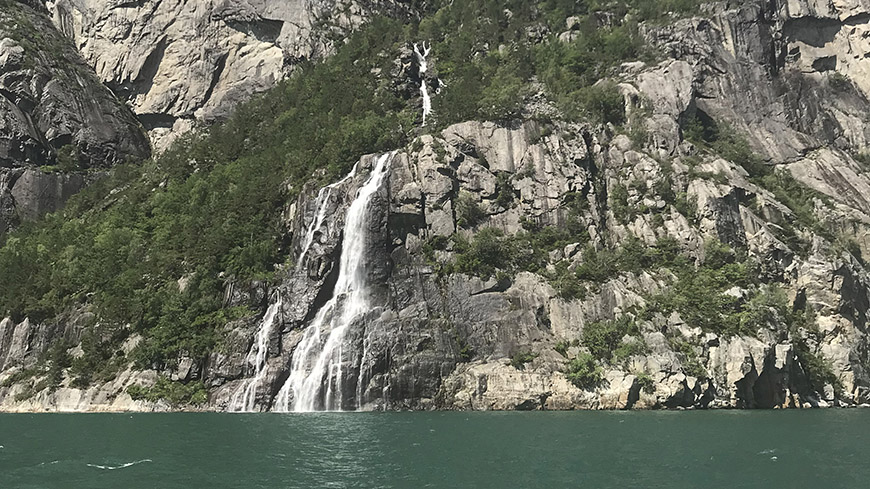 Day 4: Headed for the Fjords
Since our first blog entry the ease and familiarity of interactions on board has advanced to a degree above polite social pleasantry into something that feels more sincere and concrete. We are now bound- however loosely- by a shared history. One that has continued to include spectacular scenes of striking lilac and coral hued skies, shooting stars, and cerulean blue waters. Sights of dolphins, seals and the brief lustre of a cresting whale's back.
It has also been compromised of the troubled life and predictable death of Pedro, the castaway racing Pidgeon. Who, on landing upon our vessel, was simply defined as a bird; a bobbing safety hazard, an inconvenience of excrement and moulting feathers. Yet became in his final days, as we provided rudimentary palliative care, a more humbling reminder of the true pecking order in an unforgiving ocean. As the most incompetent crew member, I was heartened to note (with an admitted measure of naiveté) that: 'at least Pedro could navigate us landwards'.
As we approach our destination, we collectively hope to discover the very wonder that has entrenched the Fjords in folklore.
Flo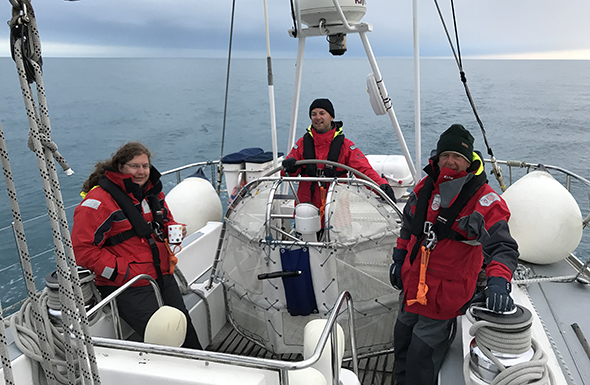 Tomorrow we head off from Stavanger to spend a few days exploring the Fjords, heading for 15NM long Lysefjord and then weaving our way through the many Islands and fjords up to Haugesund.
Day 6: Fjords Discovery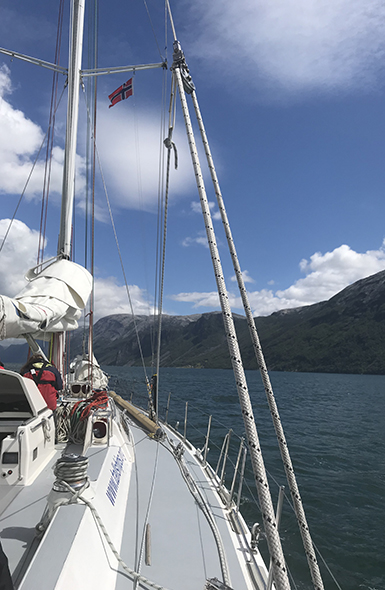 Today's end finds us in Lysefjord. This is the most striking place I have seen in my life. The walls of the Fjord raise almost 2000 feet. We watched brave BASE jumpers, 12 with bright parachutes fall to earth.
We motored and sailed 18 miles of the Fjord, its not even Norway's longest. At the end there were 4 helicopters parked in a meadow flying sight-seers in and out.
On the way up we watched a Norwegian Air force helicopter cling to the cliff face like a dragonfly. It seemed impossible how close they flew.
Waterfalls pour from the mountains and deep scars of waterfalls from winter line the edges.
It is deeply quiet, serene even. The crew spoke of how fortunate we are to see this in good weather.  We plan to do another day here in this land of the midnight sun and surely make our way south.
Challenger 4 out
Tony
Mate – SV Challenger 4
Follow our Norway sailing adventure and read more from our blog by clicking here
If you're interested in our other Norwegian sailing adventures then visit our dedicated online page at First Class Sailing
You can also check out our other sailing adventures across the Atlantic on Challenger 72's
Posted by: First Class Sailing