Crew's Eye View Of The Rolex Fastnet Race by Peter Byrne
3,570 views |
August 15th, 2019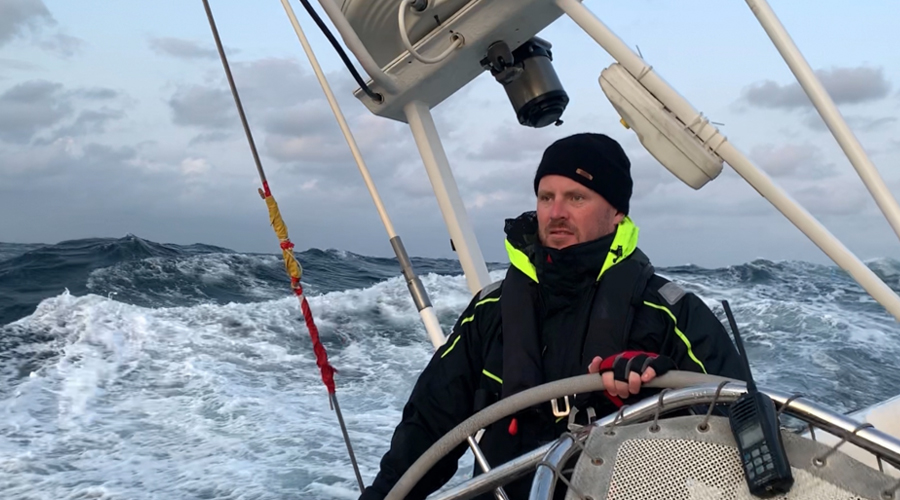 So what is it like to be in the Rolex Fastnet Race? By the end of this blog by Peter Byrne (above) you should have a good idea of what awaits and whether or not you'd like to be involved in the next race! It is an excellent read and written when grabbing moments between sailing, eating and sleeping (or not).
Sat Aug 3rd: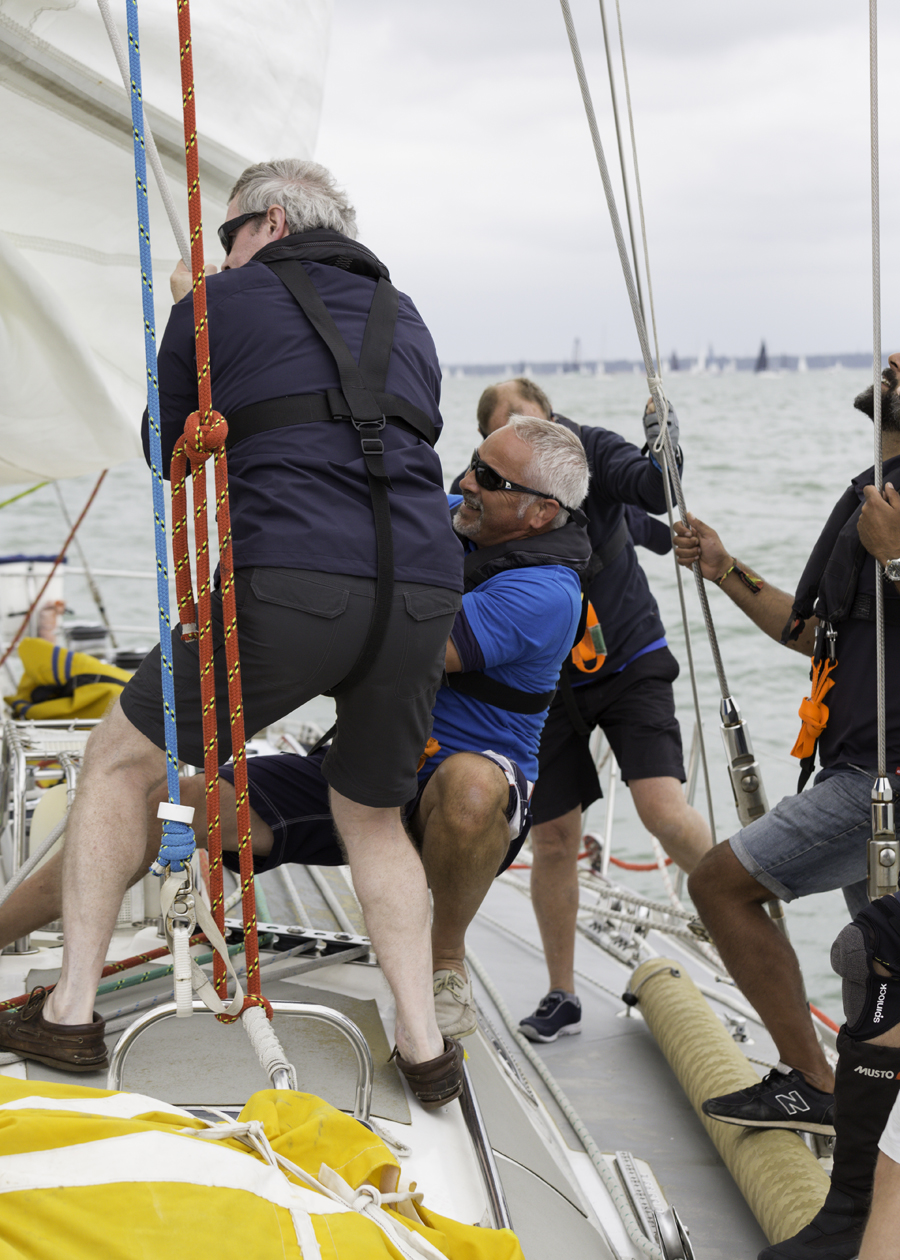 Race start 13.45. We had grey sky and light winds out the Solent and Poole Bay from the southeast just aft of the beam. Watched Rambler 88 pass with big entourage of paparazzi etc. Lots of trimming yankee, staysail and main. Observing different sail plan on Challenger 1, overtook them south of Swanage. Challenger 3 far behind.
We are keeping pace with Catzero, the prototype Challenger model despite their lighter keel. Good pace over 11kts. Had a laugh with Sadiq while adding our weight to the side rail. Ate ham and cucumber sandwich, biscuits and tea.
Sent off watch at 17.00 for two hours as we switch into the two-watch pattern before night, will eat dinner at 18.30 before going on watch at 19.00 for 4h. Tasty pork goulash.
Switched to the Genoa just before end of watch. Got soaked changing sails up on the bow, hadn't dressed appropriately! Clocked off at 11pm. Slept a little.
Sun Aug 4th: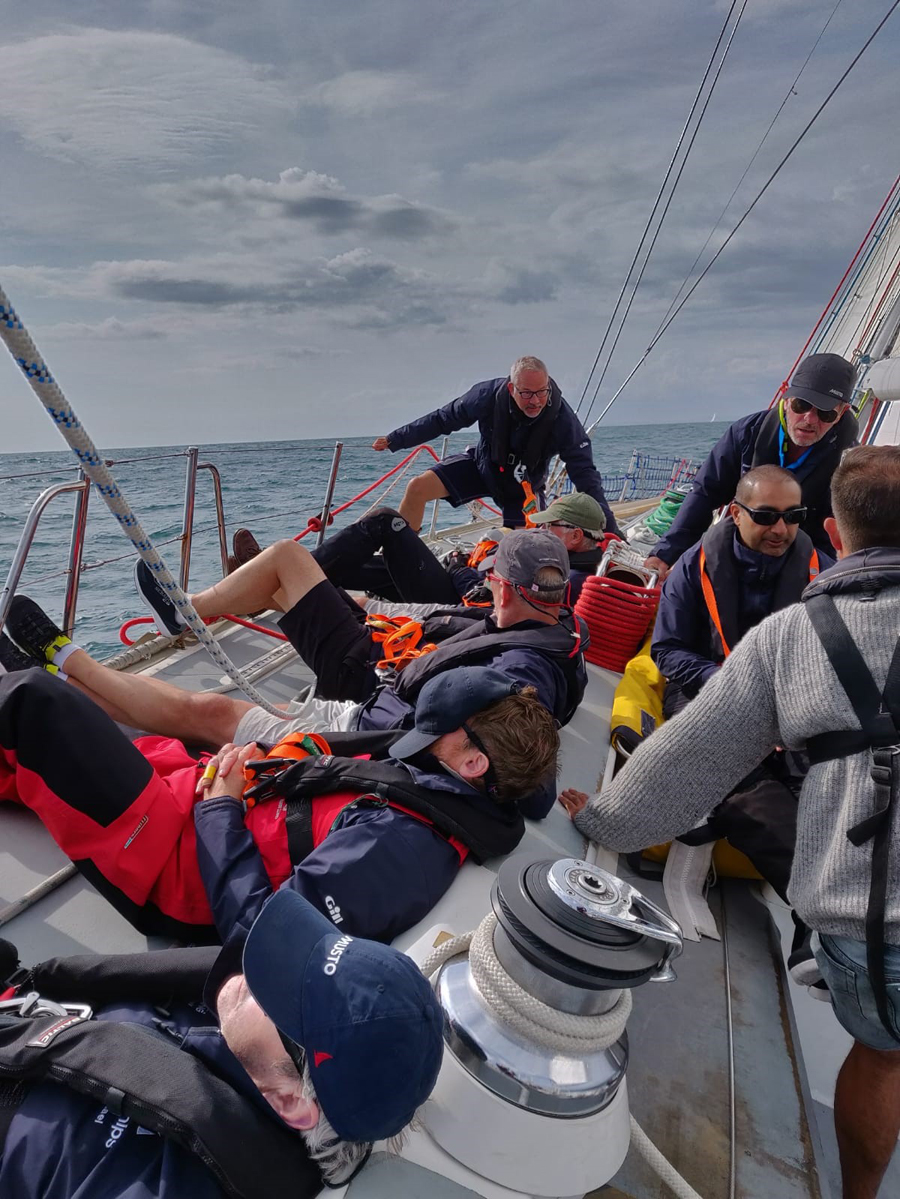 Back on watch at 3am to very light winds. Thankfully tide helping us slowly along at 2-3 knots, even went in a circle just being dragged in reverse by tide. Stunning sunrise, wind picked up for about an hour and were making about 9kts.
Off watch for 6 hours at 7am, slept a little but back up at 11am to change clothes and chill a little. Other watch made chicken goujons (strictly 5 each!). Back on watch at 1pm, wind picking up and we're making >9kts due 210 degrees before tacking at 14.30 trying to get on good course to get around Lands' End. Will maybe need to tack another couple of times if wind stays the same.
Off watch at 7pm for 4 hours. No sleep. Wind and sea state got more lively during off watch.
Back on watch at 11pm, very lively sea state and winds over 30kts. Other watch had dropped the staysail to de-power and put two reefs in the main, still doing >10knots. Some of the crew have been unwell with seasickness, understandable.
On port tack trying to scrape round TSS east of Scilly Isles we decided to put in a tack. Something was wrong with the yankee, it wasn't sheeting in on port side. I decided to go forward to check if it was snagged on something, very bouncy foredeck in pitch black.
Being careful not to get hit by the clew of the flapping sail in the dark. Discovered port yankee sheet wedged in windlass so managed to free that after a few tugs. Tom joined me on foredeck. Then discovered strop for staysail halyard had been made around port yankee sheet after staysail was tied down and this caused the problem.
By now tangle in sheets was too severe, we had to put on the foredeck light, drop the yankee and re-run the sheets. Wind died down so we hoisted staysail again and shook out a reef by end of watch. Lots of traffic coming out of TSS, got a little too close to one large ship (could smell the exhaust as it passed).
When things calmed down a little we could appreciate the beautiful bioluminescence in the water, a phenomenon that can't be caught by our cameras, it feels like a privilege to witness it. Off watch at 3am for 4 hours
Monday Aug 5th.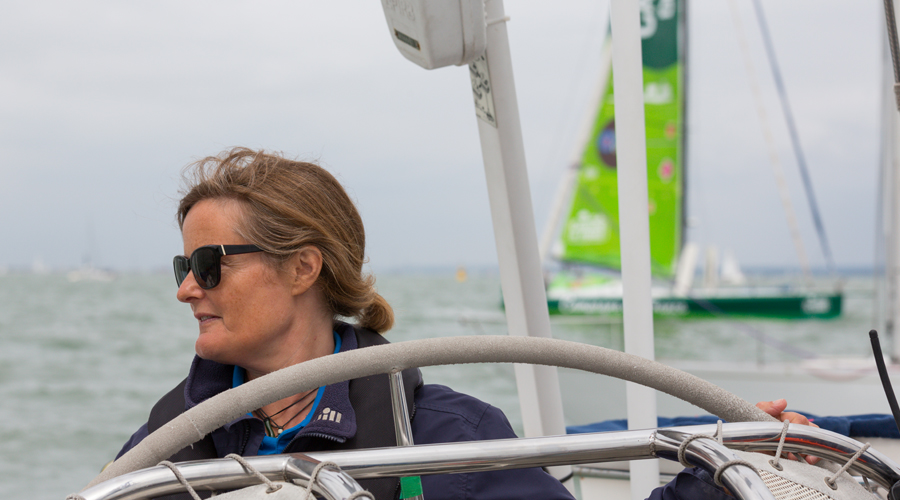 Back on watch at 7am after very little sleep, beginning to feel the effects of lack of sleep now. A welcome bacon sandwich for breakfast and we're close hauled en-route to the rock. Looks like it'll be a nice day, full main up with yankee 2, regular waves of a couple meters. Visited by some dolphins in the morning. Off watch at 1pm.
Back on at 7pm, making a direct line to Fastnet TSS, looks like we'll be rounding the rock by midnight. Got phone reception as we approached Ireland and made facetime call to mum and dad. Still very lively sea conditions. Lots of other mast-lights coming into view as the fleet converges on the rock in the dark, we're making good speed.
Off watch at 11pm but stayed up to witness the official rounding at about 23.52 when the light on the rock was flashing due south of us then quickly went to bed as we're back on at 3am.
Tuesday August 6:

Back on at 3am, there are now two reefs in the main and staysail is dropped, making good speed >10kts. Very large waves clear from how they block out our reference points, other vessels on the horizon. Challenging helming conditions in the dark. At sunrise we shake out a reef and hoist the staysail again as conditions improve, we hit over 14kts at one point! Lots of dolphins in this couple of hours as we make great progress towards the south of the Scilly Isles.
Clock off at 7am for 6 hours off watch. Put on some fresh clothes and have pesto pasta for lunch (with seconds!). Sunny day, put back on lighter crew jacket, more yachts around us now making the run home.
Back on at 1pm for 6h watch. Switched out yankee 2 for yankee 1. Dropped the stay, poled out yankee one, then cross-rigged the stay for more power. Off watch at 7pm and ate some quorn curry – delicious.
Back on at 11pm for 4 hours still heading dead downwind to east. Need to prep for gybing pole-to-pole in the dark. Dropped staysail, rigged pole and gybed yankee. Need to do some yankee gybing to avoid fishing boat. Leave watch heading straight to Plymouth.
Weds August 7th: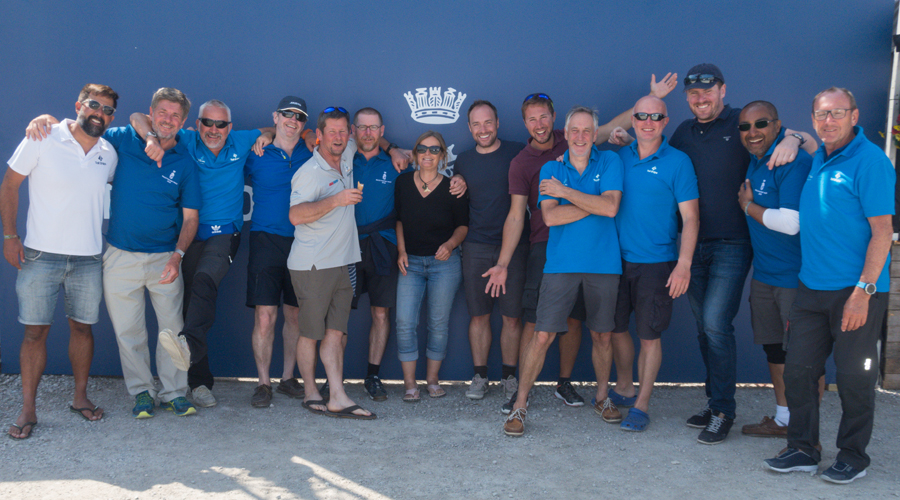 Woken up ahead of finish line as requested, seeing land up-close in daylight quite a new experience,  both watches ride out on deck to cross the finish line in record time for the Tall Ships' Challengers – 3d 16h and 40 minutes! Time to wrap up the boat and join the finishers for the party in the Crew Village!
Racing With First Class Sailing
Who knows where your RYA courses with First Class Sailing will take you, it could be chartering yachts on the Mediterranean or it could be racing in a FCS crew? If you'd like to try your hand at the Rolex Fastnet Race or a similar adventure, then FCS have three options for you.
If you have any questions just talk to your friendly crew in the office 0203 006 3717.
Round the Island Race – Every year in June, over 16,000 sailors, from Olympic gold medallists and world champions to amateur crews and those trying their hand at racing for the first time, compete in this unique yacht race around the Isle of Wight.
The largest yacht race in the world, the Round the Island Race is a magnificent spectacle and one that you will never forget! You can be part of the action. No experience is necessary as full training will be given.
ARC Rally – Held at the end of the year, the Atlantic Rally for Cruisers (ARC) was first conceived in 1986. It started out as a safe way to cross the Atlantic in the company of other yachts. Since then it has grown, turned into more of a race, become more and more competitive and attracted bigger and faster yachts. Now over 200 yachts take part in it each year.
The Rolex Fastnet – Held every alternate August, to compete in this once in a lifetime challenge you will need the ability to be versatile, dedicated, committed and a team player. You will also be enthusiastic about sailing and racing a yacht.
You will need to have done some sailing but not necessarily have racing experience. You'll also need to have a reasonable level of fitness as racing can be physically demanding. In return, completing this challenge will give you with a huge sense of achievement – and hopefully a great result!
Posted by: First Class Sailing