A Whale Of A Time With The Arctic Swim Club
1,675 views |
July 25th, 2019
Cook and chief blogger Lucy shares with us the latest adventures of luxury yacht Santosa as she cruises in the Lofoten and Vesterålen Archipelagos.
14th July New crew, new guests!
After a busy couple of days getting her ready, Santosa and her crew welcomed aboard our 3 charming guests, Matteo from Rome and Gareth and Marina from Yorkshire. It was a chilly, overcast day and Sophie made a delicious Barabrith cake for their arrival which made the boat smell delicious. After introductions, safety briefing and boat tour we all met up again later over a roast chicken supper to discuss the Cruise itinerary and guest expectations with Steve the Captain. Also on board, Christian the First Mate from Poland and Lucy the cook.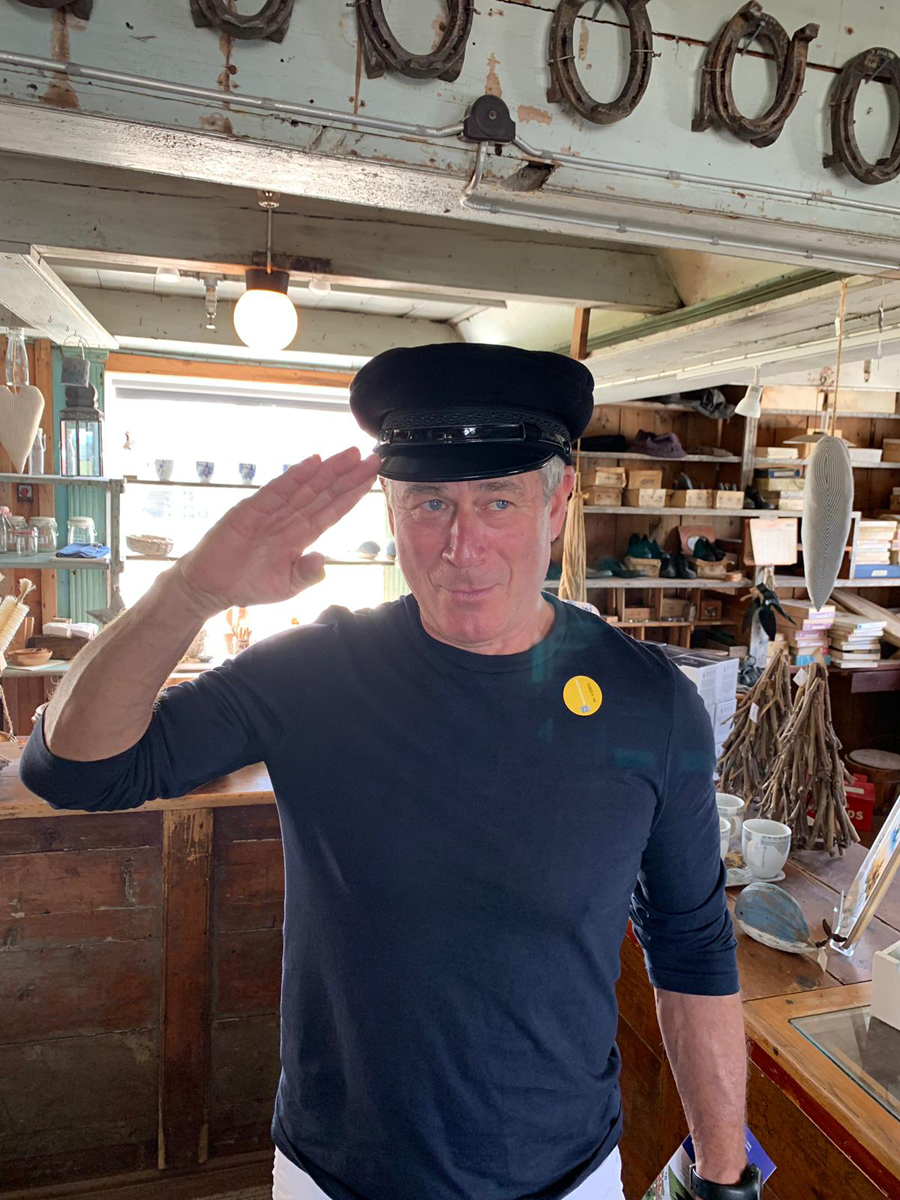 15th July – A 'Whale of a Time'.
After breakfast on a grey, wet morning in Bodø we slipped lines and set off in very flat water bound for Reine some 55nm across the Vestfjorden.
One of the crew spotted a solitary dolphin and within 2 hours we were sailing amongst an entire pod of Pilot Whales, at least 20 of them if not more. The Hydrophone was deployed and we listened to the sound of these incredible mammals from inside the boat so as not to distract them. It was an amazing experience and everyone was moved by the encounter.
Afterwards Sophie and Lucy provided fresh baked bread and delicious butternut squash soup for lunch  to keep everyone going until arrival in Reine, around 6 in the evening and to glorious sunshine.
15th to 16th July – No rain in Reine
We awoke to a beautiful, clear and sunny day in Reine, a stunning fishing village 67° North of the Equator, inhabitants just 314. We spent 2 nights here so everyone could explore the village and surrounding area. Some went hiking to the lake and some on the dinghy to have a look at the dramatic coastline.
A picnic lunch was provided for the guests and then we roasted a huge haddock caught by Steve the captain. One of many we continued to land during the trip. After    our wonderful supper we all walked to the village bar which was buzzing at 10:30 at night and of course bright daylight outside.
It takes a while to get used to the novelty of no darkness but the evening light is very special and the mountains look spectacular as they change colour in the evening sun.
July 17 Haddock and Ballstad
We left Reine after breakfast in beautiful sunshine and had enough wind to get all the sails out. We were heading towards Straumøya, a secluded anchorage to the north,  in the hope of spending a night there but it was full so we pushed on and ended up in Ballstad.  We caught 2 haddock on the way which made a tasty Norwegian fish soup for supper.
July 18 Boat Barbecue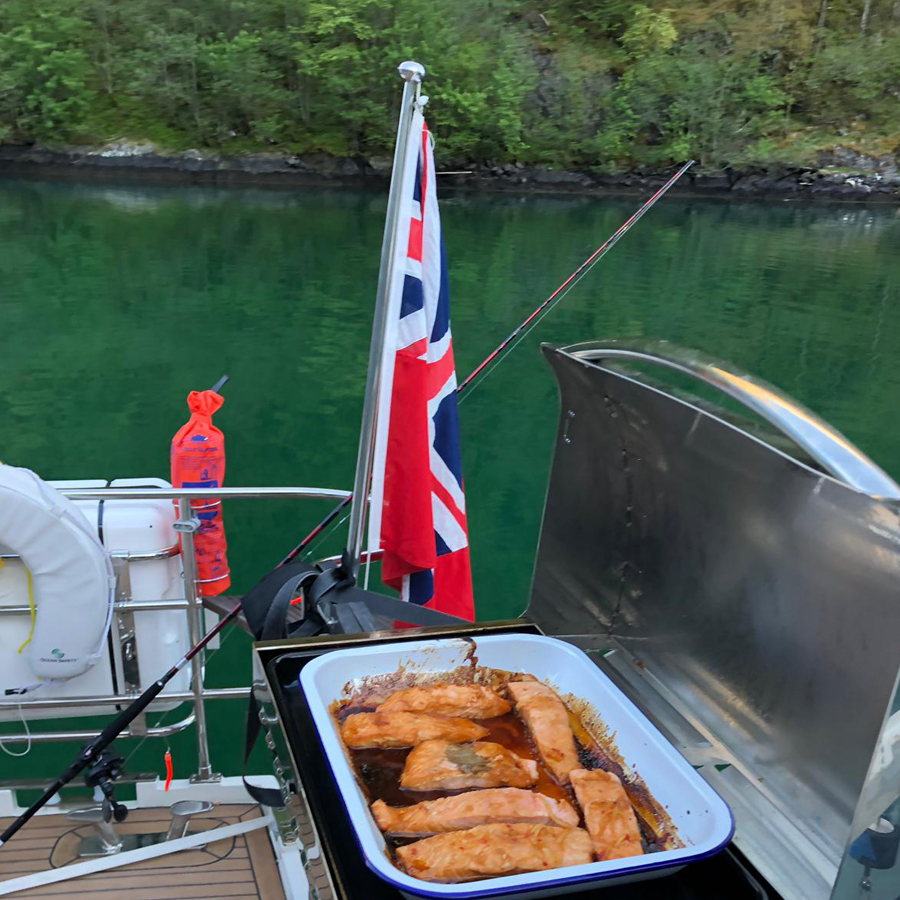 Although slightly industrial, Ballstad has its charms if you venture into the village (3km walk from the marina) or up into the mountains with spectacular views over the sea. We had our hottest day yet and planned a boat BBQ for our evening stopover in Aesøya. Sophie made incredible meringues with fresh cream, strawberries and raspberries.
July 19 Arctic Swim Club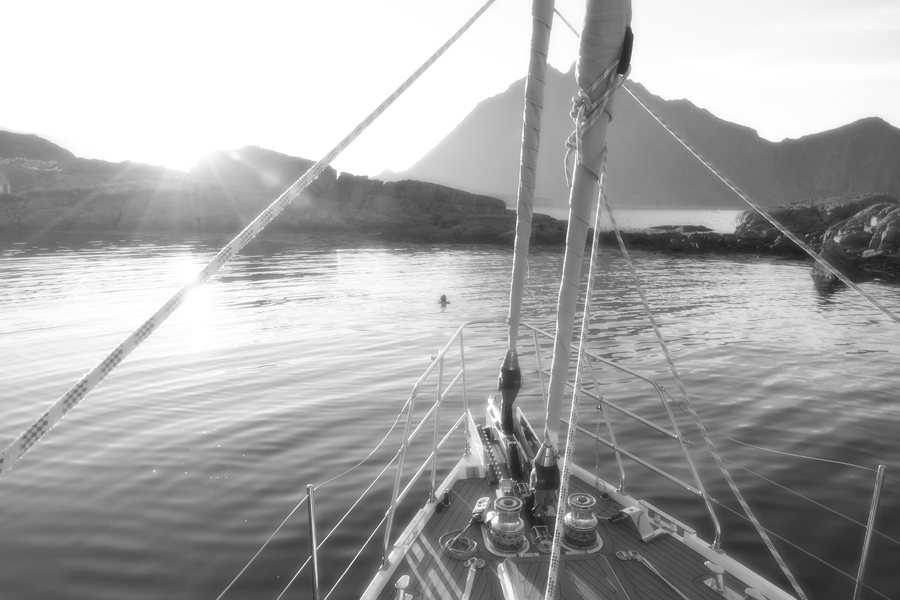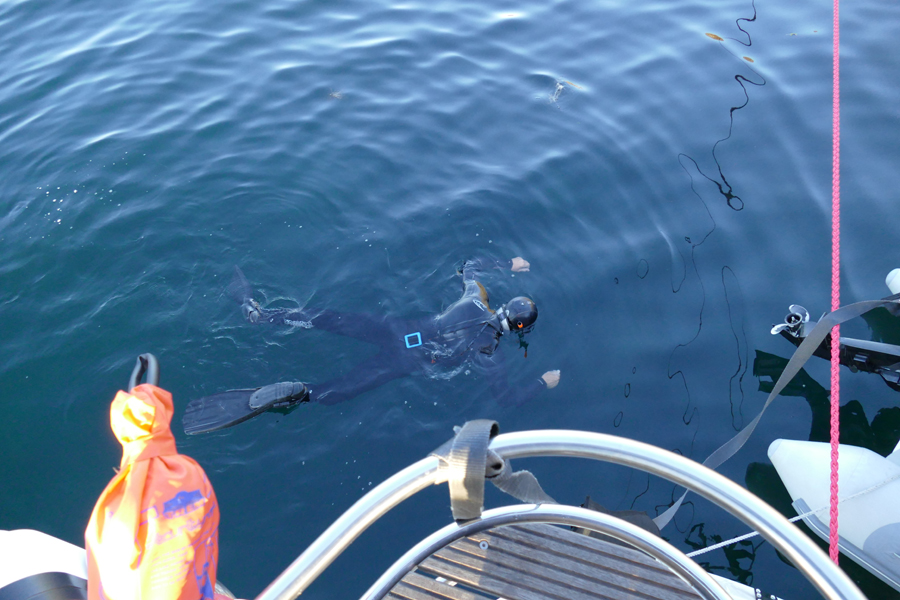 Mooring up in Aesoya is quite a complex affair with 4 lines on 2 rocks and 2 anchors. Good practice though for guests onboard. Christian took guests ashore to the deserted village huts and the little beach and again more photo opportunities to be found higher up the cliffs. Sophie was the first crew member in to the chilly Arctic waters the next morning for an early swim. Very refreshing!
The weather was incredible again but no wind to be had. After waiting for the tide to rise to allow us out of Aesøya we motored out and set off for Henningsvær. We "hove to"'on the way there for a lunch of Greek Salad and Tortilla. With the surrounding terrain, hot sunshine and cloudless blue sky we could have been anywhere in the Med.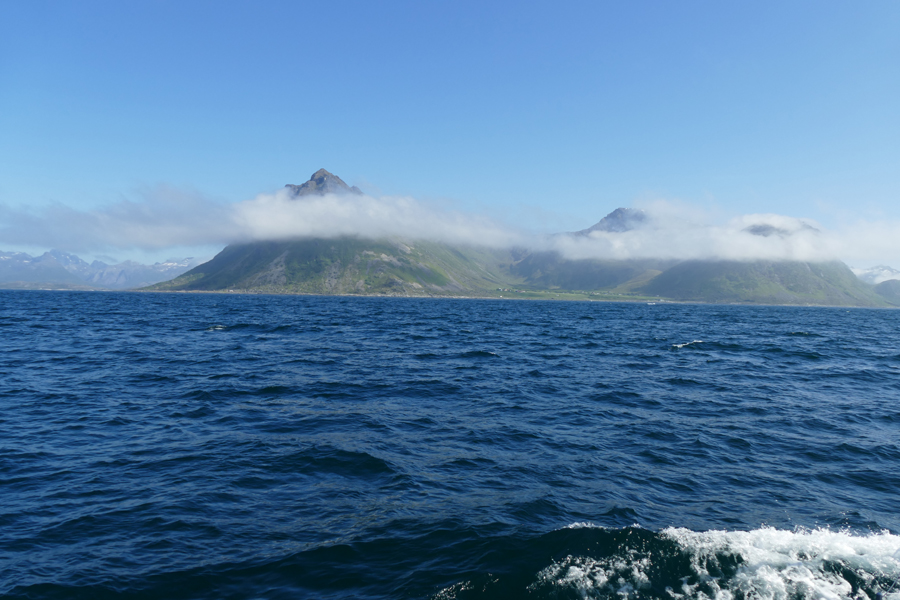 July 20 Fish and Chips and Unpronounceable Names
We spent the night in Henningsvaer, a very jolly town with lots of pubs, cafes and restaurants. Three of the crew had fish and chips in a restaurant called Fiskekrogan which was excellent and usually has to be booked in advance but we were in luck. In a busy waterside bar we watched the midnight sun go down and pop back up again! Still a novelty for us all.
After beautiful weather the last 3 days  we awoke to a chilly fog but it cleared later in the morning and we had a spectacular journey over to Trollsfjord. Lots of motor boat tours speeding past us to see the majestic mountains and waterfalls surrounding us as we gently motored in.
Three hours on from Trollsfjord we moored for the night in an incredible spot called Kvannkjospollen where we saw brown, black and white tailed  Sea Eagles. Now renamed Sea Eagle Bay as none of us could pronounce or remember the name! The water was so still it was like being moored on a lake. Our resident Italian guest, Matteo treated us all to a wonderful Ragu Bianco pasta dish which was absolutely delicious and he even provided an eclectic playlist of Italian songs.
In the morning we added 3 more members to the Arctic Swim Club!
July 21 Over to Nordland – (a bit early/late for the pub)
The weather was very humid and still as we left the anchorage around lunchtime and motored over to Nordskot on the other side (Nordland). We arrived in Nordskot at 7:30 pm having caught two more haddock which provided us with a fresh paella supper. A very friendly village with pub but it only opens on a Friday. We arrived on Sunday, a bit early/late! Very good shop, charming owner, lovely walking to be had all around with springlike flowers everywhere
July 22nd Picturesque Kjerringjøy
Departed Nordskot for Kjerringjøy Wind enough today for full sail so went back north slightly to do just that.
Turned around after a couple of hours and headed for Kjerringjøy where 3 large cod were caught in a matter of minutes. Fresh fish for dinner again.
July 23 Return to Bodø already?
Another beautiful day and none of us can believe we are in the Arctic Circle! in our swimwear! Kjerringjøy is a picturesque spot with a fascinating museum and complete preserved village where Herring traders once lived and worked. Great spot to provision the boat plus good showers, toilets and hotel. Headed back to Bodø for last supper of two of Sophie's fabulous pizzas,  a movie in the saloon and an early night for guest early departures to the airport in the morning.
It's been a wonderful 10 days with delightful people. Lots of laughter and beautiful scenery all the way.
Do you want to join Santosa?
Santosa will soon be heading south and west.  She will leave the Lofoten Island area on 8th August and head down through the Fjords and then over to the Shetland Islands, before heading south to Invernss via the Orkneys, then through the Caledonian Canal out on the the West Coast of Scotland up to the Isle of Skye, then down to Oban.
Berths are available on 4 different legs of this trip and more details can be found here: Sail Santosa
Posted by: First Class Sailing