Why get qualified? An RYA Yachtmaster Instructor Explains Why You Should
5,042 views |
June 29th, 2018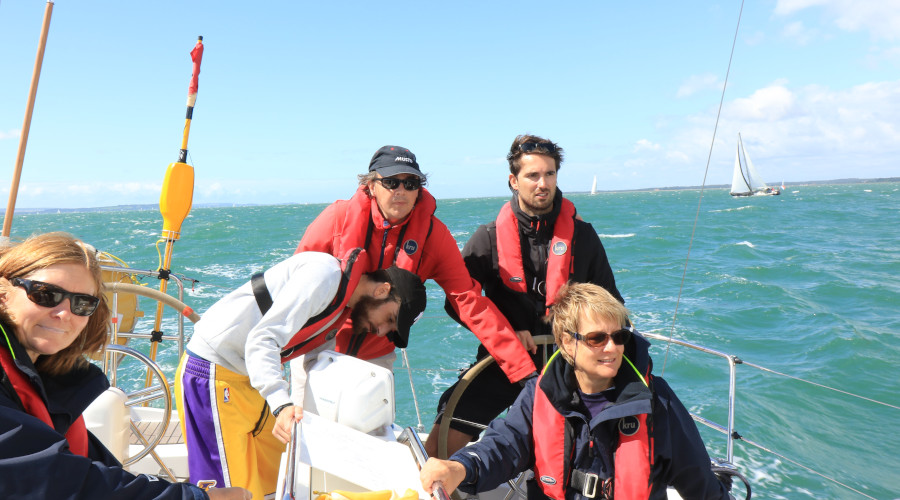 A typical class on a school boat takes in a diverse range of ages, backgrounds and aspirations.
First published in Sailing Today, Clive Loughlin looks at why RYA qualifications are worth more than the paper they are printed on. As published in Sailing Today – August 2018 (pdf version)
5 + 40 + 5 = Certificate
Five days spent on an RYA Competent Crew course, followed by at least 40 hours of sustained effort on shorebased theory, and then another 5 days on a Day Skipper practical, should see most people walking away with an RYA Day Skipper certificate.
It is then largely a formality to obtain an ICC (International Certificate of Competence), and these two combined or individually are usually sufficient to allow chartering a yacht in the Med and many other international destinations.
For many this is as far as they want to go, and having acquired the means to this end why should anyone bother paying good money and using up valuable holiday time to attain higher qualifications?
Why Bother With The RYA?
The Royal Yachting Association (RYA) was founded in 1953 in response to the highly variable training that was on offer from private individuals. By providing a structure for training in a variety of water-based activities, combined with some excellent publications, the RYA makes it relatively easy to obtain first-class instruction and experience, and its qualifications are recognised throughout the world.
Of course it is quite possible to become a very good sailor and to skipper a yacht successfully without any qualifications at all – plenty of notable sailors have proved that point.
Similarly rocks, shallows, pontoons and mega yachts care not a jot how many certificates you can wave at them.
Living The Dream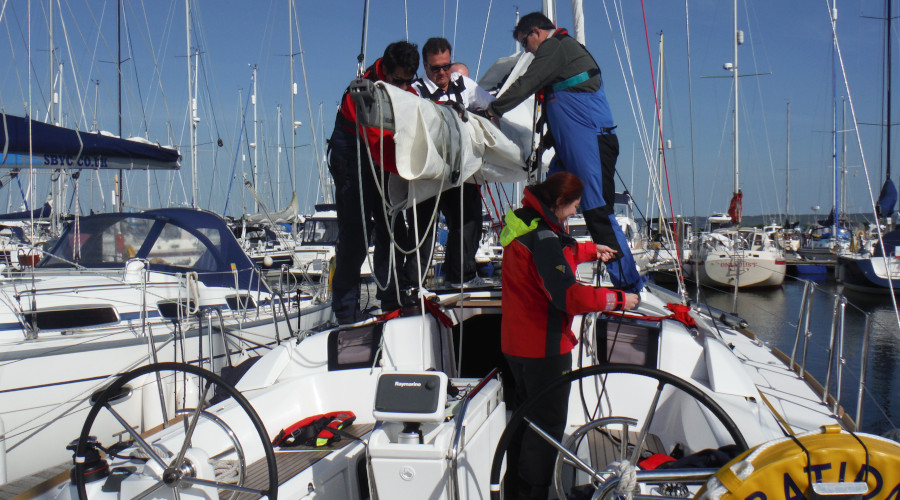 Preparing to go sailing for the day. RYA courses establish a strong routine making it easy to learn
Chartering a yacht can make a truly wonderful holiday for friends and family alike. In the glossy charter magazines the sun always shines, the waters are crystal clear, and relaxing lazy afternoons are spent sailing in a gentle warm breeze, or swimming off the boat in a secluded anchorage.
Life can be like this, but its rich tapestry also includes scary blasts of katabatic wind that push the boat over to jaunty angles, fouling someone else's anchor, and arriving in harbour to find the only space available requires shoe-horning your way in between earlier arrivals.
All this happens while previously deserted cockpits become crowded with spectators offering conflicting 'helpful' suggestions and scorn and derision in equal measure.
Accepting The Challenge
Not all will agree with me, but I think that one of the great appeals of sailing is that it continually presents new challenges. Learning how to handle these is how we build up experience, and as we gain more competence so our enjoyment is further reinforced.
Things can and do go wrong when you are sailing, and even a qualified instructor will mess things up occasionally. What really matters is how you approach the problem and this only comes with experience and training.
Skippering
A very important part of learning to be a skipper is learning how to handle the crew, and this is very much part of the Day Skipper and higher qualifications.
The crew may well be very inexperienced and it may even be their first time on a yacht. It is therefore most important that the skipper is able to explain what is going on and what will happen in advance – 'when we change direction the boat will tip over'.
It can be quite frightening for novice crew when things go wrong, and if they can sense that the skipper is not in control then it can be really scary and this is when accidents are most likely to happen.
Scared crew don't go sailing again, but happy crew will always come back for more. There is no sadder a spectacle than a would–be skipper who's crew have mutinied and no longer wish to go sailing with them.
Good skippers make full use of their crew and make sure they know what to do. Bad skippers try to do everything themselves and shout a lot.
So – to return to this articles theme of 'Why get qualified?', my answer is that it helps make sailing less scary and in so doing makes it more fun for everyone on board.
Working Up The Ranks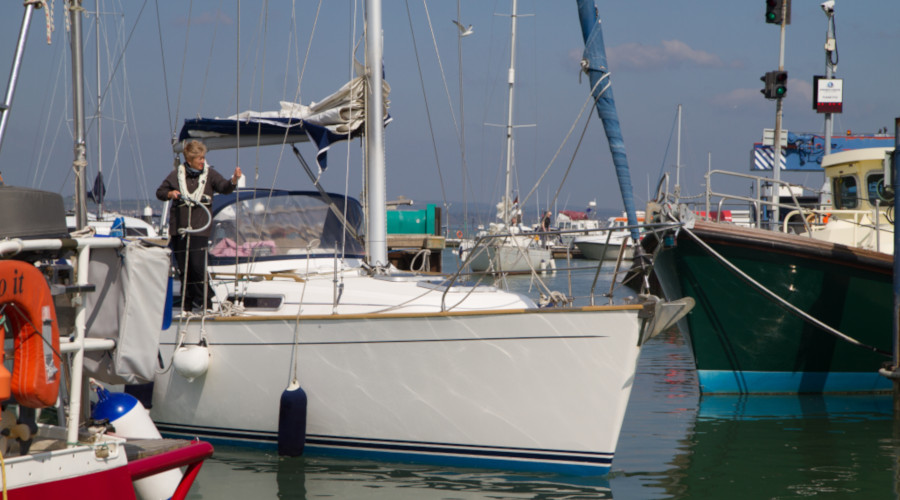 Although RYA courses are about learning – often in tight corners – yet there is plenty of time to enjoy yourself.
My sailing used to be limited to a week's or fortnight's charter every year, and I found that I had forgotten just about everything I had ever previously learned by the start of the next charter, and then was just about getting the hang of things again when it was time to fly home.
My solution was to book a 5-day course with a sailing school a month or so before I was due to go on a charter holiday. This not only gave me an extra holiday but also meant that I was far more confident to skipper the charter yacht.
I actually did my Yachtmaster Prep course five times. Not I hasten to add because I kept failing, as I was fortunate enough to pass first time, but because it was such super fun.
Cheap Holiday
Although RYA courses are about learning – often in tight corners – yet there is plenty of time to enjoy yourself.
One of the really great things about doing a sailing course is that not only do you get 5 days sailing for less than the cost of a weekend's charter, but you also get the benefit of personalised tuition and loads of hands-on experience.
You also get the chance to practice a lot of the manoeuvres that you hope you will never need, such as MOB recovery; as well as the more challenging activities like entering an unlit anchorage, or navigating a river at night.
Many of these are activities that you simply would not have the time or inclination to do if on holiday with family or friends.
These are all great fun but probably best done, at least the first few times, with an instructor on board who has done them many times before. And you never know when you may need these skills for real and be very glad of them. The ability to sail onto a mooring buoy will be worth its weight in gold dubloons if ever your engine conks out with a rope around the prop.
Coastal Skipper
The Day Skipper course covers a very wide variety of seamanship training so that the candidates achieve a good basic standard of boat handling expertise under sail and power, as well as a pretty good working knowledge of navigation.
The emphasis for Day Skipper is on making short passages in familiar waters by day.
The Coastal Skipper course places emphasis on longer passages, and includes quite a bit of night sailing. This requires a different mind-set to the short hops of a Day Skipper course.
Coastal Passages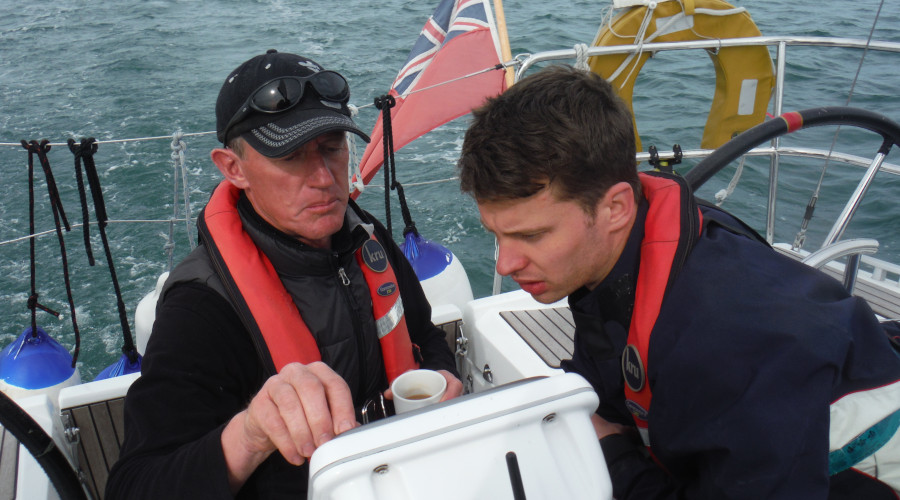 Chart plotter work has become part of the RYA syllabus
I am currently planning a 5-day Coastal Skipper course with four crew doing Coastal Skipper and one Comp Crew.
I am hoping we can go from Southampton to Dartmouth and back (about 240nm) taking in a variety of Lyme Bay, Jurassic Coast and Solent attractions in the form of rivers, harbours, marinas and anchorages. This is probably aiming to cover more miles than a typical course, but with four Coastals I want to be sure to give each a good chance to be skipper for an extended passage, and the Comp Crew will also get a great variety of experience.
Yachtmaster
The RYA Yachtmaster Coastal and Yachtmaster Offshore exams are like the Day Skipper on steroids. Whereas the Coastal Skipper requires much the same level of skills as Day Skipper, but with more endurance thrown in, the Yachtmaster exams represent a significant step up in terms of required knowledge and boat handling skills.
The Exam!
The Yachtmaster Offshore qualification is often regarded as the gold-standard for seamanship, and you will need to demonstrate that you have logged over 50 days and 2,500 miles, including at least 5 passages over 60 miles, with two being overnight and two while acting as skipper. Cruises on passenger liners do not count!
Although you do not need to have passed any previous RYA courses you can expect to be examined on any part of the RYA syllabus except RYA Yachtmaster Ocean, and you will need to have obtained certificates for First Aid and VHF radio.
Yachtmaster Coastal candidates have lesser requirements for logged passages and are only examined on the syllabus up to Coastal Skipper standard.
The exam takes place on board and lasts either 6-10 hours per candidate for Yachtmaster Coastal or 8-12 hours for Yachtmaster Offshore. The exam comprises a combination of practical exercises and also tests your theoretical and navigational knowledge and expertise.
Yachtmaster Prep
For many, taking their Yachtmaster Coastal or Offshore exam is a rather daunting prospect and most will choose to go on a Yachtmaster Prep course immediately before the exam itself.
The idea of the Yachtmaster Prep course is not for you to learn something new, but to practice what you already know.
You will be quizzed on theory and collision regulations and given the chance to practice the trickier manoeuvres, such as picking up a mooring under sail and MOB recovery. The Yachtmaster is primarily a sailing exam and so you will be expected to demonstrate high levels of boat handing under all points of sail.
Be sure to use your crew and delegate tasks clearly. This is what being a good skipper is all about and is a very important part of the exam.
Clive Loughlin is an RYA Yachtmaster Instructor and regular Sailing Today contributor. Clive teaches for First Class Sailing in the Solent area.
Discover more about the RYA here: www.rya.org.uk
Posted by: First Class Sailing