Day 12: "One Squall After Another"
1,413 views |
December 7th, 2018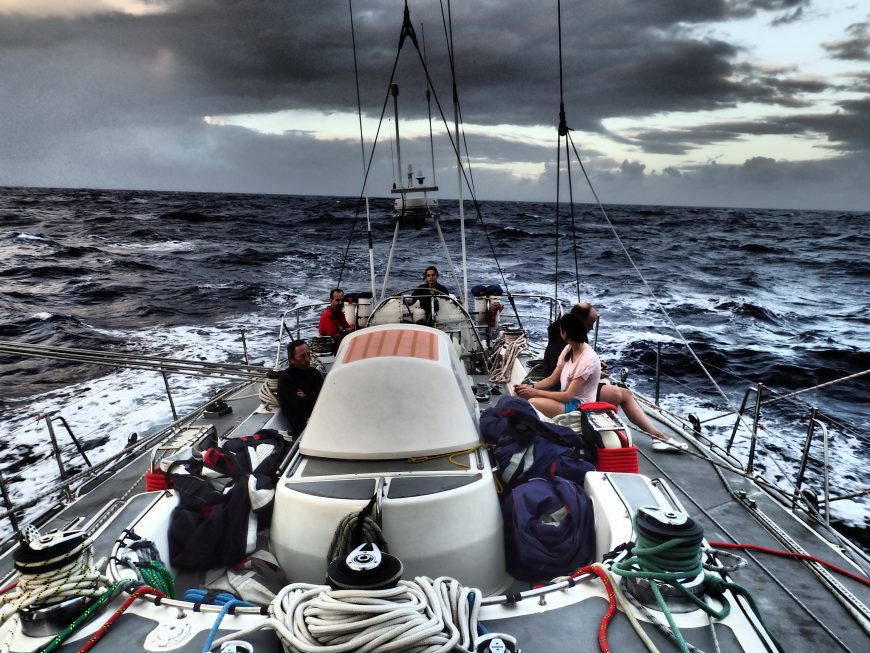 After a squall blows through, Skipper Ricky and Mate Kirstie have their work cut out for them trying to keep Challenger 4 going in a straight line as the squalls blow through and try to take her offline. The crew have to pull together and it's all hands on deck helping out. Tiring work, but great fun!
Friday 7th
Well, what can we say about the last 24 hours? It is fair to say they have thoroughly tested the crew's strength, determination and character and all have passed with flying colours and no major mishaps.
Let's start with the wildlife first, more dolphins to see doing their normal bow dancing. These are such wonderful creatures and to see them in the wild is a great treat.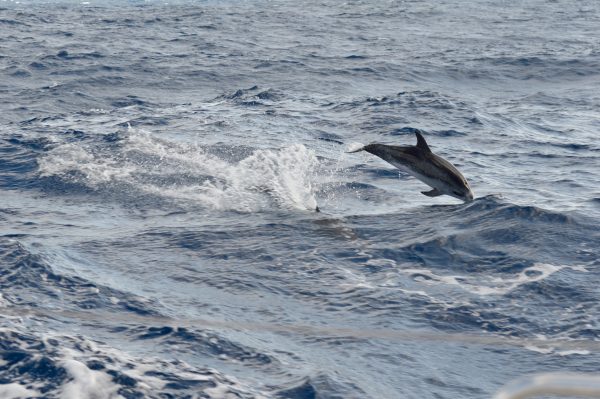 The Race Is On!
Then there is the ever-closer race against Challenger 3. Whilst there have been periods when they have been reducing the lead we had achieved, the crew of Challenger 4 are determined to hold on to the winning line, which should be some time on Monday. To this end, all crew are making that special effort to maximise their contribution to this dynamic team and to complete manoeuvres with maximum efficiency.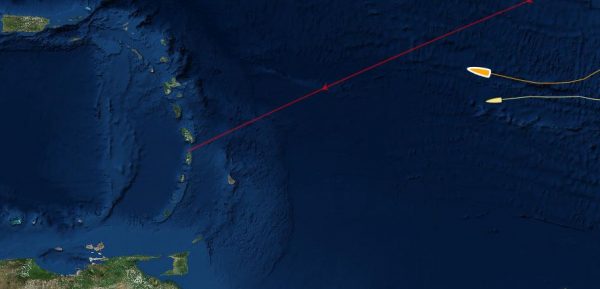 And it is fair to say that yesterday the skipper tried everything to eke out that extra knot from the wind that we had. This involved one watch completing evolution after evolution during a 3 hour spell, taking everyone close to exhaustion. And to cap it all we flew the spinnaker for a few hours before dropping it just before dusk, before the squalls made a reappearance. A manoeuvre that requires everyone on board to participate, whether bringing down safely this giant of a sail, or wooling it and packing it away ready for the next hoist. I can honestly say I've never been so exhausted after a six-hour watch, nor so immensely proud of my fellow crew members.
 Bit Of A Squall Here And There
And to cap it all the wind has increased and really tested the helming skills of the crew. Our vastly experienced skipper and mate, Ricky and Kirstie, ensured the crew were safe throughout the night, spending several hours either on or at the side of the helm, battling the steady force 6 winds, which were gusting to gale force 8, as one squall after another came through. It has been an exhilarating 24 hours and the current sea state displays the results from a windy 24 hours in the Atlantic.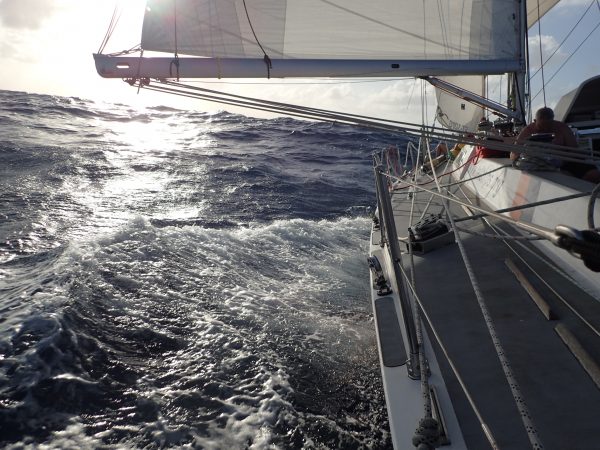 Less than 600 miles to go. Looking forward to those rums
Bruce and Mikko
Mate Kirstie's Log
Date : 7 Dec 2018 Friday
Time : 12:00 GMT
Position : 16 42.0 n  51 30.5 w
Position :680 miles NNE of the Port of Trinidad
Destination : St Lucia (Rodney Bay)
ETA : Dec 10 (GPS), Dec 12 (Ricky) Dec 11 (Kirstie)
DTF : 585   , Trip1 :2370
24 Hour Run :  209, 24 Hour Speed: 8.7
COG 279, SOG 9.9
TWD 90, TWS 26
Fuel : 3 full, 1 in use
Water : 3 full, 1 in use and filling – Watermaker on – 21.34L/hr,
Gas : 2 full, 1 in use, 2 Empty
Notes and comments :
KR – Not much sleep last night with gusts of 37 knots rolling the boat but pretty good fun on the helm.  Ricky helmed most of his watch with 2 competent crew members helming under close supervision and then stood by at the chart table for the first part of my watch.  I helmed my watch and then as the wind mostly died down to 20, occ 25 knots the crew all helmed.  Stepped in a couple of times but all good.  Eventually ran the poled out yankee through to the 'normal' side.
Some chafe on red and white sheet/aft guy that will need whipping.  Deck walk this am shows all to be in good order.
Book Your Own Atlantic Adventure
If this blog has inspired you to have a voyage across one of the world's oceans then start speaking to the team in the office. They can assess which Atlantic voyage will be good for you and, if you need it, what course would take you to that level.
Fill in the form below and they will call you back.
Posted by: First Class Sailing