So what is it like to sail across the Bay of Biscay or even the Atlantic?
5,702 views |
September 5th, 2017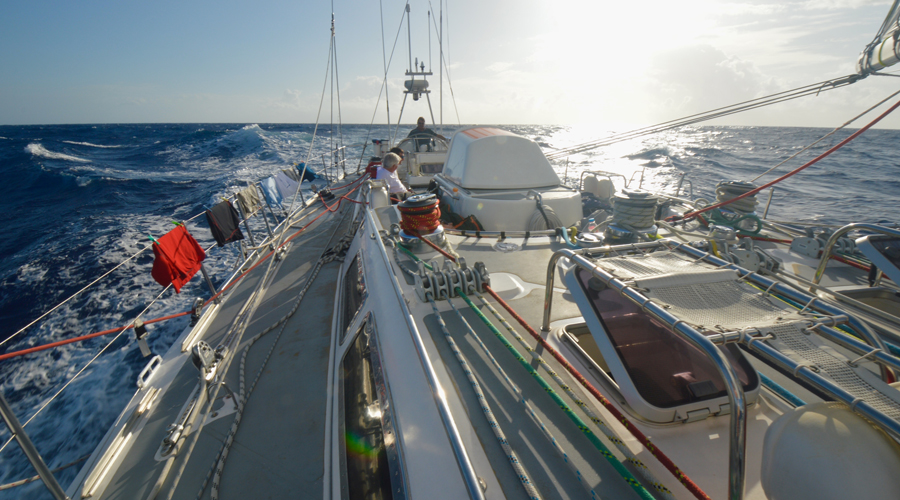 Here's a blog from our principal Charlie Tulloch who shares his first time experience sailing the Bay of Biscay.
This summer I crossed the Bay of Biscay. On a Brittany Ferry. It was a very calm crossing and very flat. Had I been on a yacht there was just enough wind to sail by. We saw numerous dolphins and a fin whale – the second largest whale after the blue whale. We reached Bilbao in a day.
Of the 8 or 9 times I have sailed across the Bay of Biscay I'd say the first was by the far the worst and we weren't really crossing, rather we were leaving the Bay having picked up the boat, a 50ft Jeanneau from Saint Gilles Croix de Vie, just north of Les Sables d'Olonne.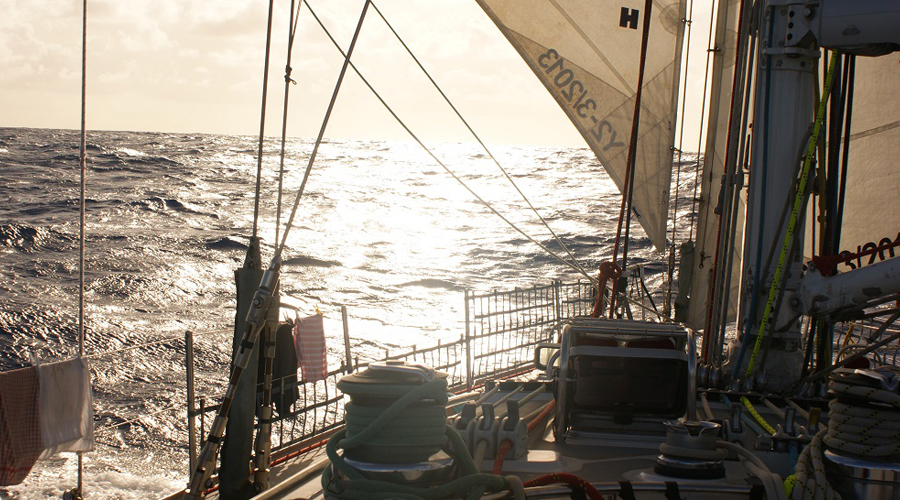 Baptism of Fire in the Bay of Biscay
Bound for St Lucia in the Caribbean where we were to deliver this brand new yacht; it was December and the morning we left we awoke to was it snow or just thick frost on the deck, I don't recall, but it was cold.
We cast off for the Canaries knowing things were going to get warmer, but also knowing the forecast wasn't great. Force 5 to 6, gusting more, from the west, later. It was my first long passage and those first few days were a baptism of fire. What had I signed up for!?
I wasn't sick or fearful – that came in the Force 10 we had when well off the Portuguese Coast, but it was far from pleasant. My cabin was on the starboard side in the bow. The boat had a very flat hull up forward and the slamming was relentless and very loud. At least twice I was bounced over my lee cloth onto the cabin sole.
Instead of pressing on for the Canary Islands we stopped at the North Western end of Spain in La Corunna where we drank the local fortified wine and sampled as many of the delicious seafood plates as our empty stomachs could take and then slept. A couple of days later we set off again.
We had much more heavy weather to come. I was terrified and recall being extremely tense whilst clinging onto the wheel and wearing ski goggles to combat the spray. We rerouted to Madeira. We drank fortified wine once we got there too.
So Much To Learn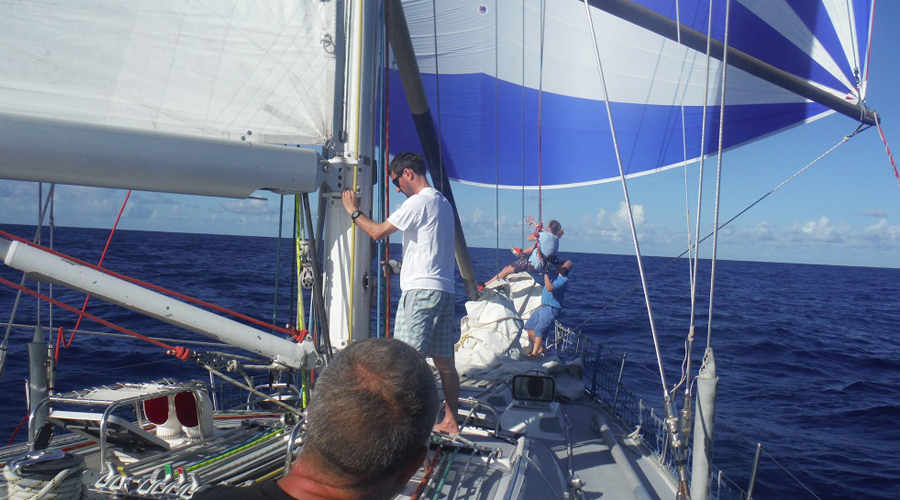 I learnt a lot from the skipper and mate. Having done many more thousands of miles than I they knew exactly what to do and felt very comfortable with the situation.
At the time it was pretty grim for me but it was exactly the sort of experience I was after. I had (and still have!) so much to learn and the experience of heavy weather as crew with a solid skipper and mate accelerated things for me.
Plain Sailing At Last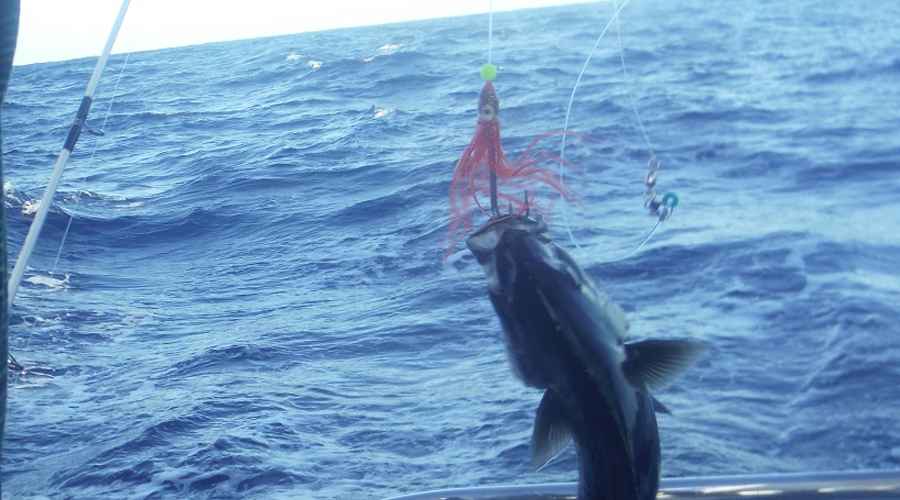 After that it was plain sailing all the way with the 18 days or so from the Canaries to St Lucia being made up of blissful down wind sailing with a rolling drawn out Atlantic swell; a fishing line out the back that hooked on Tuna, Wahoo and Dorado; a backgammon competition; books; amazing sunsets. The heavy weather at the start bought us all closer together but soon became a distant memory.
That experience gave me a lot of confidence. Confidence in what a boat can take and some good knowledge about how to handle weather like we experienced.
20/25 years on forecasting has improved massively. I like to think that we would not have got caught out in the force 10 we experienced had we had access to the forecasting available today.
Just do it! Or as we like to say 'Take the Helm'
To anyone even vaguely entertaining the idea of doing our trip down to the Canaries from Portsmouth this October/November or sailing from Antigua to Portsmouth in January I would say do it!
Ocean Sailing is one of the most satisfying, rewarding, relaxing!, exhilarating things you can do. With the added bonus that you will get some excellent experience building ocean miles, and experience a variety of conditions.
The Current Yacht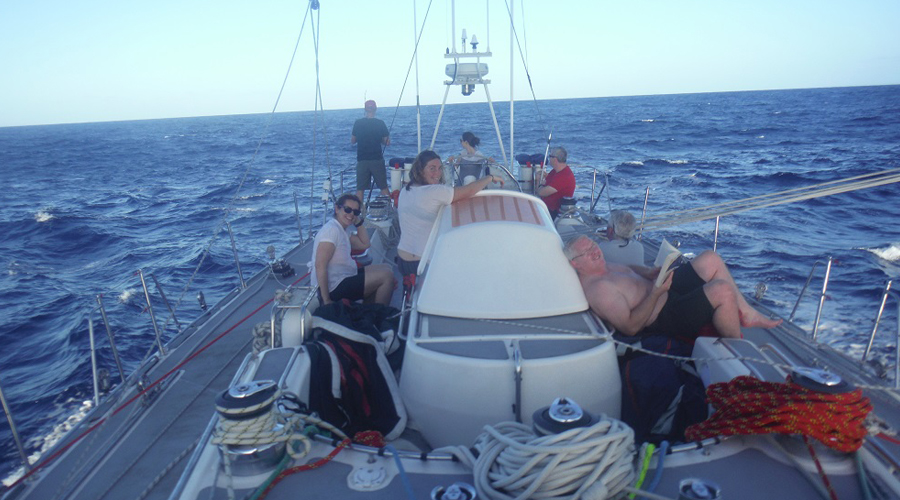 For this voyage the yacht is not a Jeanneau 50. She's a steel 72ft, Challenger Yacht, built to sail around the world. She has a spacious galley and saloon area, comfy individual bunks for everyone on board, 2 heads, a water make and 2 showers.
She is 'coded' to Maritime and Coastguard Agency Category 0 requirements, meaning that in terms of safety kit, her structure and the qualifications of the skipper and mate she is qualified to sail anywhere in the world.
How to Book
The ARC sail from Canaries to St Lucia is now full.
Berths from Portsmouth to Canaries and from Antigua to Portsmouth are available. Click on the link for more details, call us on 0203 006 3717 or fill out the form below.
Posted by: First Class Sailing