Santosa's Cook's Blog: Prawns, Fresh Off The Boat… And Other Norwegian Delights
310 views |
June 2nd, 2019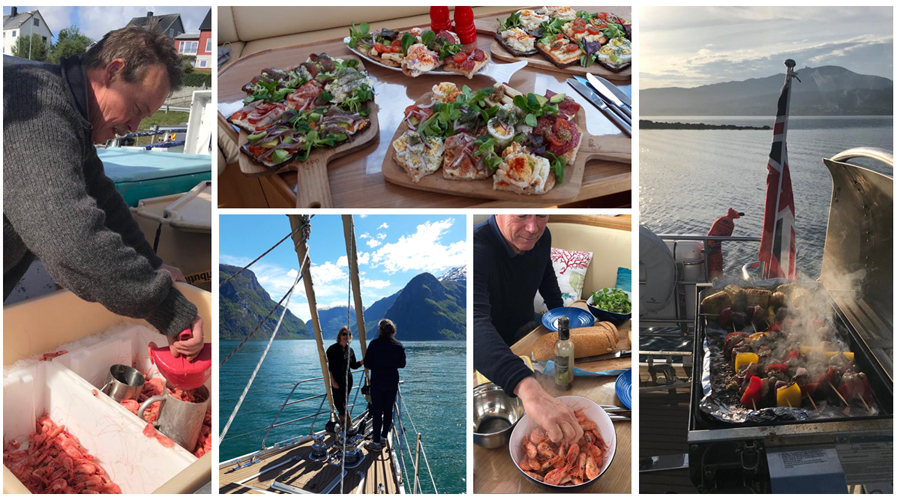 What are the benefits of being Guest Crew on the luxury ship Santosa? Apart from the sights, the double en-suite cabin and the wonderful fresh air, there is the food. And as much as sailors all love mucking in and delighting each other with their specialities, having someone cook for you is one of life's pleasures.
Below is the latest blog from Sue, Sanotosa's cook, who reports on some of the delights Norwegian cuisine has to offer.
Cook's blog 31/05/19
Time: 1340 local time
Position: 64 51′.6N 011 13′.7 E at Rørvik
Weather: Sunny with a fresh breeze and active clouds, approx 9 degrees – a good sailing day, if you've got your thermals on.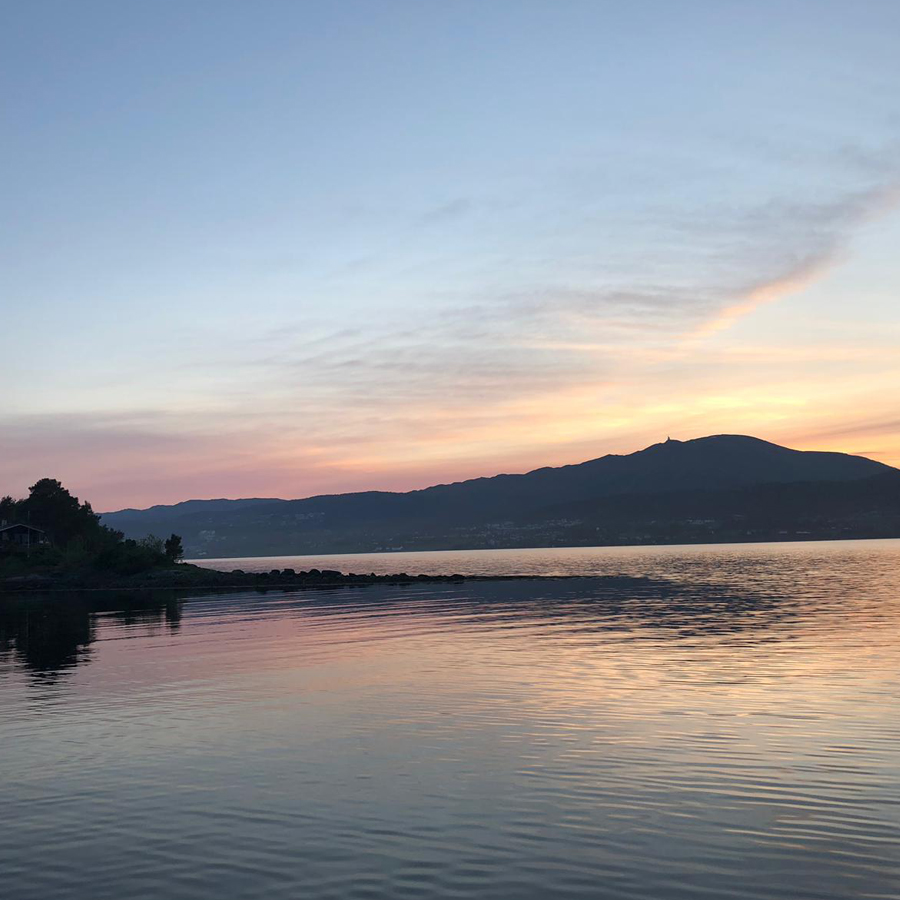 Yesterday we covered approximately 80nm in grey, cloudy conditions to make some distance north from the picturesque and friendly island harbour of Stokksund to Rørvik, a fairly substantial town with good facilities – before heading further north this afternoon to explore remote anchorages and legendary troll mountains later today.
After dinner in Stokksund we ventured ashore for refreshment at the local hotel. Despite being not yet officially open for the season and preparing for a big event to see off a local charity rower bound for our destination, Lofoten, the following day; the family welcomed us in and as we drank our beers they finished prepping the kitchen, had an impromptu dance and then settled down for a family game of ludo.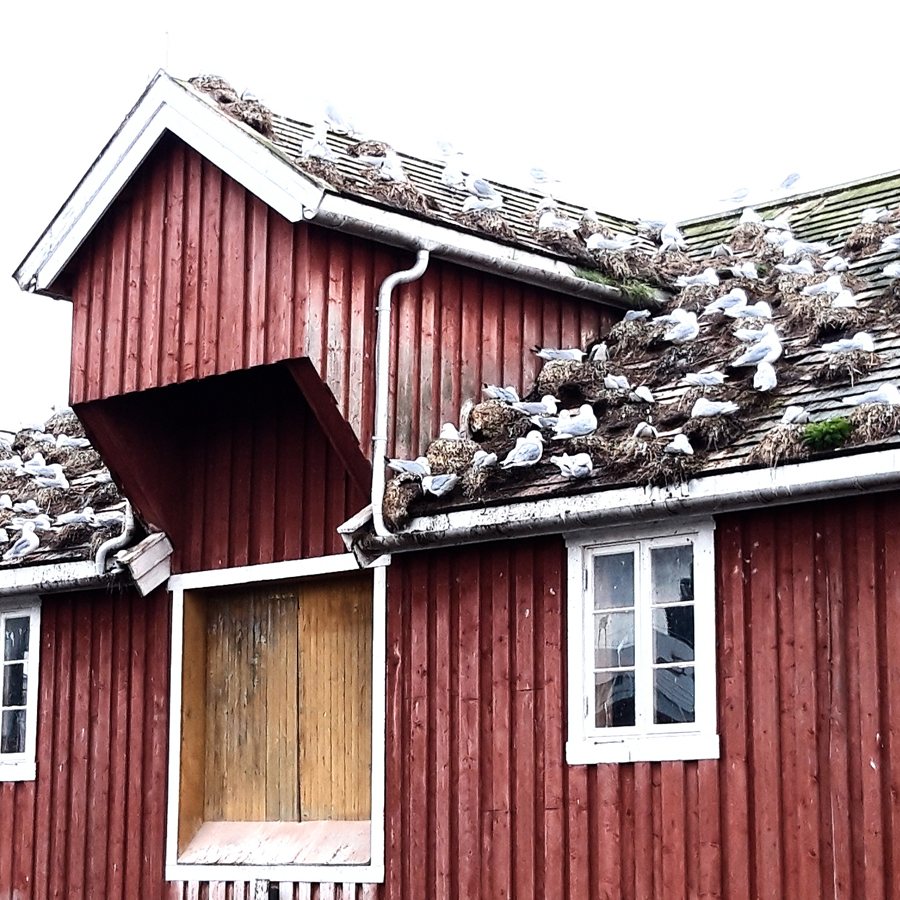 Norwegian society seems very wholesome and family orientated and everyone we have met has been super friendly, helpful and welcoming.
On our arrival in Rørvik, two teenage girls came down to the pontoon to catch our lines, bid us welcome and tell us about the facilities the marina had to offer.
An evening walk showed us a huge seagull nesting site among the old sheds and warehouses lining the quay. This morning, as we took advantage of the great marina facilities, a fishing boat came in ahead of us and immediately a queue formed to buy the catch.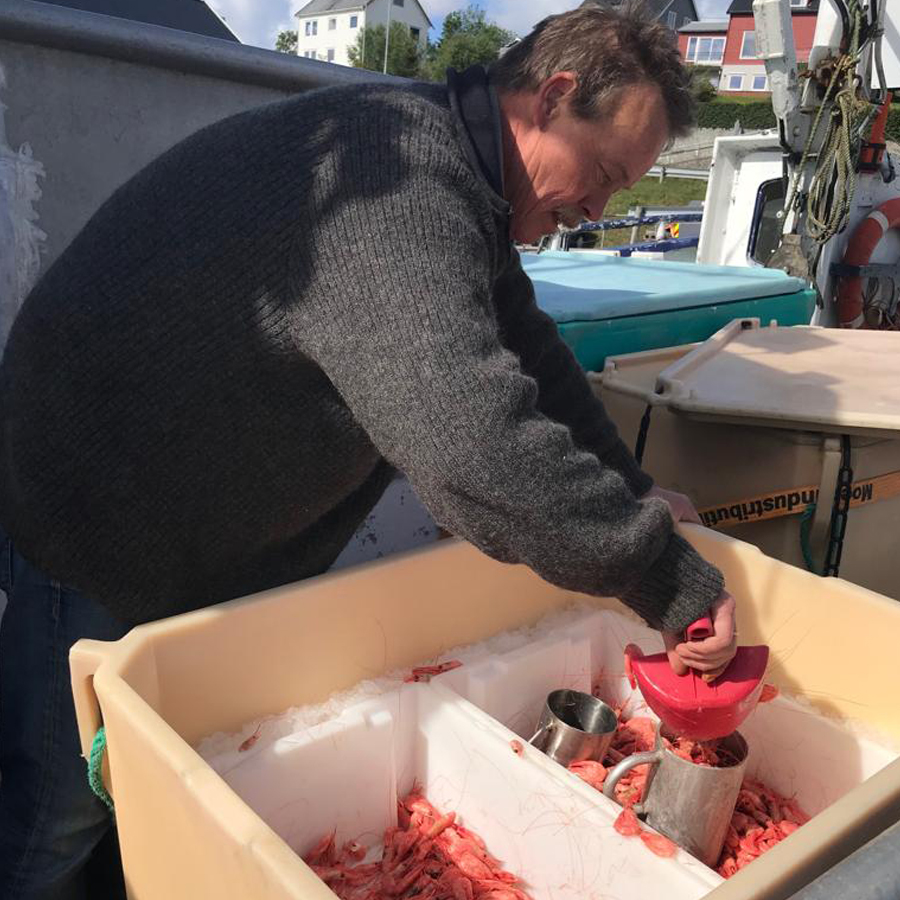 NOK100 (about £9) for a litre of freshly caught & cooked prawns made a substantial and delicious lunch for three with some freshly baked Norwegian bread and intensely flavoured Norwegian tomatoes (grown in polytunnels further south). By 1400, the catch was sold and we prepared for departure.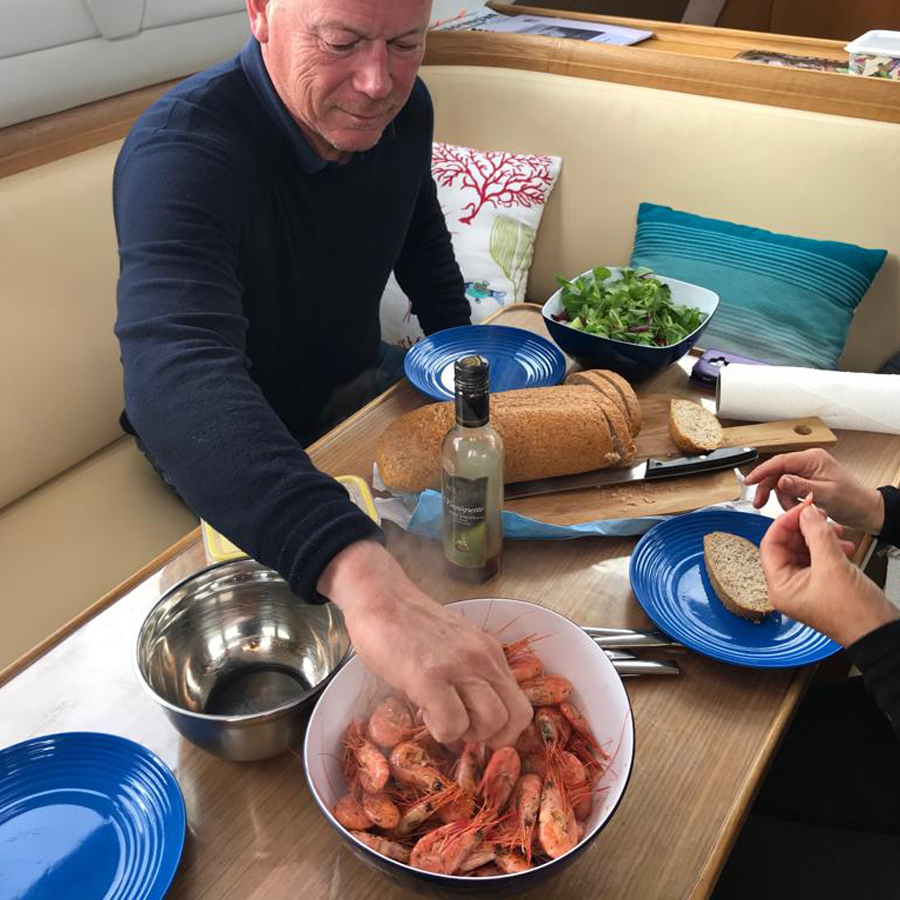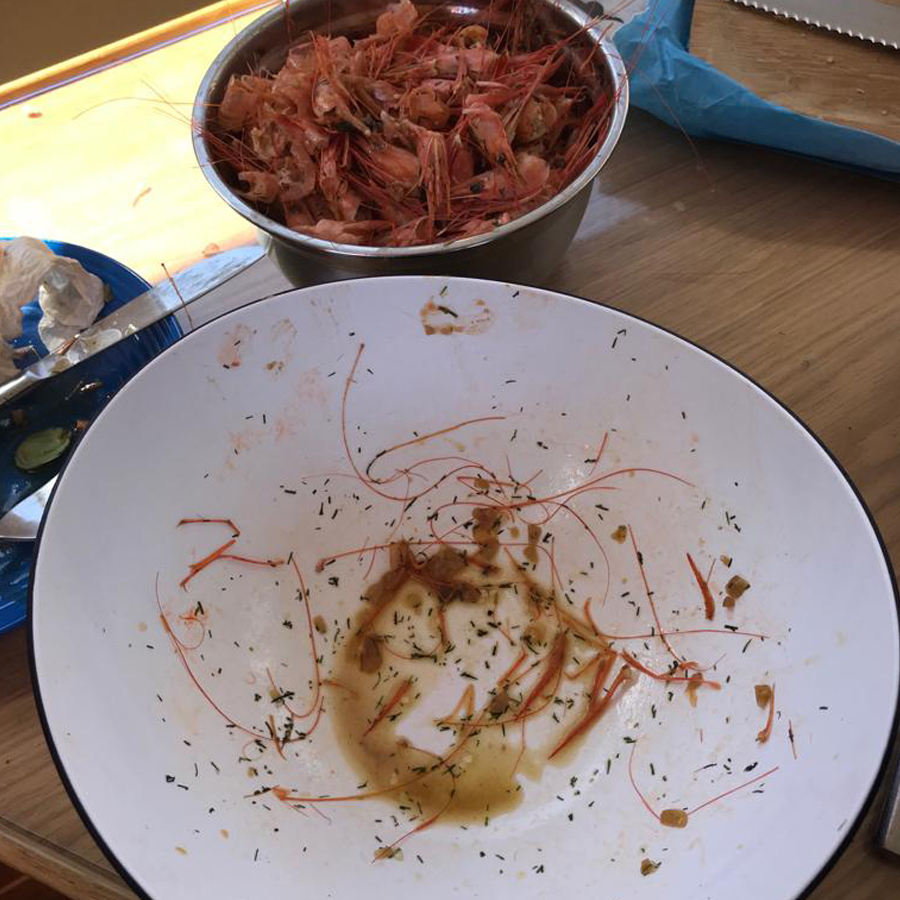 As Santosa's cook it has been such a pleasure to discover traditional Norwegian ingredients and great local produce – even the frozen salmon and cod from the supermarket have so much more flavour that I'm used to back home. Eating out I have sampled whale (I'm not sure how politically correct that is but it is delicious) and dried, smoked lamb, on board the highlights have been using ingredients such as pickled sild, reindeer and elk salamis and some very unusual cheeses (try gammeløs, if you dare) with rye bread, perfect for smørresbrod.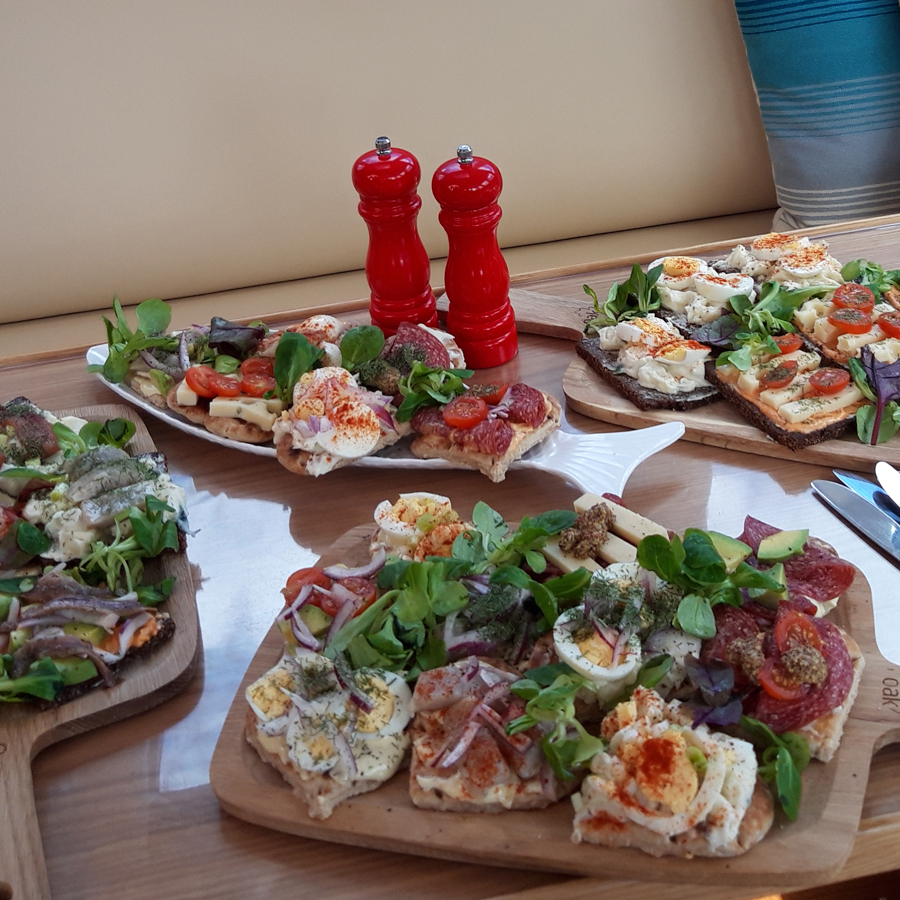 As we head further north, I'm hoping that the fishermen will have better success and I can barbecue freshly caught cod à la Santosa.
For a cook, sailor and lover of wild, remote places, Norway is a dream location. The views are stunning, regardless of the weather conditions and the food is an endless source of delight. With the right kit and the right boat, you couldn't ask for more.
Sue
Do You Want to Sail Santosa?
We're getting regular blogs from Santosa and if you are a couple looking for a luxury Nordic sailing holiday this summer then check out the remaining trips aboard this beautiful yacht. Of call our friendly crew in the office on 0203 006 3717 and they can talk you through the options
Posted by: First Class Sailing