Santosa's Back Route To Bergen
298 views |
May 28th, 2019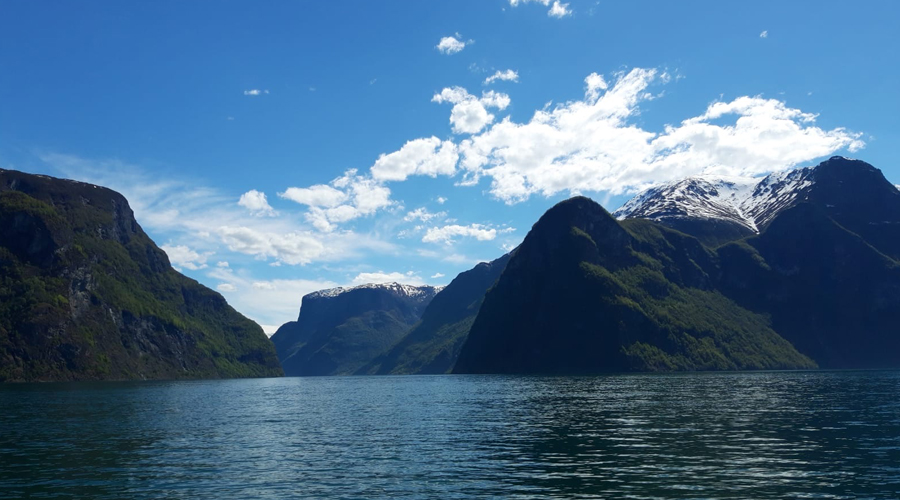 Luxury yacht Santosa is currently taking couples on sailing holidays around the beautiful settings that Norway has to offer. Below is the skipper's latest blog, however, if you're thinking of booking onto one of the remaining adventures you'll find the whole list here.
Some Useful Local Information
Our journey from Stavanger to Bergen was to follow the advice of the very helpful Tourist Information lady who suggested that we follow the ferry route through the Fjords.
This was good advice as it not only kept us inshore and out of the bitter North Sea it was also very beautiful providing ample opportunity for photos. The intention was to do the 106 nautical miles in one go, estimating around 15 hours journey time.
However, as we made our way northwards the wind became colder the sky greyer and the rain set in. That was enough to consider a passage change and a stop in Haugesund.
I had stopped in Haugesund in previous years and had found it to be an easy place to find moorings and somewhere reasonable to eat and have a beer. Haugesund is a charming old herring town that has like many of the towns on the coast of Norway become a busy oil industry port.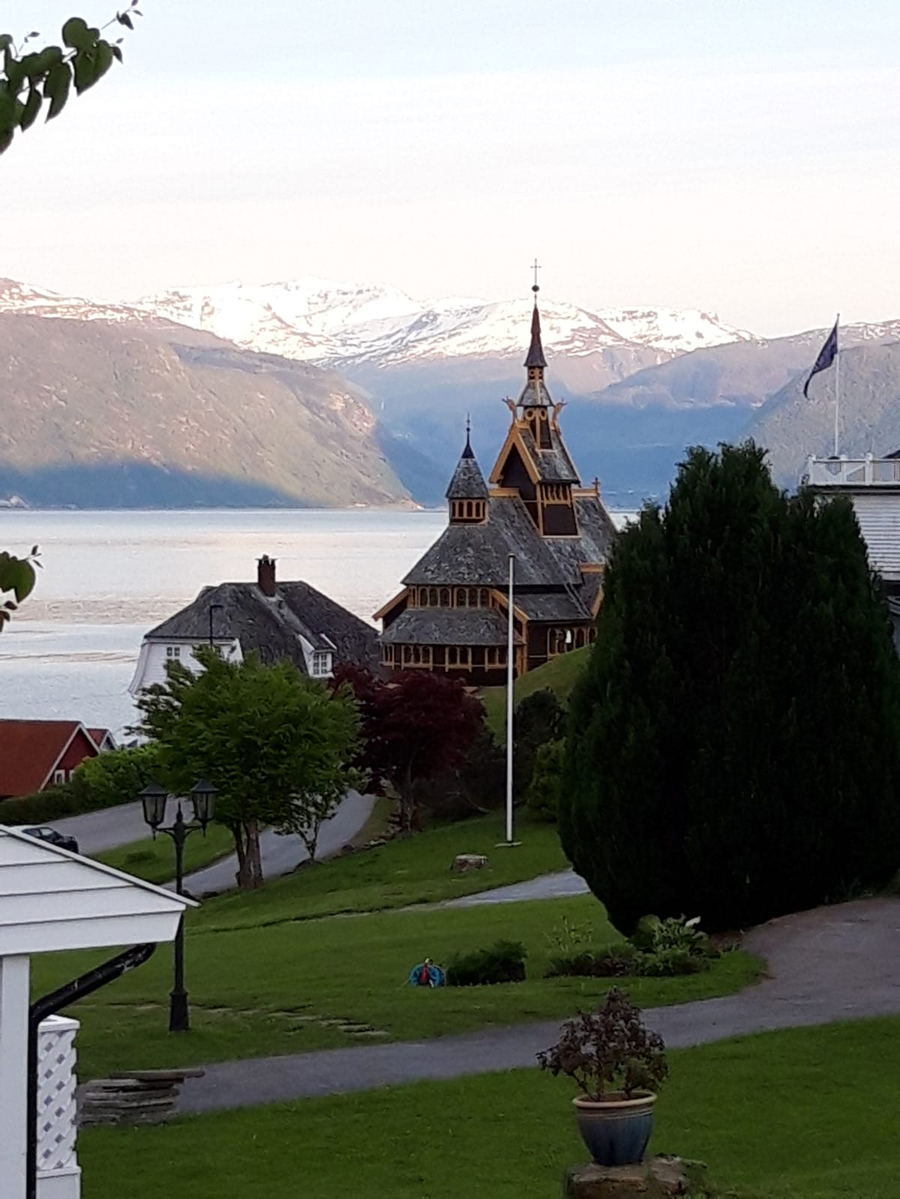 We found plenty of space on a usual tyre covered wall right outside a number of bars and restaurants. Having enjoyed a very pleasant meal and a couple of beers (a couple is sufficient at Norwegian prices) we retired early to get some sleep before the next part of our trip to Bergen.
What I hadn't remembered from the previous year was the thud, thud, thud of music from the local nightclub that seemed to go on for most of the night. So, if you do find yourself in Haugesund I would suggest you tie up away from the bars and nightclubs unless you intend to join the locals into the early hours.
Celebrating Norway On Arrival In Bergen
The remainder of the journey to Bergen was relatively simple, following a twisting route through Islands and Fjords until we reached the approaches of Bergen.
Having double checked our air draft to ensure we could safely negotiate the bridges and cables, we made our way into the last Fjord flanked by a North Sea oil supply vessel to port and a Norwegian submarine to starboard, an impressive escort.
We arrived in Bergen amidst preparations for Constitution Day, Norway's biggest day of celebration. The arrival should have been similar to Haugesund with plenty of room on the tyre covered town quay wall.
What we discovered, however, was powerboats rafted 4 or 5 abreast and not a space to be had. We eventually settled on a small corner tucked away behind the Tug berths. Not ideal but quiet and next to a supermarket.
The Beauty of Bergen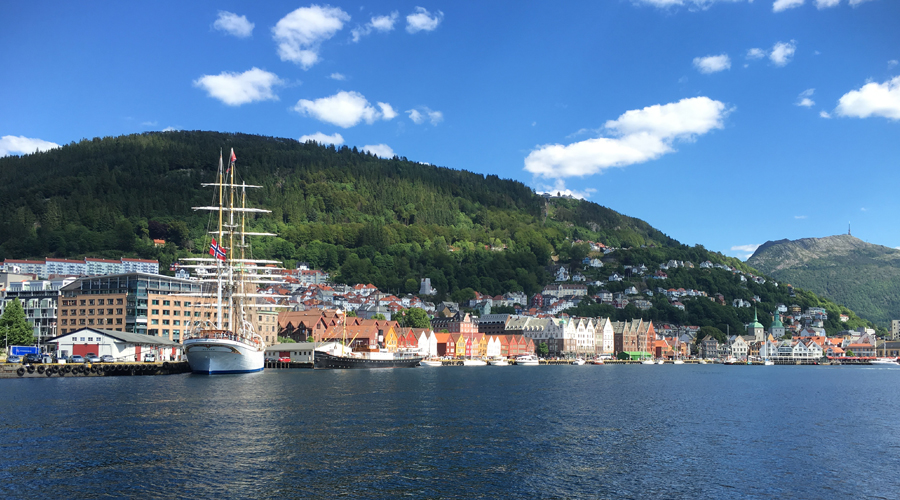 Bergen is a very beautiful city, it's a mix of old and new, a lively cosmopolitan city with areas of traditional wooden wharf buildings. The most impressive of which is the Bryggen. A charming maze of rickety wooden structures housing shops bars and restaurants.
Bryggen has, as with many Norwegian cities, burnt down on more than one occasion and narrowly escaped demolition by city developers. Apparently, the slight tilt to the buildings is a result of an explosion on a Dutch munitions ship in 1944.
Despite this rather violent history, Bryggen has survived as one of Norway's most quintessential city waterfronts. As with most Norwegian towns and cities, Bergen has a thriving seafood industry and the Fish Market in the centre of Bergen is a feast for the eyes, nose and if you have time the taste buds. I can highly recommend the Skagen Toast and Grilled Monkfish.
The build-up to Constitution Day saw an increase in the amount of Norwegians wearing traditional costume and taking part in military-style drum marches. These festivities gave Bergen a real buzz, the sun came out and Norway warmed up the harbour swarmed with all manner of seagoing vessels all vying for the best spot to make the most of the carnival atmosphere.
As the weekend came to a close and the flotilla of small boats thinned out, we managed to raft against a rather old Bavaria and very quickly had three boats join us in a precarious lie of five.
Although not ideal it did allow us to be in a better location to pick up our next four guests. Two of whom were celebrating their 25-wedding anniversary, joining us for the next leg of our journey North, Bergen to Trondheim. Next Instalment Bergen to Trondheim.
Join The Guest Crew on Santosa
Fancy a holiday on a luxury 55ft yacht? Ideal for couples (double cabin with ensuite, you'll sail as Guest Crew) We recommend exploring the Magnificent Lofoten Islands.
If you have any questions call the FCS crew in the office on 0203 006 3717 and they can provide all the answers.
Posted by: First Class Sailing