Santosa Sails To Steep Fjord Walls And There's Time To Make A Snowman
648 views |
June 11th, 2019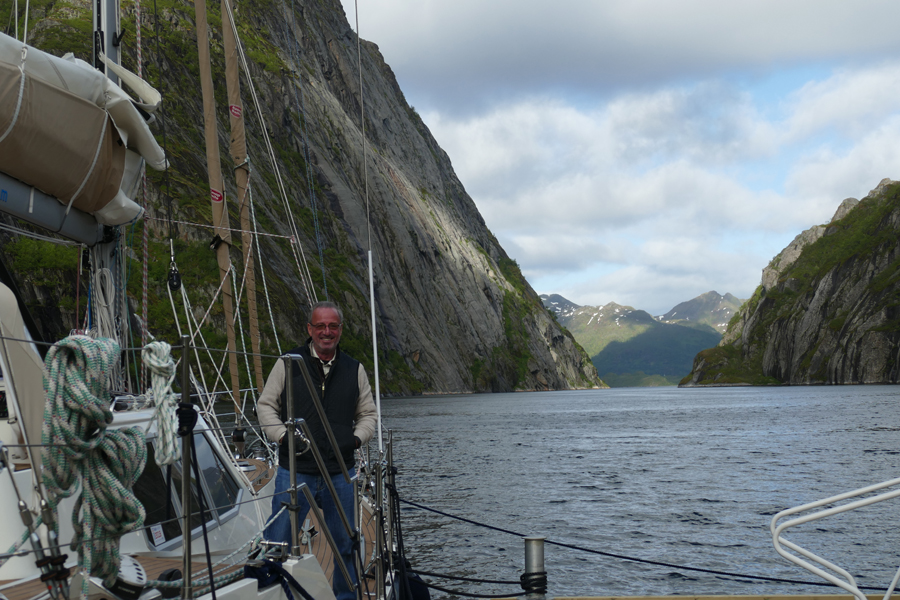 Being so far north it is almost permanent daylight for the Guest Crew of Santosa as they sail from on day 2 from Nordskot to Trollfjord. As you will read in this blog there is a wide variety of small but very interesting events happening each day…
11th June 2019 Trollfjord
Headed further north again yesterday and we are now alongside a rickety pontoon up a short but narrow and steep sided fjord called Trollfjord that has several impressive waterfalls some plunging, from 1000 meters high, into the fjord.
The day started well with Steve landing a fish. We thought it was a coley, a pollock or a haddock. Regardless, Sue had fried it up in no time and it was devoured within minutes, despite us having just had scrambled eggs for breakfast not long ago. Delicious.
The day brightened and the mountains of the Lofotens got larger as we drew closer. Such jagged escarpments provide an impressive approach.
Once alongside in Trollfjord three of us went for a stroll along the beach that ended up becoming more of a rock scramble, across multiple outlets of meltwater runoffs, over boulders and across lush green ferns up to a patch of snow. Where I made a quick snowman.

Supper was a tasty salmon and prawn risotto. Going to bed around 11pm was odd given it was broad daylight.
And now it is early morning, the sun is glinting of the water straight up the fjord and we will shortly be casting off to wind our way through the islands and islets to Risoyhamn.
Join Santosa This Summer
It could be a holiday of a lifetime sailing with Santosa. It is perfect for couples who want to sail but also enjoy creature comforts in an adventurous location. You sail as Guest Crew and have a double cabin with ensuite. Full details are here, visit this page for the Lofoten Islands holidays.
Posted by: First Class Sailing