Santosa: On An Island Called Ona There Is A Lighthouse…
1,881 views |
August 30th, 2019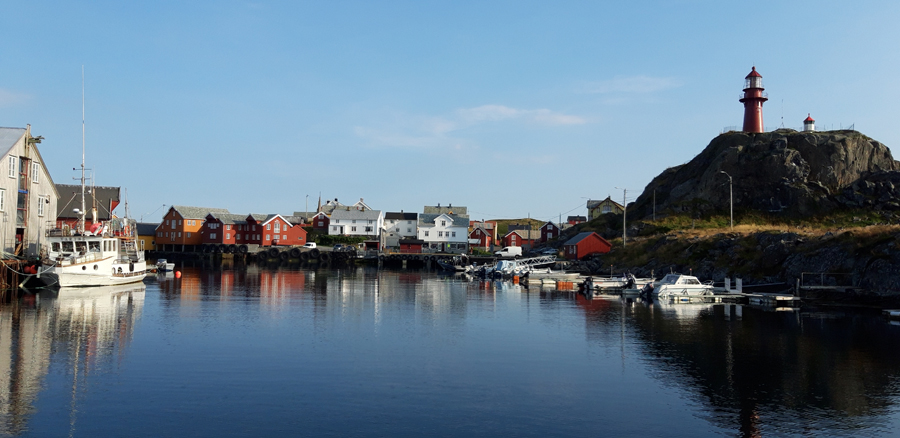 The luxury yacht Santosa has spent the summer months dipping in and out of the Arctic circle, sailing around the Lofoten islands, and forming a somewhat exclusive arctic swim club.
During the latter stages of the summer they will return to Southampton via the northern isles, Scotland and the English west coast. However, this blog seems them begin to say goodbye to Norwegian waters and visit the island of Ona.
Before We Go, Some Cake
The new guest crew of Maddie & Rachel joined us in Trondheim on Saturday afternoon and we were keen, after welcome cake kindly left by Sophie, to get going as soon as possible.
After safety briefs we motored to the mouth of Trondheimsfjord, stopping for the night at Hasselvika. The weather forecast predicted a wet start to our adventures building from no wind to 18kt headwinds and wet, grey skies so we decided to grit our teeth and make as much distance west as possible on Sunday.
True to the forecast, the wind eased from 1500 onwards and we found a sheltered anchorage, near a picturesque timber yard especially chosen by mate Amelia, to spend a peaceful night.
First Dolphins Spotted In Norwegian Waters
Monday dawned with the prospect of a sunny day and some reachy sailing. This proved to hold true for the morning and we had all sails set until lunchtime.
We were investigated en route by a large (20+) pod of dolphins – the first I've seen in Norway, but they swiftly moved on in search of elusive fish. Speed dropped to 2kts and the decision was reluctantly made to motor sail to an island tinier than the waypoint marker placed on the chart.
The Island Of Ona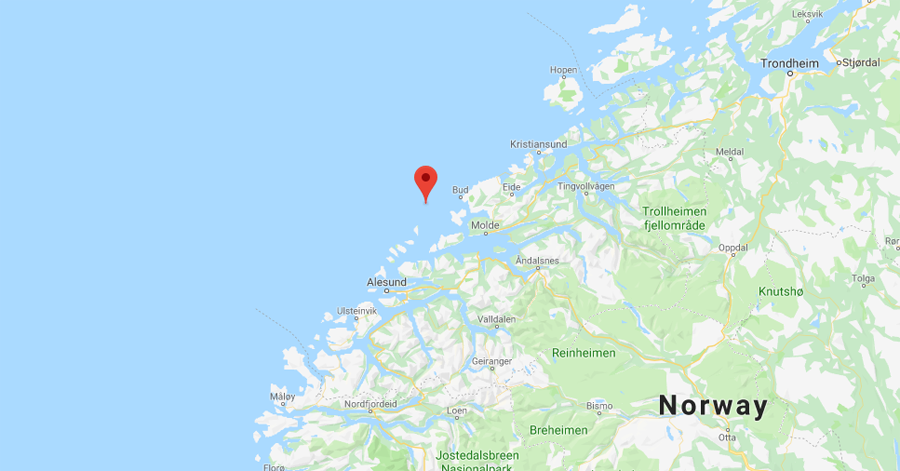 Ona was delightful – something out of a children's picture book about a lighthouse keeper – although there is a business opportunity there for someone keen to open a bar..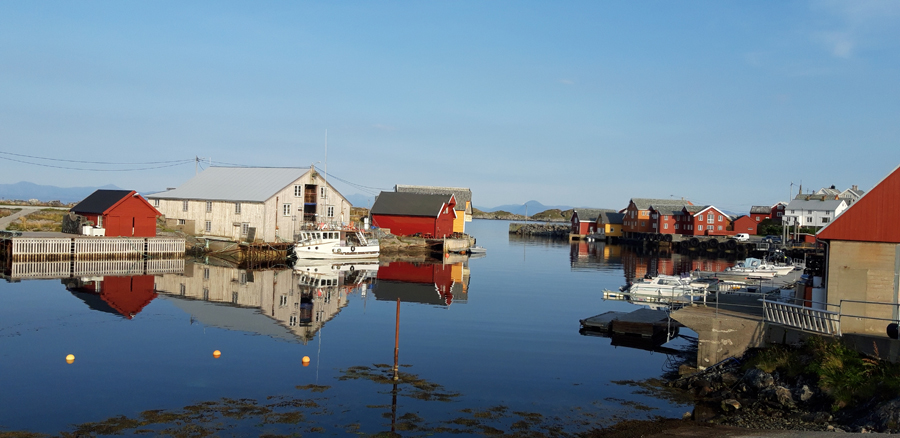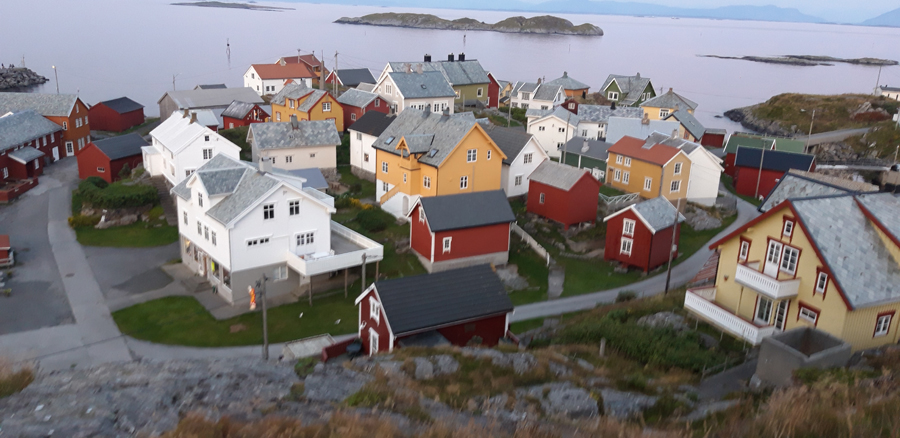 Tuesday's forecast indicated no wind at all so we departed Ona with high hopes of catching some fish. The Germans who had rafted alongside us overnight had boasted of the mackerel they had caught so we were optimistic. The fish finder indicated that a spot adjacent to a fish farm was our best bet but our efforts came to nought & we moved on.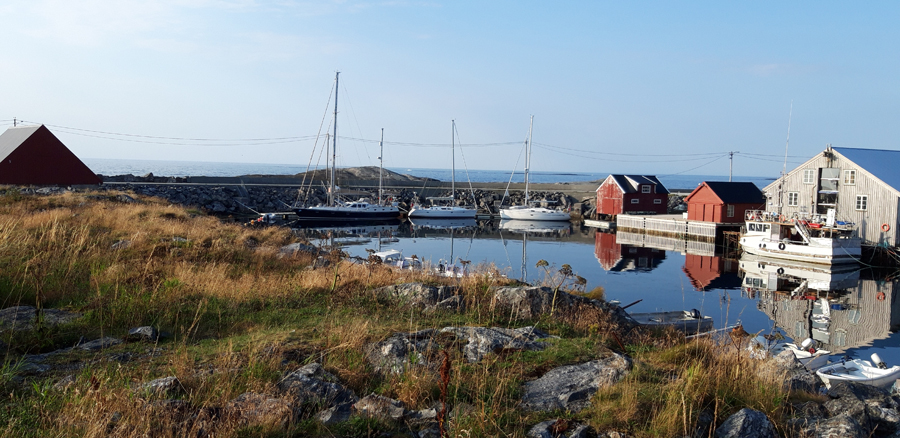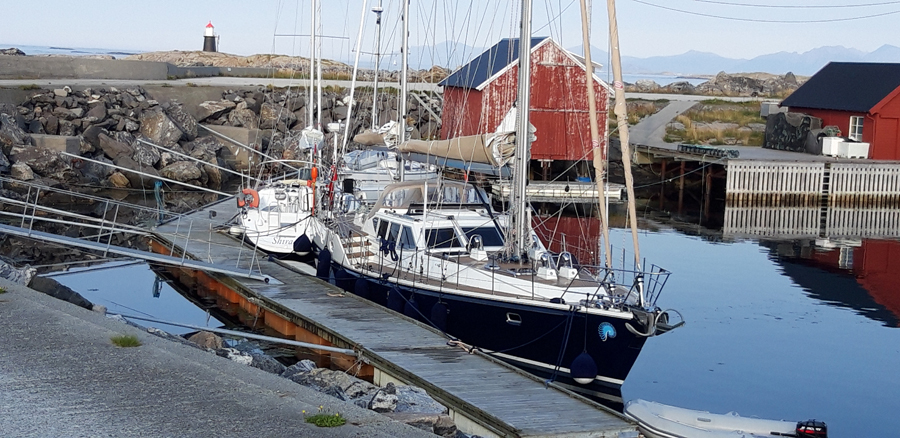 A lunchtime anchorage & potential swimming spot was somewhat marred by teeming jellyfish and after a rather pleasant day overall we arrived in Alesund, minus fish & jellyfish stings.
An evening of passage planning & a couple of runs and we are well prepared for the 250nm passage to Shetland tomorrow. ETA Friday morning, all being well.
Best regards
Sue
Join Santosa For A Luxury Adventure
It could be a holiday of a lifetime sailing with Santosa. It is perfect for couples who want to sail but also enjoy creature comforts in an adventurous location. You sail as Guest Crew and have a double cabin with ensuite. Full details are here, visit this page for the Lofoten Islands holidays.
Posted by: First Class Sailing