Santosa And The Long Fjord To Trondheim
677 views |
May 29th, 2019
The luxury yacht Santosa is sailing the summer around the arctic waters of Norway and when they have a moment reporting back on the adventures the couples on board are having and the amazing sights they are seeing. There are still some Norwegian sailing holidays available and you can see them here.
Celebrating a Different Type of Voyage
Leg three of Santosa's voyage to the Arctic Circle started with Champagne and cake to celebrate the 25th wedding anniversary of two of our four new guests Tom and Julie.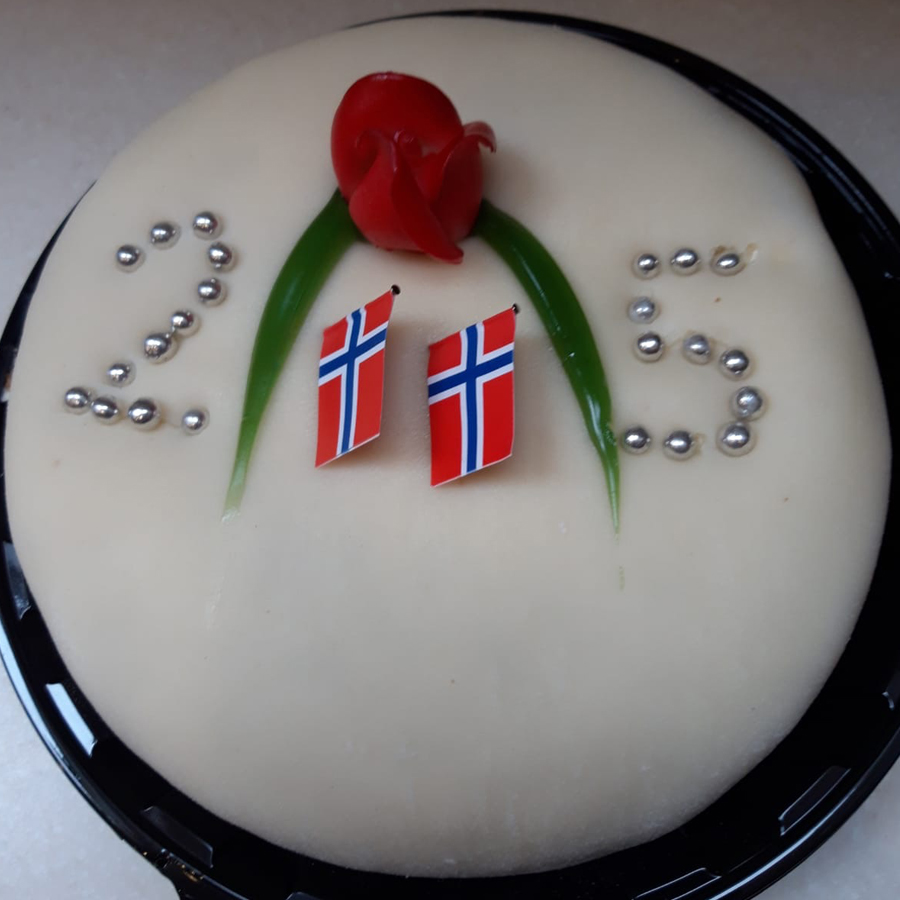 After introductions safety briefings a very enjoyable meal and a couple of glasses of celebratory wine we got an early night in preparation for the trip to Trondheim.
Wednesday morning the 15th of May we had arranged for the crews of the three boats rafted on our outside to prepare to move at 7:30. Everyone turned up on time and the tricky process of extracting ourselves from the quayside began.
Fifteen minutes later we were heading north again through the numerous islands and skerries towards open water. Our first port of call was to be Leirvik 73 nautical miles from Bergen.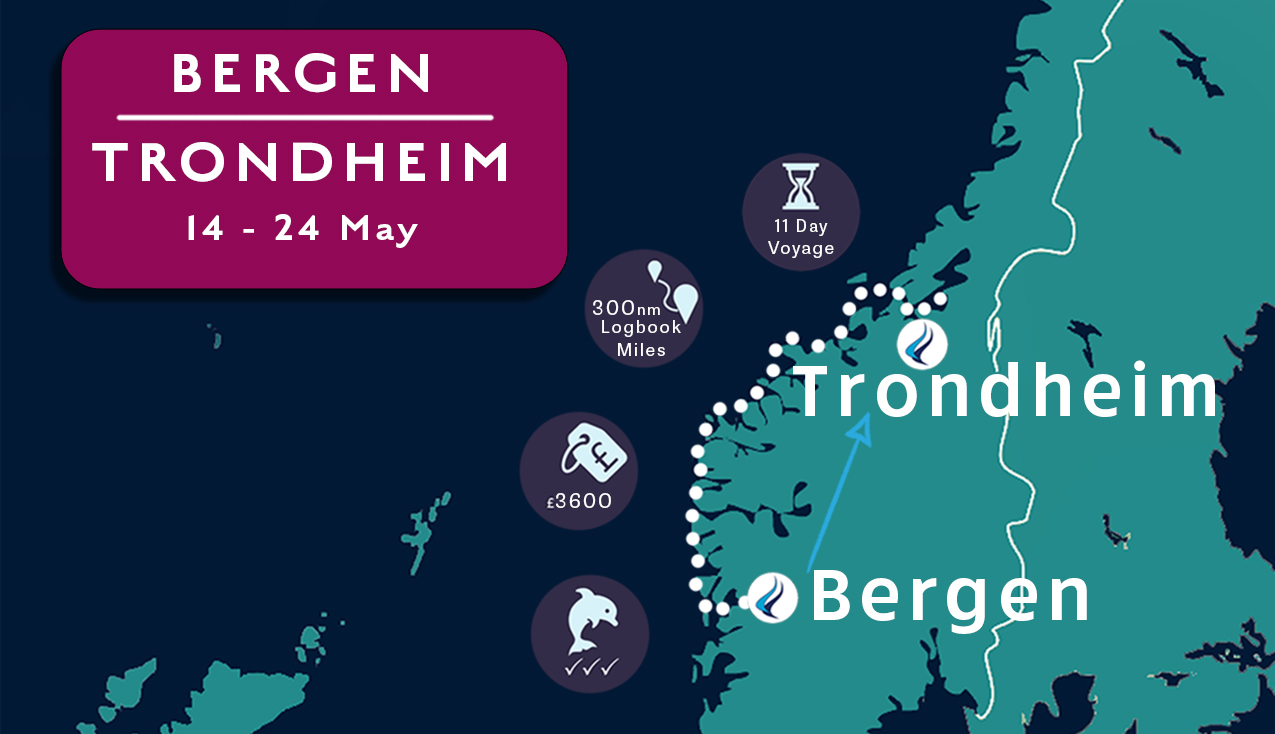 The appearance of the sun succeeded in making the run up to Leirvik even more stunning; the sun highlighting the snow-capped mountain peaks along the route. The initial disappointment at the lack of wind was soon forgotten when at 16:00 we got 14 knots of wind, enough to get Santosa sailing majestically towards Leirvik.
At 19:00 we arrived at the sleepy little town, surrounded by hills and tucked neatly around the corner of a small sheltered inlet. As with most Norwegian ports mooring is very much about turning up, finding the most suitable space and staying there until someone asks you to move, which they seldom do.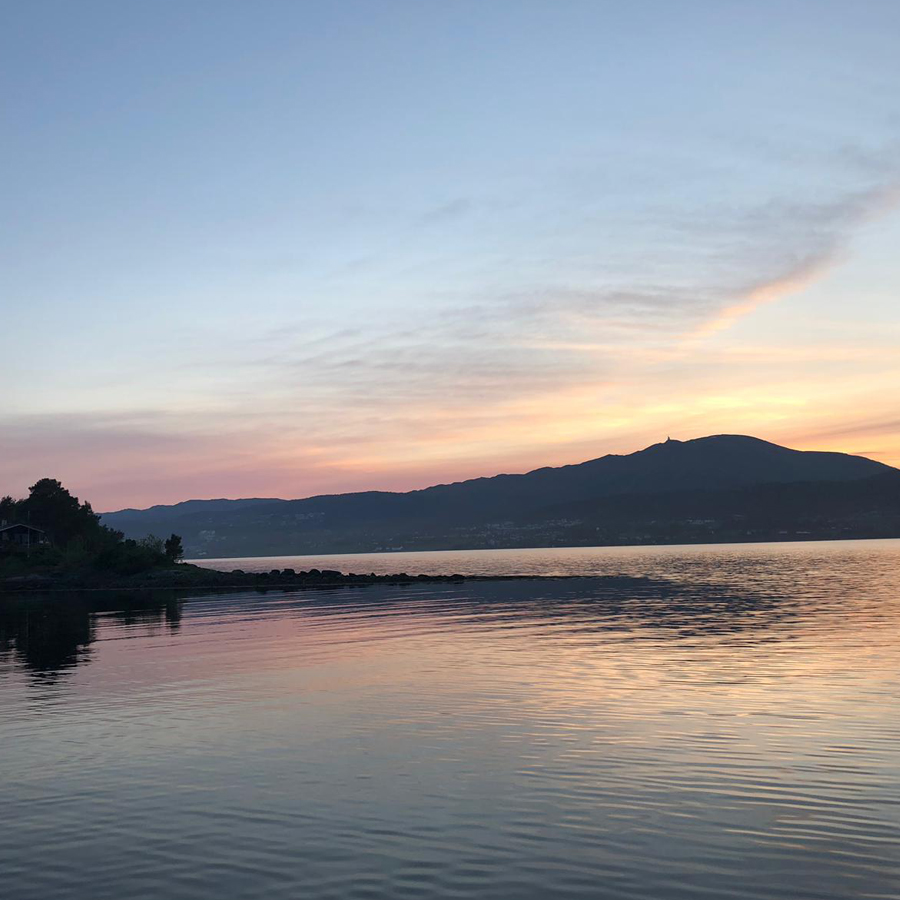 Our Leirvik space was yet another rickety wooden wall operated by the local hotel that strangely enough seemed to have better facilities than Stavanger. The hotel staff were very helpful and friendly supplying us with plenty of tourist information and advice on the best routes to continue our journey.
One such suggestion was that we should explore Sognefjorden the world's second longest fjord at 110 nautical miles. After another amazing meal we sat on deck to watch the sun dip briefly behind the hills reflecting the sky in the now mirror like harbour.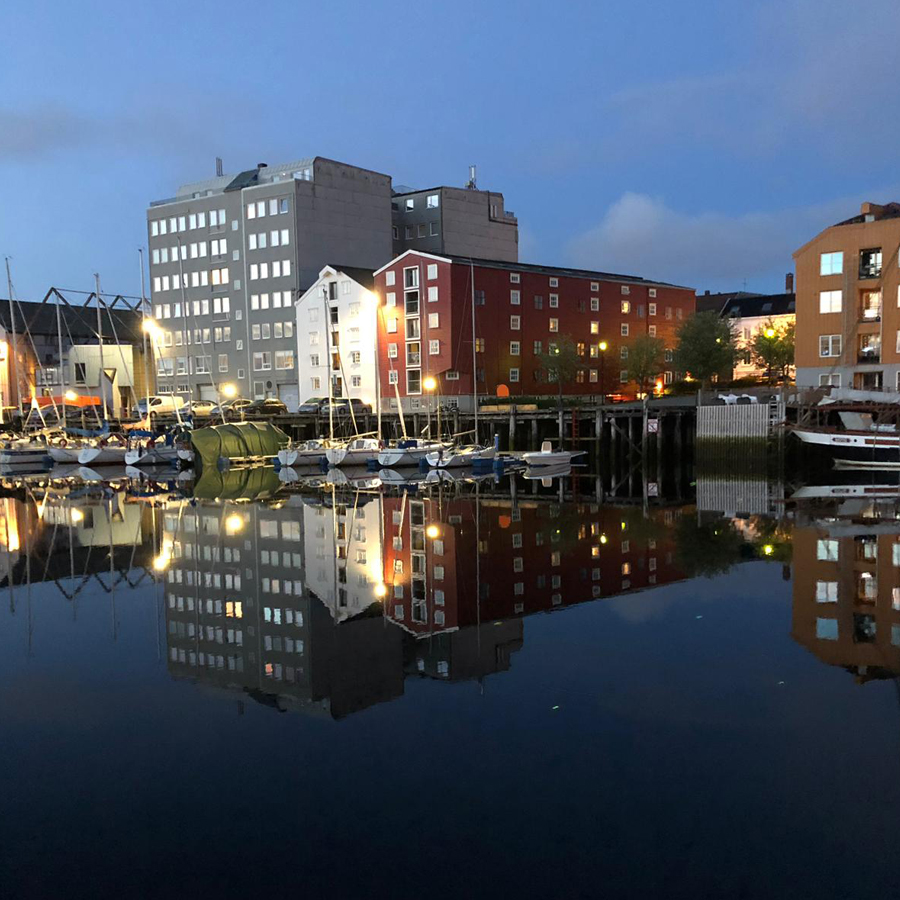 Thursday morning started with more beautiful sunshine and a slight breeze as we headed up Sognefjorden to Balestrand a mere 64 miles, a little over half the length of this amazing fjord.
We arrived in Balestrand at 18:00 on a beautiful sunny May evening. Again it was a case of pick a spot and tie up, this time we had confirmation from an old Norwegian local that it was ok to moor here, he then helped us with our shore power, lines and general directions to the facilities, a level of friendliness and helpfulness that we are finding at most of our stopovers.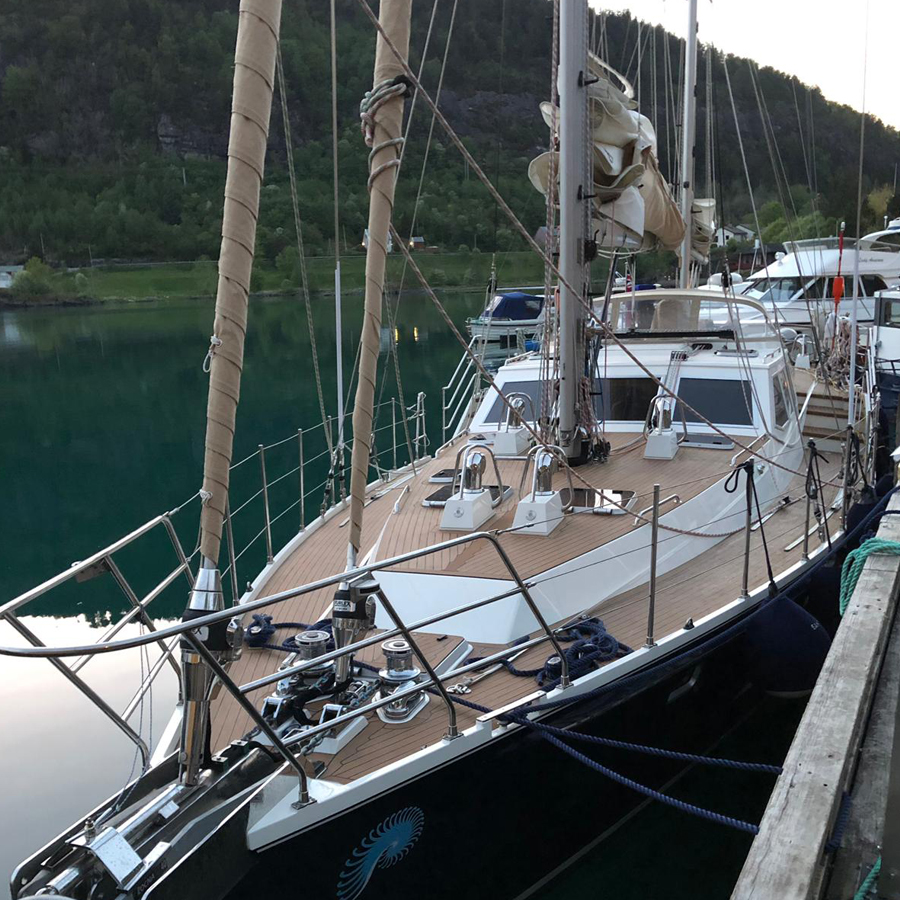 Balestrand is a small town that sits on the edge of Sognefjord surrounded by an impressive snow-capped mountain backdrop, the town is a mix of idyllic traditional buildings and the odd scattering of not so attractive 70's style architecture.
The very traditional Norwegian church that appears to be from a Norwegian folk tale, is in fact Anglican and known locally as the English Church, it is reputed to have been a Resistance drop zone during WWII.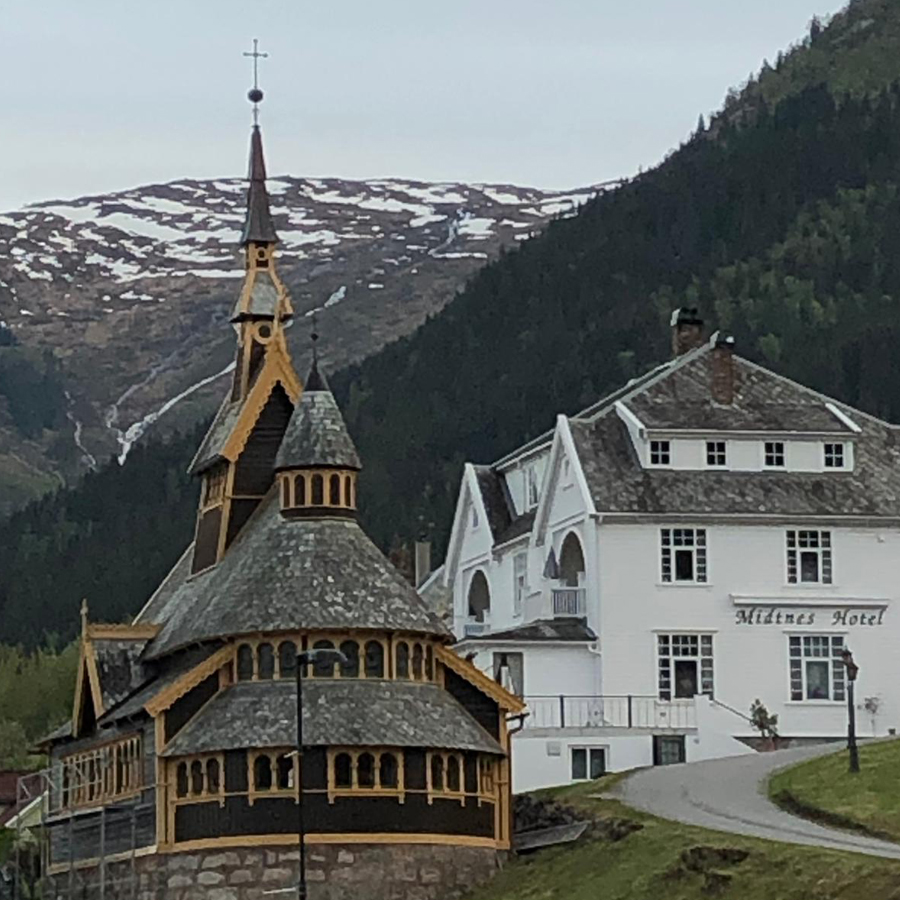 Balestrand's other notable building sits on the seafront, the imposing Kviknes Hotel, the holiday retreat of Kaiser Wilhelm who was resident here at the outbreak of WWI and given 24 hours to leave.
As we again sat on deck watching the sun dip behind the snow-capped backdrop the peace was temporarily broken by the arrival of a large rib followed shortly by a, 83m Russian superyacht that had been moored very close to our position on the tug dock in Bergen. This was not the last we would see of the Russian Oligarch.
Friday the 17th May Norwegian Constitution Day, we left Balestrand to continue our exploration of the endless Sognefjorden, the ships log recorded 2knts of wind and bright sunshine.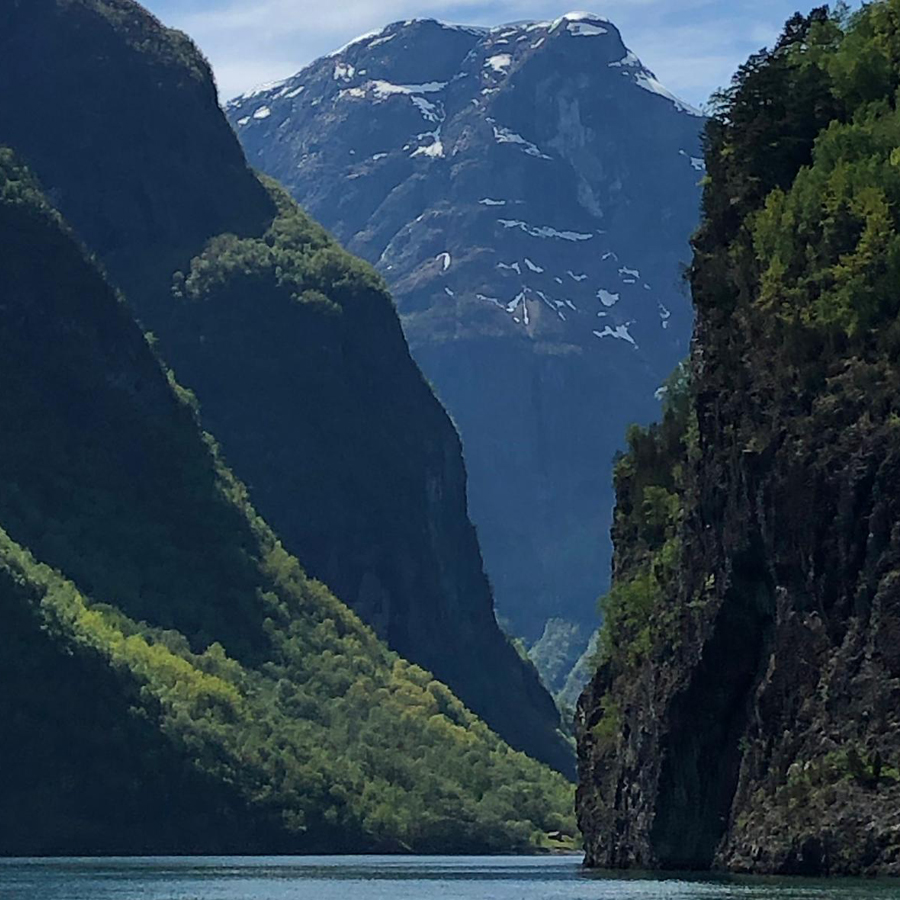 The plan was to head for Naeroyfjord stay for the afternoon and then head further up Sognefjorden. Our progress started off as dramatic and escalated to stunning culminating in unbelievable.
Naeroyfjord in Norwegian means narrow fjord and it lives up to its name. Naeroyfjord is 10 nautical miles long and only 250 metres across with dramatic cliffs on either side reaching 1200m in height. The snow melt that is still extensive pours down these cliffs in stunning torrents of ice-cold water crashing on the rocks below.
It is easy to see how these incredible scores in the earth's crust have been formed by snow, ice and water over billions of years. On rounding another corner, faced with a vast side of a snow-covered mountain with a small lush green village nestled at it base we encountered our Russian Superyacht friends again.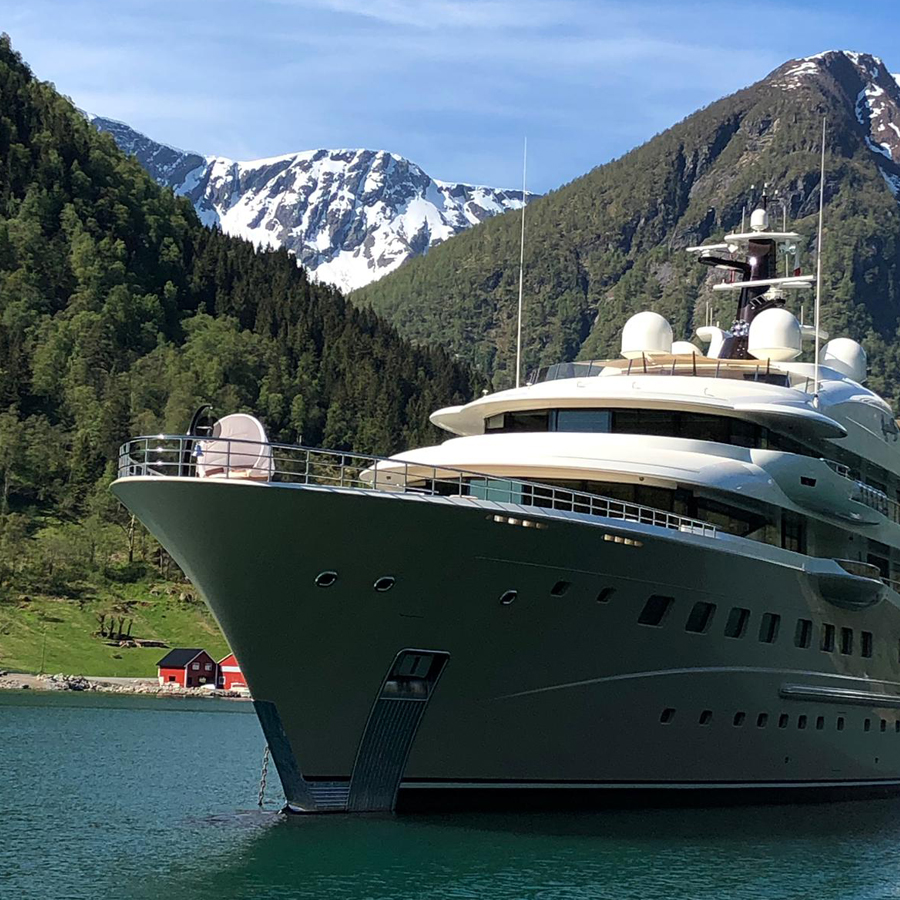 We agreed they must be tracking us on AIS as we obviously knew all the best places to visit.
We also came to the conclusion that we were probably as happy with our surroundings and view as they were despite their €1,200.000 per week + expenses charter price (yes, we Googled them).
Having done a quick flypast of the Superyacht we headed further up the fjord, something akin to pushing further up the amazon only colder. The fjord got steeper and darker and the scenery more stunning with each mile.
By mid-afternoon the sun had warmed the air and the lack of breeze created a mirror image of the towering cliffs that appeared to descend into the bottomless depth of Naeroyfjord.
There was only one thing to do, forget our plans of pushing on, anchor, and break out the barbecue. Having anchored at the edge of a small area of flat ground created by rockfalls we decided to launch the rib and do some exploring before dinner.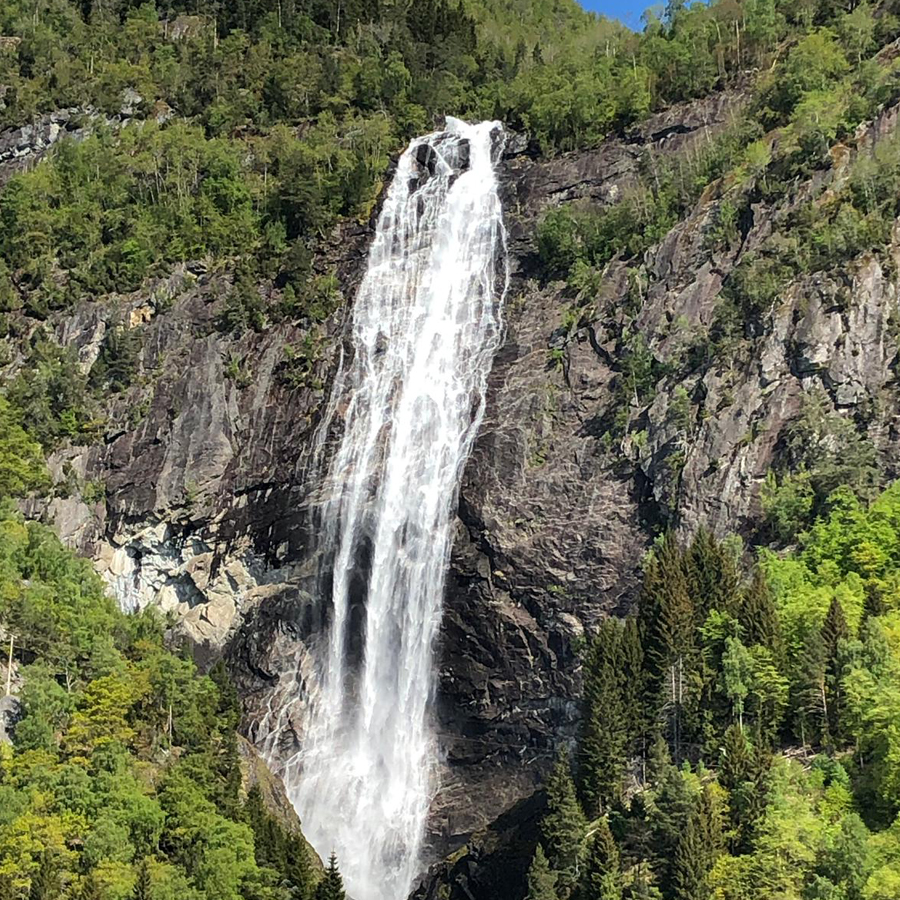 The small flat area frequented by camping Kayakers provided a high spot to take pictures of Santosa and one of the aforementioned waterfalls for a quick cool off for those brave enough to take a shower and boy was it cool.
Having returned to Santosa we enjoyed barbecued chicken and prawn skewers and a nice glass of white wine before a very quiet and tranquil nights sleep.
Our journey out of the fjord took us back to Leirvik, our sleepy Twin Peaks town at the mouth of the Sognefjorden. Another night in this peaceful little town was perfect for our departure out of Sognefjorden towards our next destination Floro.
Sunday the 19th of May saw another windless day for our 44nm motor to Floro, the log recording a max of 5knts, and min 1.5knts windspeed. Having arrived in Floro at 14:45 on a warm and sunny Sunday afternoon there was only one thing to do, eat pizza and drink beer at a seafront Floro bar.
Having had a relatively easy Sunday, Monday's destination Alesund was 116nm which took close to 14hours. The bonus being that the wind built during the day to a peak of 19knts allowing us to get both the genoa and staysail set for a perfect lunchtime sail.
We approached Alesund at 20:00 arriving at a city centre mooring at 20:15. Having spent some time exploring Sognefjorden meant we were quite tight on our schedule for reaching Trondheim by Thursday the 23rd so our chance to explore the beautiful art nouveau architecture of Alesund was somewhat curtailed.
Time allowed for re-provisioning, water top-up and refuelling before heading off towards Trondheim.
The next destination in our journey North was requested by one of our guests, Julie who wanted to anchor somewhere quiet before arriving in Trondheim and heading back to the UK to complete her last three days of work before retiring.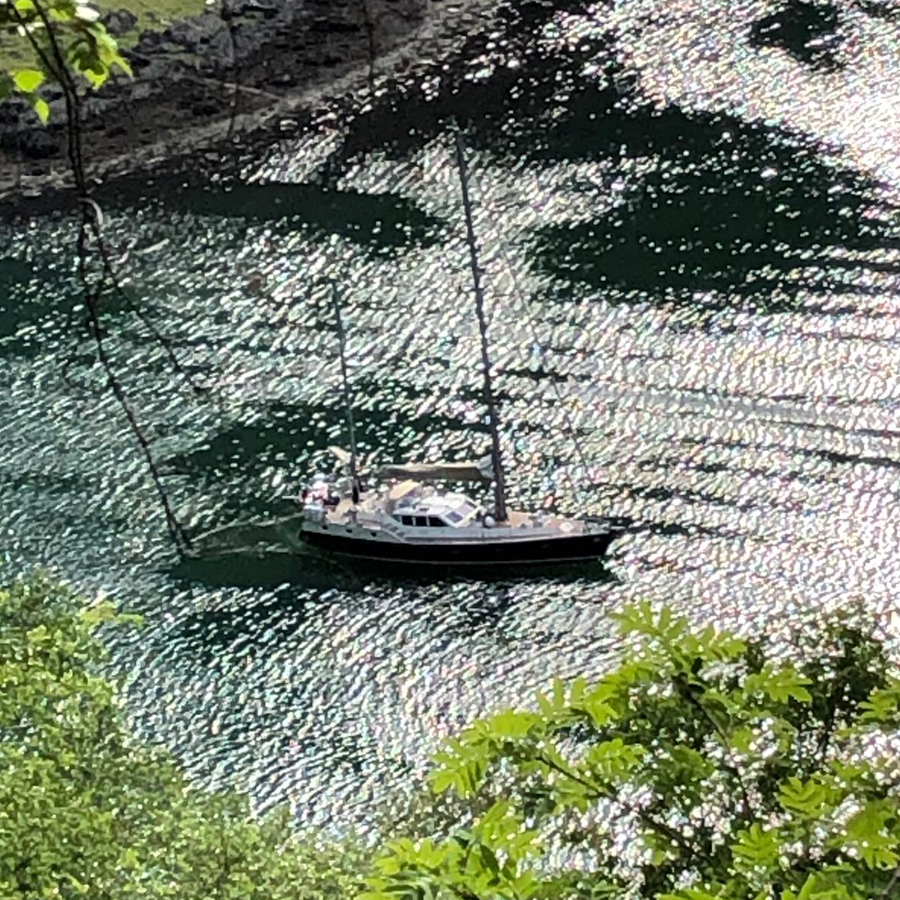 The chosen destination was Dragvag Bolsoya a pretty anchorage off a small island SE of Molde. Our journey to Dragvag was again through beautiful Norwegian Fjords which gave us a chance to goosewing the genoa and staysail and happily turn the engine off for a while.
Inevitably the wind died as the afternoon progressed, having made some good progress during the morning, we decided to try our hand at fishing (unsuccessfully). The trick apparently is to find a shallow patch and fish along the edge.
The shallowest area we could find was 40 metres deep, shallow relative to the 350 metres on either side, so, more research is required. During our unsuccessful fishing stint, we were contacted on the VHF Radio by the Norwegian Coastguard who patched through the Norwegian Boarder Control (oh dear what had we done wrong?)
They asked us our gross tonnage which was fortunately under the limit that requires bigger yachts to report in and provide passage plans. So, we were very politely told we could continue to cruise Norway and we were to have a nice stay.
It did occur to us that we had been tracked and indeed our Norwegian big brother was watching us. We eventually arrived at Dagvag at 20:30 that evening and dropped the anchor in a beautiful little bay overlooking a handful of wooden cabins and a lush grassy area. As the sun set and the sea again turned into a mirror, we set up the Barbecue and grilled fresh sweetcorn cobs and salmon for another superb meal. Julies idea of spending the night somewhere quiet before returning to Trondheim was perfect and a very peaceful night was had by all.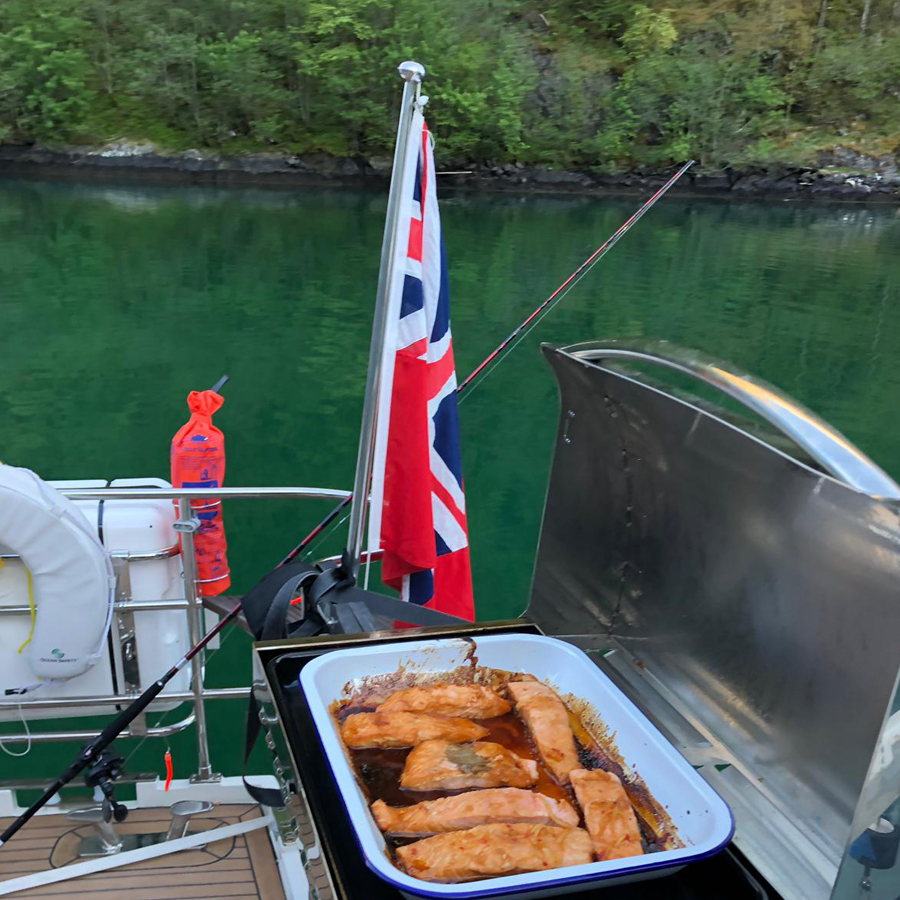 Wednesday the 22nd of May. Our next leg from Dagvag to Trondheim was 174nm and would take around 24 hours. We weighed anchor at 07:30 and set off back through the fjord in which we had spent the afternoon fishing.
This leg was also designed to fulfil another of Julies requests which was to experience some night sailing; no mean feat at a time of year when the sun goes down at around 23:30 and comes up again at 04:00. However, we set up a watch system of 3 on 3 off during the day and 2 on 2 off at night.
Our guests were left to decide which watches they would like to participate in and for how long. As it happened, they all stayed up for most of the day and much of the night. On arrival in Trondheimsfjord after 22 hours of sailing/motoring we decided to head for an anchorage 20 miles from Trondheim with the intention of sailing during Thursday and heading into Trondheim at around 16:00 the next day.
Our days sailing in Trondheimsfjord was interesting to say the least the wind varied from 20knts to 2knts with a variety of directions and squalls.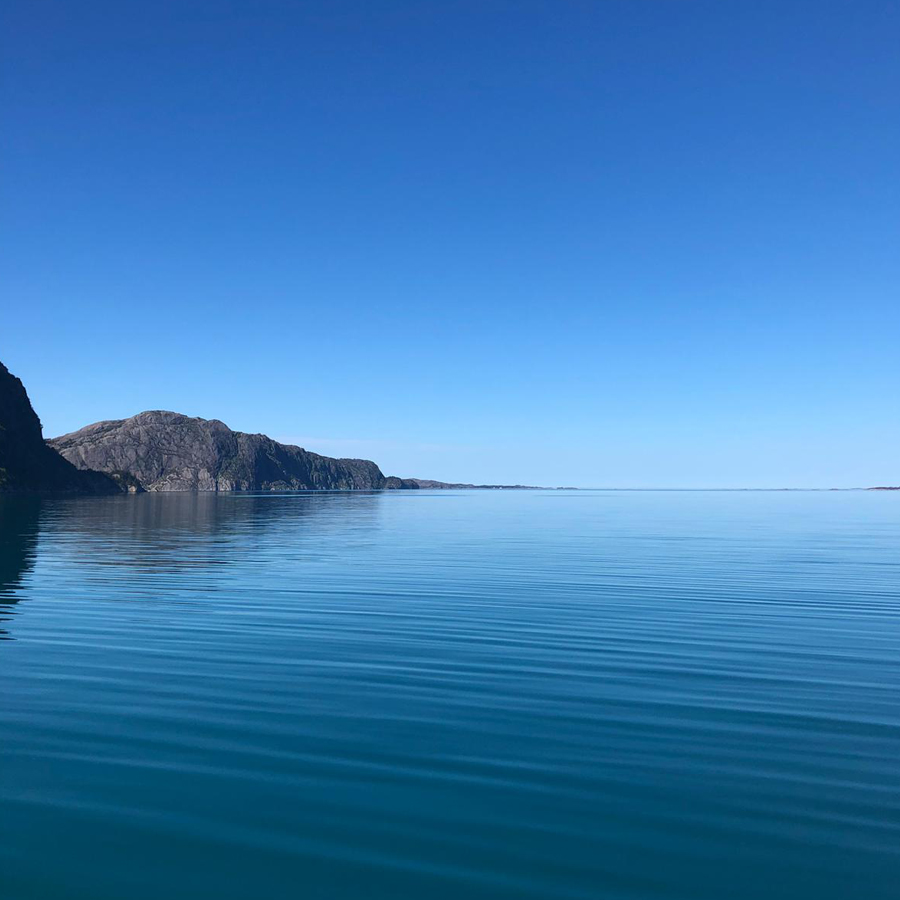 The weather included bright sunshine, grey and wet conditions with an icy chill to the breeze. At 15:00 the wind had died to less than a knot, so the decision was taken to head into Trondheim and secure a mooring.
By the time we were ready to park the wind of course has blown up to 30knots making the narrow entrance into the marina very interesting. We moored up on the only available pontoon and were very soon offered help from another helpful Norwegian resident.
With some further info from the Harbour Master we eventually secured a berth on a pontoon right outside the Central Railway Station, this involved passing into the central canal via a lifting railway bridge, which put us right in the middle of Trondheim.
Trondheim is another beautiful city that like many Norwegian cities build primarily of wood has burnt down on more than one occasion, leaving and odd mix of old and new architecture.
Trondheim's old town has over our stay in Trondheim become somewhat of a favourite amongst both our crew and guests. This area houses a variety of cafes restaurants and bars most of which are exceptional.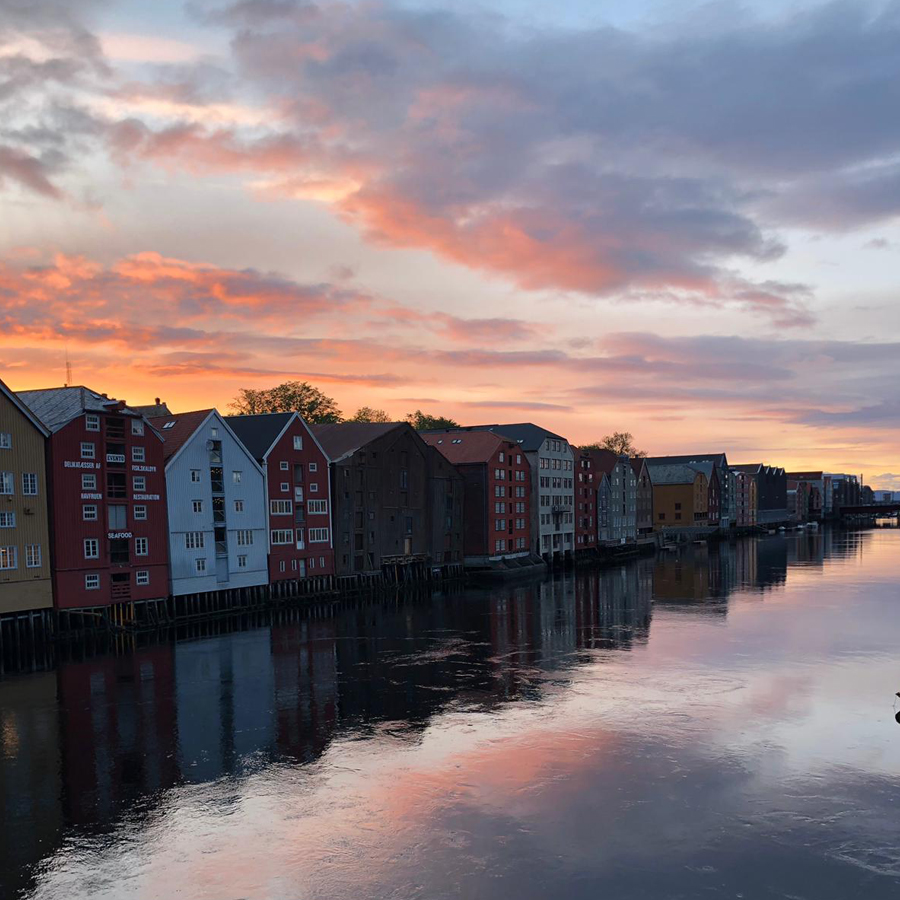 These include the: Folk & Fe, the Baklandet Skydsstasjon that does a mean reindeer stew and my personal favourite Kalas and Canasta which does the best fish stew I have ever tasted (and I have tasted a lot of fish stew).
Oh, and not to forget the book café/music bar Antikvariaet, which houses the perfect combination of books, coffee, food, live music and alcohol.
What more could you want. This charming area like Bergen's Bryggen is predominately traditional wooden wharf buildings nestled along the banks of the river Nidelva, the combination of wooden buildings a dark peat coloured river and an atmospheric bridge gives ample opportunity to take photos.
Having enjoyed the charm of Trondheim it will soon be time to head North to Bodo inside the Arctic Circle.
The next instalment Trondheim to Bodo but you could join Santosa for one of 5 voyages around the magnificent Lofoten Islands. Perfect for couples, you have your own double cabin with en-suite and as you have read an amazing experience. Click here to read more about our Lofoten sailing adventures.

Posted by: First Class Sailing