Night Sailing
1,075 views |
January 4th, 2022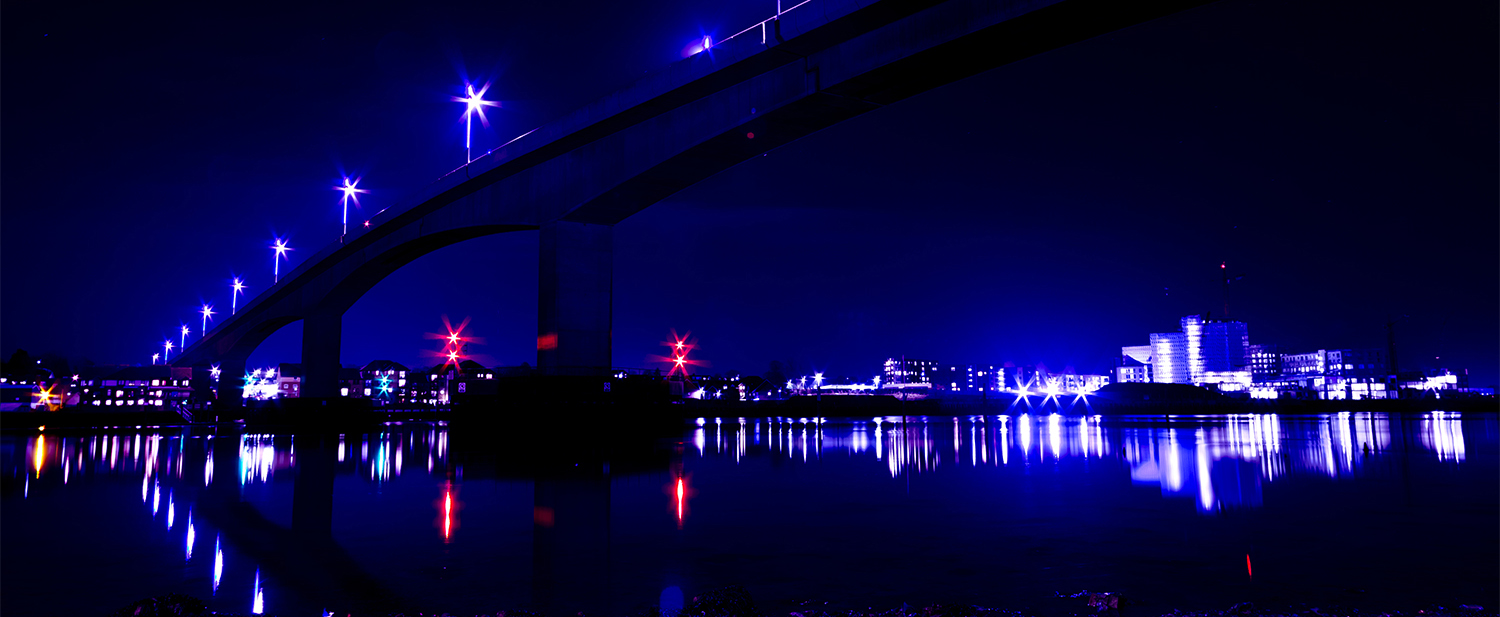 Night sailing has its own rewards and challenges. It can be fairly disorientating but also quite magical.  Hands-on experience is the best way to embed the skills you'll need to see you through the night.
PLANNING AHEAD
When preparing for a night sail it is essential to get as many jobs onboard completed before dark. Preparation is even more important for navigating at night.  Your passage plan and Pilotage plan should be concise and clear and enable you to follow lights and buoyage as you proceed along your route. You will need notes on light characteristics and configuration so they are easily identified as well as bearings and distance for each step.
Sail adjustments should all be done before you leave. Putting reefs in and changing down to a smaller headsail is often best practice. This will make the boat easier to handle and give the best visibility. As with any sailing trip, a recent and reliable weather forecast is essential. You may also want to think about preparing food and hot drinks and keeping them warm to save having to go below and boil kettles.
NIGHT SAILING IN THE SOLENT
The Solent provides a great classroom for practising and learning night sailing. With so many navigational marks and buoys, shore lights and other vessels moving around, you are sure to get solid hands-on experience. First Class Sailings offers weekend courses in the Solent for new and experienced sailors wishing to gain more experience in night passages.
LIGHTS
As soon as the light fades, you should switch on your boat's navigation lights. The main way of detecting the presence of other boats is by their navigation lights. Different combinations of light tell you the type of boat, size, whether it is under sail or motor, anchored or under tow. It is important to know your lights without having to refer to reference books.  There are also various buoyage lights, leading lights and sector lights to guide you. Much like the highway code, these signals help keep you safe. Eventually and with enough practise it will become second nature.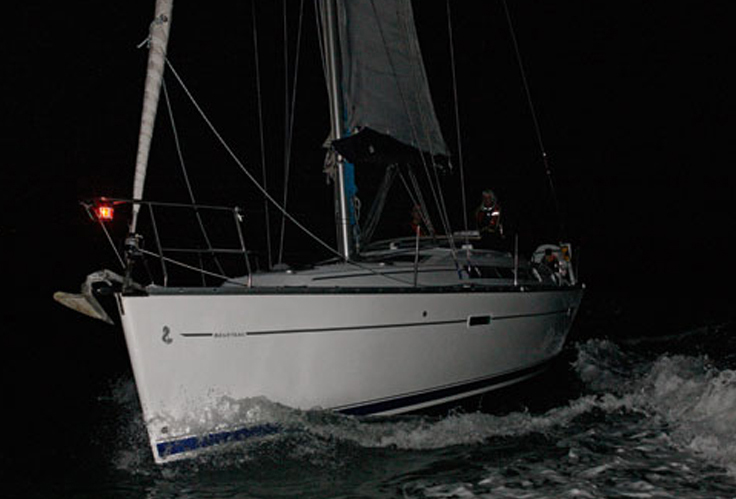 NIGHT VISION
Cabin lights are too bright and interfere with your night vision. This is why it is essential to have a red light function on your cabin lights or a torch switched to the red mode.  This will allow the crew to move easier between the deck and below.
Set compass and instrument backlights and dim chart plotter displays to their lowest setting. They may look too dim at first but this will improve as your night vision kicks in. After 30 minutes your night vision becomes optimal. If possible it's important to refrain from bright lights because that would only reset your eyes and they would then need another half hour or so to regain full night vision. Whilst a head torch might be great for the wearer, they'll blind everyone else in the crew. Just a little note worth knowing – photochromic lenses reduce night vision significantly and are therefore not suitable for night sailing.
At night, the helmsman will depend on the compass for steering. There is usually the stars and the moon, and other reference points to provide visual markers and traditional methods of navigation come into their own at night. There is nothing as serene and peaceful as keeping watch at night.
SUITABLE ATTIRE
Wear suitable clothing – the adage that "there is no such thing as bad weather – only inappropriate clothing" may well have been written by a sailor. We all know how miserable a soggy passage can be and at night it's important to remember you might not just get wet, but the temperature drops. Good gloves, warm hat, thermals, layers, waterproofs.  Wearing a life jacket – and clipping on is even more important at night.
FISHING POTS
Fishing pots can be difficult to spot in daylight and are even more problematic at night, so you need to be keeping a keen eye out for them. This tends to be more of a problem in fishing areas or near shore. A narrow beamed torch may be an invaluable tool for scanning the water ahead, however, don't shine on the deck of the sail, you'll make yourself very unpopular !

NIGHT SAILING WEEKEND COURSES
It can seem overwhelming, disorientating and quite frankly, as a newbie night sailing can be extremely unnerving. but like most things, practice makes perfect. Once you gain the confidence you are sure to enjoy the unique challenges and rewards found during a night sail. Gaining experience with an experienced skipper certainly makes it seem less daunting.
If you are ready to gain experience in night sailing, First Class Sailing has the perfect weekend course for you. The shorter days at this time of year are ideal for a weekend Night Sailing Course. The sunsets early enough to get you the night sailing experience without sacrificing a good nights sleep. We provide an experienced and knowledgeable skipper, a well-maintained boat, good food and company. You bring your suitable clothing and enthusiasm.
Check out our course availability in January and February:
Posted by: First Class Sailing