Navigation Skills and Their Power
2,385 views |
April 30th, 2019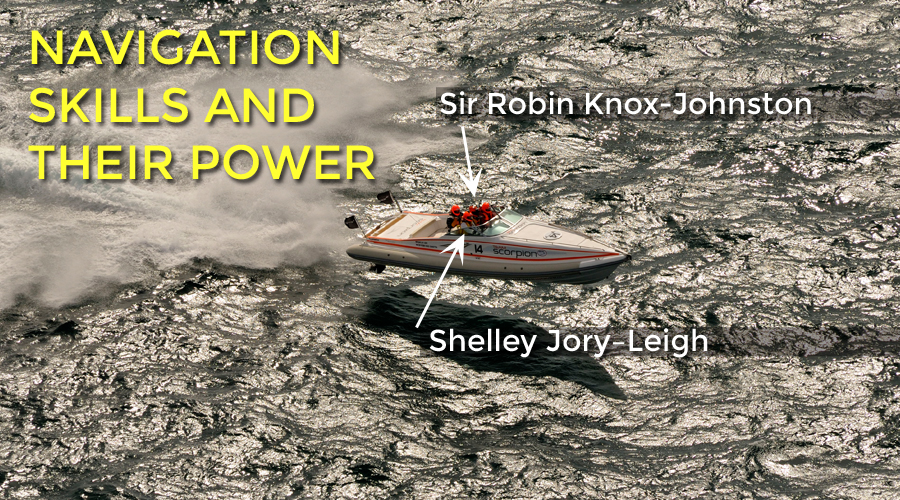 Shelley Jory-Leigh & Sir Robin Knox-Johnston
The art of navigation has been given a massive boost in 2019 thanks to 73-year-old French sailor Jean-Luc van den Heede who completed the Golden Globe Race 2018.
In 211 days and 23 hours he sailed single-handedly around the world by using just a sextant, a chronometer and paper charts.
Van den Heede didn't use GPS, electronic chartplotters, satellite communications or weather reports.In this modern age his achievement feels refreshing and reassuring but it takes years of experience and a couple of RYA Courses under your belt to reach that standard.
Sir Robin Knox-Johnston and the Power of Navigation
The challenge Jean-Luc and 18 other sailors took part in was a tribute to Sir Robin Knox-Johnston who won the first Golden Globe Race in 1969 using similar technology.
A remarkable achievement that is being celebrated in its 50th year by a documentary from the Clipper team.

His skills as a navigator were recently commented on by powerboat world champion Shelley Jory-Leigh.
Shelley was appearing on The Business, a radio show on Southampton's 103.9 Voice FM and told a great story about how Sir Robin helped Shelley navigate Lime Bay during a grueling 176 mile race from Cowes to Torquay and back again.
The clip is below and it is fascinating to hear how Sir Robin's knowledge helped them leap ahead of powerboats that were twice the power of the one they were driving.


Shelley and Sir Robin co-hosted H2O, a much-missed radio show on BBC Radio Solent that focused on the sailing community in the Southampton region.
How to Improve Your Navigation Skills
Every sailor needs to know how to navigate with either the most modern equipment or the traditional tools. Did you know that the US Navy has to reintroduce the sextant back into their training as they had no suitable alternative to GPS?
Depending on your level of skills there are three classroom based RYA courses First Class Sailing offer. Each course is around 8 weeks long and taught by our very experienced sailors who want to pass on their knowledge while making it a pleasure to learn.
The Day Skipper shorebased course is for those that have done little or no actual navigation, regardless of whether you have a lot of sailing experience or none.
The course includes lots of navigation (including use of GPS and electronic charts), meteorology, collision regulations and safety procedures. [More]
This is a course in more advanced navigation techniques. It is assumed you will have done the Day Skipper theory course. The course teaches you about navigating safely on coastal and offshore passages. [More]
On the RYA YachtmasterOcean Theory Course you will learn how to fix your position with a sextant by observing the sun, moon, stars and planets. For the modern sailor it is not only a fascinating art, but an essential alternative to electronic navigation when crossing oceans. [More]
Links from the Blog
Celestial Navigators – Golden Globe racers get around the planet the old-fashioned way
The Business with Xan Phillips, 103.9 Voice FM – featuring Shelly Rory-Leigh (mp3 Download)
Posted by: First Class Sailing