Luxury Yacht Santosa Meets The Old Man of Hoy
1,963 views |
September 10th, 2019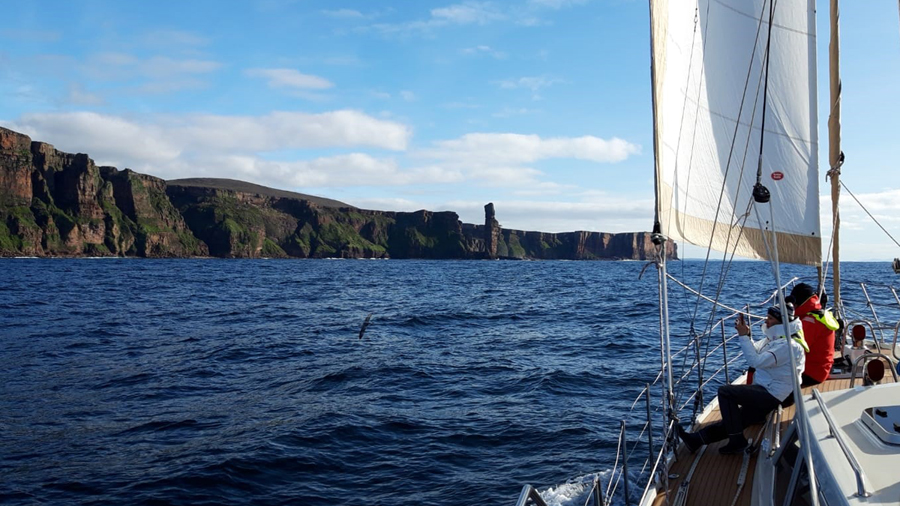 What's the first thought that springs to mind when someone suggest sailing around the northern isles? Is it the striking scenery, the peace and solitude? Meeting people living on the space between arctic and Europe? Or is it the challenge of the weather?
In this blog you get a mixture of everything as the luxury yacht Santosa sails from Shetland to the Orkneys.
Fair Winds for Fair Isle

We made a prompt start from Lerwick after welcoming Andrey and Marina on board Santosa on Tuesday 3rd September. The weather forecast wasn't promising but as we had spent the day exploring Shetland we wanted to get going and make Fair Isle before the gales forecast for Wednesday afternoon. The alternative was staying Lerwick until Thursday.
Sandwick provided a view of the largest Pictish broch in Europe, a lone pilot whale sighting and a very roly anchorage but shortened the journey to Fair Isle and after a sunny and benign crossing we tied up on the wall at North Harbour – much to the amusement of the resident grey seal population.
Gales Sock It To Santosa

True to the forecast, the gale force winds hit at 1600 and built steadily from the north, backing into the north west overnight.
Although we were fairly sheltered behind the breakwater, we had an anxious night of getting up to check lines & fenders and a couple of poor Santosa's personalised fender socks didn't survive, despite utilising half a dozen extra fenders helpfully left out for visiting yachts.
Fair Isle is an extraordinarily beautiful place with dramatic cliff formations populated by ferocious arctic skuas. A sunny morning tempted Andrey into the water for a very brief dip in the sea. He was very grateful for Santosa's super-hot showers when he got back on board.
Meeting The Old Man of Hoy

Onwards from Fair Isle & we had a bit of a cold, wet beat to Stronsay. From there, the bright lights of Kirkwall beckoned & we were grateful to tie up on a pontoon in a marina with shore power, water & diesel.
A ridge of high pressure built through Saturday allowing us dramatic views of the West coast of mainland Orkney and we headed south as far as the Old Man of Hoy, before berthing at Stromness marina last night.
Today we will explore Scapa Flow – more to follow shortly…
Kind regards
Sue
Join Santosa As Guest Crew For A Luxury Adventure

It could be a holiday of a lifetime sailing with Santosa. It is perfect for couples who want to sail but also enjoy creature comforts in an adventurous location. You'll sail as Guest Crew and have a double cabin with ensuite. Full details are here, visit this page for the Lofoten Islands holidays.
The adventure doesn't stop, read more Santosa stories here.
Posted by: First Class Sailing