Day: 9 The Race Is Hotting Up
397 views |
December 4th, 2018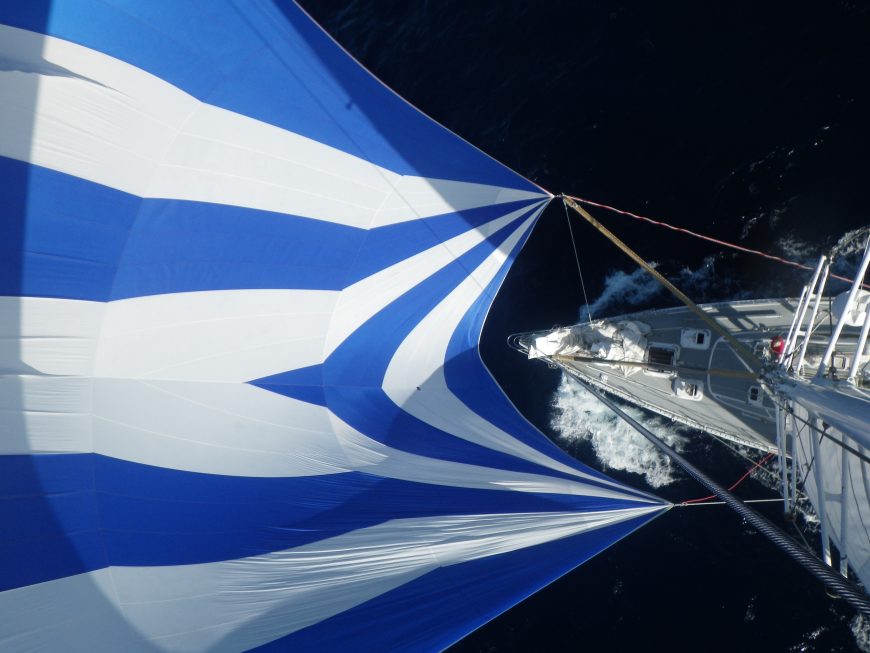 Monday 3 December
Today's main event was the "half-way party" which was the strangest and most wonderful mid-ocean celebration most of us had ever attended. We are celebrating being slightly more than 1,550 nautical miles into this race, with a "short" 1310 Nm left to run. THAT, ladies and gentlemen of the internet, is reason indeed to be happy. We have had great weather and spectacular times on Challenger Four during the first half of this voyage.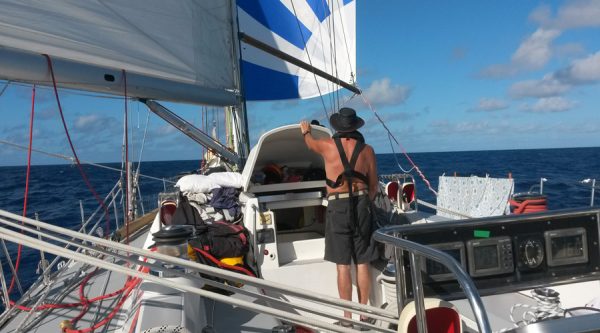 As you may have sussed from yesterday's communication from us (sorry for the dodgy rhymes) we have also been lucky enough to have the full spinnaker out during truly idyllic conditions yesterday, and for many on board, watching our First Mate clamber up a line, dangling precariously over the open seas, then "spiking" the spinnaker shackle to let the big kite fly was a first that shall not soon be forgotten. We then executed a somewhat professional "letterbox drop" with the entire spinnaker (larger than the size of an indoor tennis court) glide through a tiny gap between the boom and the main sheet, collapsing the air out of the pocket, then dragging all of the sail down the companionway where it is quickly repacked below decks. It'd be good to have more practice at all of these components, perhaps during future races, but what fun to do it on a 72 foot Tall Ships Trust boat. (Top tip: if you're a little nervous about your loved one participating in this sport, DO NOT LOOK at the photos that are sure to be posted online – they'll have your heart in your mouth)
You'll be in a good position to independently verify this at home, but our racing position relative to the other boats seems to be just fine, thank you very much. We have no genuine aspirations about winning this sort of thing, certainly not in a 47 tonne vessel, but despite our "handicap" we are really doing well. The helming is steady and competent across all of our crew, and staying as close to the rhumb line is part of the winning formula. We have pushed this boat as hard as we dare, given the nearly exclusively amateur crew. Many on board have already crossed oceans… Ricky has done a circumnavigation in the Clipper race in the same ships, Kirstie is now on her sixth crossing, but others also have sailed the Atlantic, the Pacific, or other large bodies of water. The most-fair competitor is the other Challenger yacht (3) as they are the same design and weight, but yet we may also arrive in St Lucia ahead of one or two others. This is good.
It's good for all sorts of reasons, including that we are all so thirsty that we fear St Lucia will run out of beer or rum (or both) after our arrival. We will be sure to have a glass or two on arrival to mark our accomplishment, but for now, our mid-ocean party will suffice nicely. We were advised to bring fancy dress, and there is undisputable photographic evidence that there were a variety of maidens and pirates and other nautical beasts on ship, including a giant squid/octopus, a Rastafarian princess, and a Finnish policeman. When he came up on deck I thought he was going to sing YMCA by the Village People. It was fun, supplemented by some edibles and liquids in cups, but far more civilised than it will be in Rodney Bay. Nice time.
The weather forecast remains perfect, we haven't split any sails, and the water-maker is working. We have nothing to complain about, and we can start the countdown to our arrival. The next major milestone will be when we get to less than 1,000 Nm to go, when we will be swapping salt water teeth brushing for hot showers and fresh clothes.
You may all, dear readers, have heard of the legendary French yachtsman Bernard Moitissier, who changed course for Tahiti despite being near the winning finish of the first solo circumnavigation. For those of us with large in-boxes of work-related emails awaiting us upon our arrival in St Lucia, we can relate to his decision. There is a certain paradise here at sea, undisturbed and un-interrupted by the daily mayhem of shore-based life. Is Teresa May still Prime Minister? Are interest rates rising too quickly? Perhaps we too will commandeer this boat and change course for Tahiti… if we do, you'll understand why, and it'll be our gain. Out.
Marsh and Wendy
Tuesday 4 December
So after another starry night, the sun rises on a hot tropical day. The crew of Challenger 4 awake maybe just a little worse for wear, but always a cheery smile and 'Good morning!'
Now into our second week at sea, we are finding the allotment is almost empty …apart from potatoes! No potato famine on this boat! We may have to start on the sweet potatoes tomorrow! Mother watches are now having to get just a little creative with the contents of jars and tins…but never mind – the more of these we use, the lighter we are and the faster we go!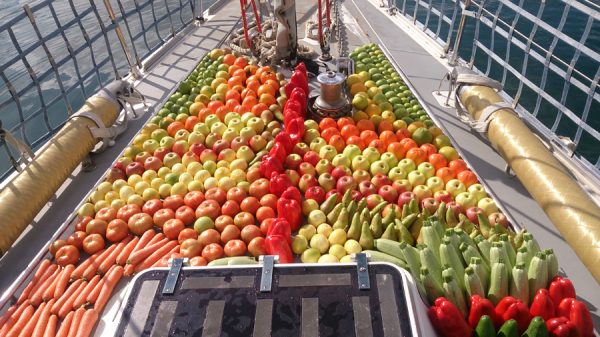 The Race Is Starting To Get Interesting
Things are starting to hot up in the race now, as we see a few more ARC boats beginning to converge on our AIS (Automatic Identification System). At night we can even see their navigation lights on the horizon. However, our main competitor, Challenger 3, is nowhere to be seen…as yet! But may be lurking just out of sight? We have to await our 12 o'clock update on positions.
There's a good Atlantic swell rolling through underneath us, which is always good… if you want to wear your breakfast! Chores like washing and cleaning become akin to something out of the 'Generation Game'! Only mild bruising sustained so far and Challenger 4 wears her washing well.
There's a certain Caribbean feel on deck today too, as the call of Bob Marley 'No Woman, No Cry' and 'Stir it Up' lead us on to St Lucia on this the ninth day of our voyage.
Lunch calls… cous cous all round. Bon Appetit!
Skipper Ricky's Log
Date : 4 Dec 2018 Monday
Time : 12:00 GMT
Position : 17 46.3 N 41 21.2 W
Position : 1200nm due East of Antigua
Destination : St Lucia (Rodney Bay)
ETA : Dec 12 (GPS), Dec 12 (Ricky) Dec 11 (Kirstie)
DTF : 1149, Trip1 : 1757
24 Hour Run : 207
COG 260, SOG 7.8
TWD 084, TWS 18
Fuel : 3 full, 1 in use
Water : 3 full, 1 in use and filling – Watermaker on – 21.34L/hr,
Gas : 2 full, 1 in use, 2 Empty
Notes and comments :
Generator running well
A few waves knocking the helm last night made for big wobbles every now and again.
All enjoyed the party and are torn between staying at sea forever or the anticipated ARC party in St Lucia!
Amazing Star display overhead with plenty of shooting stars as well. By the 6th, we should have about 80 shooting stars an hour which will be fantastic. Wind forecast looks like we will have steady progress all the way to St Lucia with the only difficulty being trying to get the best course for the wind angle and not losing too much VMG by heading too far North or South off the rhumb line (aka the Rum line).
Southern Cross is now visible to the South about 10 degrees above the horizon with the two pointers pointing down to it from above. Good to see an old friend again.
Book Your Own Atlantic Adventure
If this blog has inspired you to have a voyage across one of the world's oceans then start speaking to the team in the office. They can assess which Atlantic voyage will be good for you and, if you need it, what course would take you to that level.
Fill in the form below and they will call you back.
Posted by: First Class Sailing