Clients Praise Instructors At First Class Sailing
1,262 views |
October 24th, 2019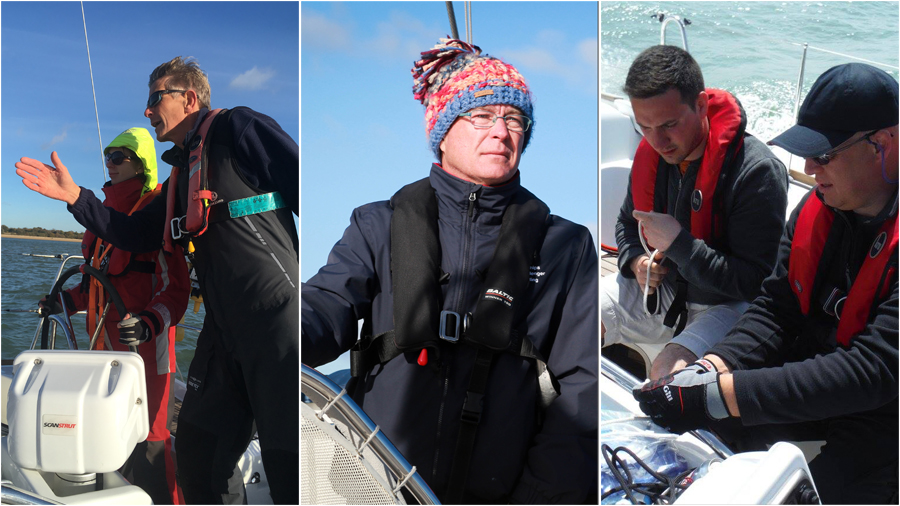 Every aspect of your RYA course with First Class Sailing, from the yachts to the all-weather clothing and food is meticulously planned. But it wouldn't be worth anything if the instructors did match those same qualities.
On a voyage the balance and make up of the crew is important, especially when you are being taught. At First Class Sailing we ensure that our instructors not only have the right levels of experience and knowledge but also the correct temperament.
As we all know, there's nothing worse than being barked at or feeling you can't ask a dumb question, especially when you are paying for the experience.
Of course, during a voyage you will expect a firm instruction to be given at crucial times but that is part and parcel of the skipper crew relationship; you will be in that same position one day, so our instructors are here to bring you up to that level, not to come away feeling that you've experienced a boot camp.
But don't take our word for it, here are some customer reviews from the past 12 months…
"Hugely knowledgeable…"
"Just spent a fantastic three days sailing around the Solent getting a little more experience before for day skipper course I want to do in early 2020.
Peter our instructor was fantastic, hugely knowledgeable, gave clear instruction (stern/direct when required), prepared good food and proved good company. I Felt completely safe at all times even when the winds and waves picked up.
The yacht was fantastic, spotless and new. I want one. Learnt loads, greatly improved my confidence and I feel well prepared for the Day Skipper course so all my goals satisfied.
I would have no hesitation booking with First Class again. Looking forward to my next adventure with them."
Dave Jones, October 2019
"I did the Competent Crew course in April 2018 and followed up with my practical Day Skipper in September. The instructor Ashley is fantastic, with a great balance of teaching and guiding you on the one hand and trusting you so that you can learn by doing on the other.
The boats are great, food provided is of good quality and I'd absolutely recommend First Class Sailing to anyone who wants to advance their practical and theoretical sailing knowledge."
Anna S E Lundberg, 2018
"Brilliant instructor…"
"Spent a week in March 2019 doing my day skipper practical with First class sailing, gained lots of knowledge and experience from a brilliant instructor on a beautiful new Beneteau oceanis 38.1 highly recommended."
Phil Palmer
"I have had the most wonderful time onboard. Brand new boat (Beneteau Oceanis 381), excellent instructor (Thanks Simon), very helpful staff at First Class Sailing, and luckily we had the best mix of students.
I would recommend First Class Sailing to everyone. When the time comes, I'll most probably choose them for my Coastal Skipper tuition."
Hakki Eres, April 2019
"Had a great week onboard one of the First Class Sailing boats with skipper Jamie, doing my Day Skipper License. Excellent experience from A to Z – planning, equipment, food, teaching, social and follow-ups after the course! Thank you!"
Kasper Hellberg, December 2018
"Genuinely great laughs…"
"Competent Crew: Had a great time with Peter and first class sailing. The two weekends set up worked really well for me, as an easier option than taking 5 days off from work. Got a lot of experience being out on the boat all day, each day; learning 'the ropes' and practicing manouvers a number of times (but never enough to become tiresomeor or boring), and taking turns on each role.
Peter was a brilliant instructor very patient and helpful, great at explaining things- no question's a silly question type guy. The trip was made by the other people I was on the course with, everyone got on brilliantly and W had some genuinely great laughs. Highly recommend! Thanks again!"
Nikki Jenks, 2018
All of these reviews can be seen on Google, there are more on TripAdvisor and if you have any questions please call the friendly office crew on 023 8001 1077
You can find all of our RYA Courses here
Posted by: First Class Sailing