Antigua To Portsmouth Day 15 & 16: Life On A Port Tack After Horta
787 views |
January 28th, 2019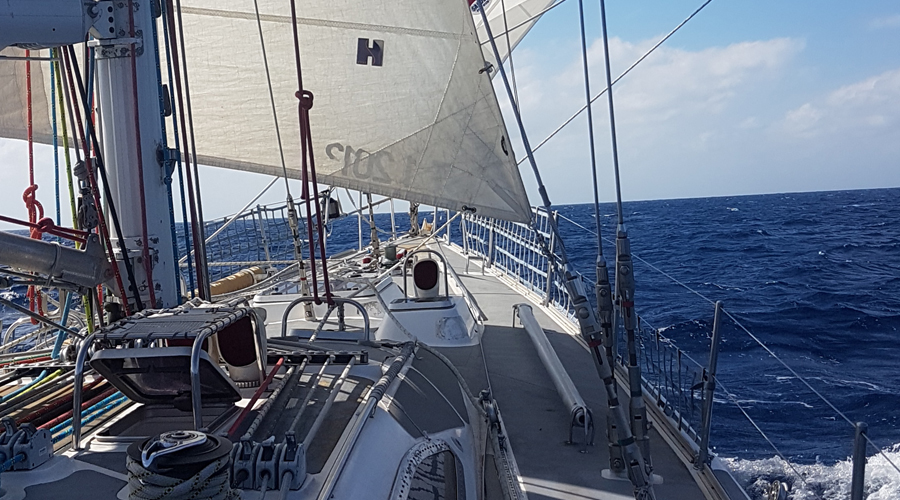 The Crew of Challenger 4 are finally making way again, but have to cope with life on the opposite tack for the first time in 2850 miles. But first, we're brought up to speed on the festivities that took place in Horta.
25/01/19
What happens in Horta stays in Horta…
As we were the first transatlantic visiting yacht this year it was perhaps unsurprising that a quiet fishing harbour village, Horta, in the archipelago of the Azores was 'rocked' by a dishevelled bunch of drunken sailors in the early hours of Monday morning (21.01.19). The local and respected 3rd generation tourist attraction, Pete's Bar was victim to rowdy behaviour and very poor singing.
Having been, for most of us, the longest yacht passage we have done and for many the longest period without a 'drink' since starting adulthood, there was much relief and merriment as we disembarked the boat and headed for a 'quick drink' ashore, at 10am..
Several hours later and looking even more dishevelled the last standing members of crew were attracting peculiar looks from the cruise ship passengers passing through taking photos of Pete's Bar.
From here it was time for catching up on much needed sleep, learning to walk on land again, showering in warm constant flowing water and not throwing brown paper bags out of the window.
Some chose to take advantage of the off peak rates at local hotels whilst others remained on-board and used the marina facilities for showering, shaving and laundry, bliss.
The Azores are striking islands formed by volcanoes and they are generally green with fresh breezes and lots of rain showers. The people are friendly, the prices are affordable and the restaurants were very good. With a few excursions, museums visits and walks it was for all an enjoyable 3 days. We even managed to add our own unique addition to the thousands of dockside painted murals left by visiting yachts and have now headed back out for the next much colder stage and hope to make landfall in Falmouth in around 7 days.
Mother Watch: Mark, Mike and Chris L.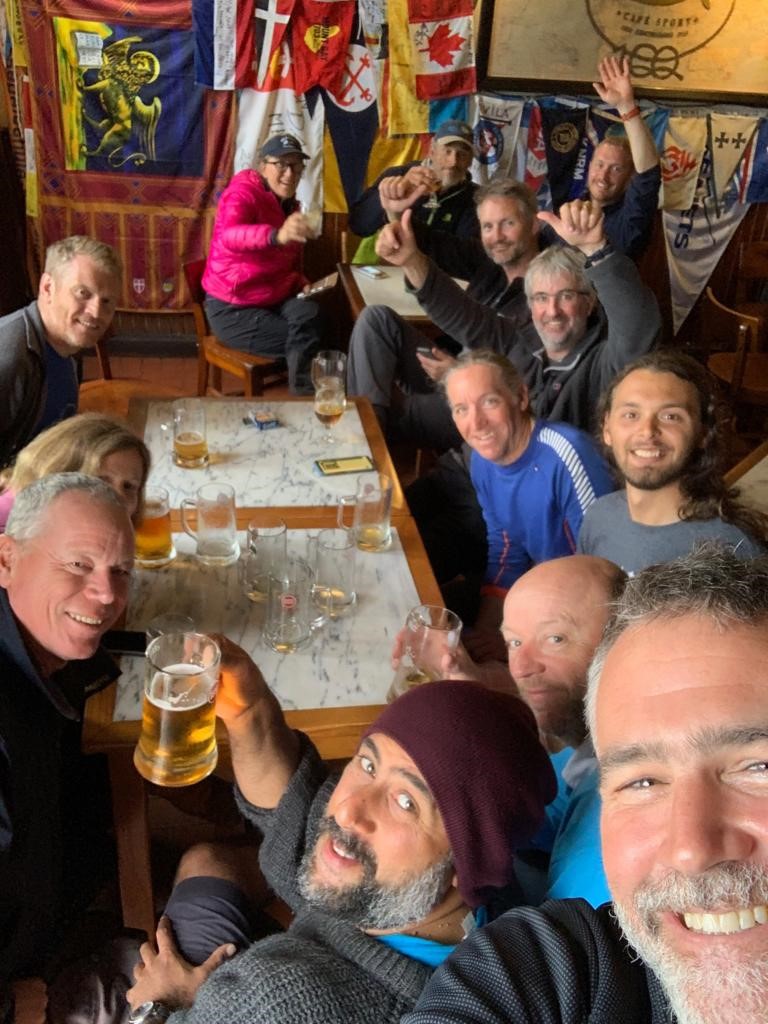 Ships Log: 1700 UT 26/01/19
We are writing this blog for the first time since Antigua on a port tack. I am amazed that we have travelled over 2850 miles on a single tack. The opposite lean on the boat has made things a bit more difficult today for those of us on Mother Watch. While previously the slant of the boat meant we were leaning towards the sink now it means we are having to lean towards the cooker which is a challenge when there are several large pots and two kettles on it. Apart from the challenges on Mother Watch 50% of the crew will have a more comfortable sleep tonight as they will be leaning on the opposite side of the pipe-cots rather than on the straps which are designed for keeping them from falling out of bed.
Over the past two days we have had some good wildlife spotting. One sea turtle and numerous dolphins which make for amazing viewing when seeing them play in wake of the boat when the sea is shimmering with the bioluminescent algae. Since the Azores we have also seen a great deal more seabirds which is unsurprising with our relatively close proximity to land. One other piece of interesting news is that we overtook a Russian Cargo ship which was reportedly travelling to St. Petersburg.
Setting out again for the second part of the trip has been interesting. On the first leg from Antigua to the Azores people didn't really know what to expect so the sense of relief to finally start and 'get into the routine' was instantaneous. After leaving the Azores it seemed that some of the crew were a little slow to get back into the routine but Sue the Skipper said that it was quite common.
Anyway, it has been a long and tiring day looking after everyone so until the next mother watch.
Bye from Ryan, Clive and Bjorn.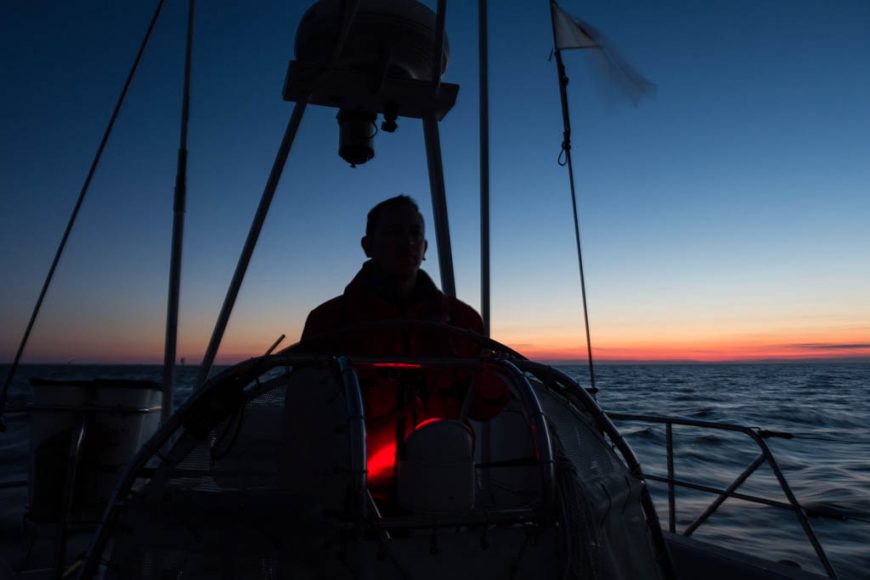 Skipper Sue's Log
Date : 26/01/19
Time : 12:00 UT
Position: 42  46.7N 22  26.03W
Destination : Falmouth
ETA 31st Jan 2019
DTF : 844NM
Fuel : 3 full, 1 in use
Water : 3 full, 1 in use.
Gas : 2 empty, 2 full, 1 in use
Sail plan: 2 reef, Y2, Motor Sailing
Wind:  4kts various deg apparent
Dear All
Having made another 200nm plus day leaving Horta our wind dropped to around 3kts in the early hours of this morning. We are therefore motoring with two reefs in to stop any flogging of the main sail and watching the windex spin through 360 degrees in a very confused wind state. The aim now is to motor on a direct course towards Falmouth in the hope we can pick up the north westerlies on the other side of the high pressure that is tracking west to east. Some of the crew have expressed a desire for some strong wind to finish off the voyage and currently there is a prediction of 40kts for Tuesday so it may be a case of be careful what you wish for. The advantage of the current light conditions is bacon sandwiches for breakfast.
You can read more blogs from this voyage or other Atlantic Sailing Adventures here
Book Your Own Atlantic Adventure
If this blog has inspired you to have a voyage across one of the world's oceans then start speaking to the team in the office. They can assess which Atlantic voyage will be good for you and, if you need it, which RYA course would take you to that level.
Fill in the form below and they will call you back.
More blogs about this Atlantic Adventure can be read here: Portsmouth to Gran Canaria
Posted by: First Class Sailing