Fastnet 2021 Day 1 – The Start
873 views |
August 10th, 2021
Challenger 1  – Daily Diary

WOW! 30 yachts retired, many de-masted, 35 to 40 knot winds, 2-3 metre waves and that's just the start!! Welcome to Fastnet 2021 and Challenger 1 crew's big adventure finally starts. After leaving Cowes in a heavy downpour and full ollies we set up the storm sails for the mainsail and the staysail as a race requirement and passed through the check gate. These were taken down and then the staysail storm went back up when the ever-increasing wind filled and the sea state became more erratic. 420 entrants each divided into 6 race starts. The start was busy and very wet! We were all very excited if not a little nervous. The team was revved up and ready to go.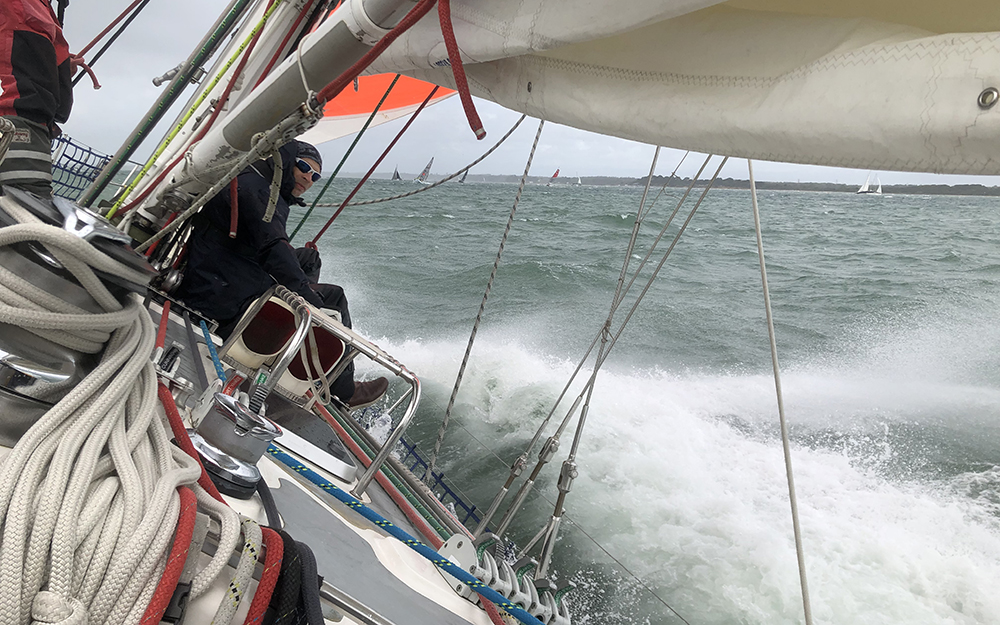 Our start 1155, the gun went and we were off helmed by our Skipper Mike, heeling over heavily, waves washing the lower decks, the crew working the winches hard to control the heavy yankee and the storm sail. Wind on the nose we beat up the Solent towards the needles with the wind increasing to over 35 knots as we approached the needles. Repeatedly tacking over and over again we really worked hard under the excellent instruction of our Skipper and his team.
After passing Hurst castle and the needles many onlookers watching the heavily heeled yachts from the shore we were out of the Solent to be met with 3 metre crashing waves, up to 40-knot winds, heavy waves of spray flooding the decks and over the crew, we were soaked!! We started the watch system unfortunate for those going downstairs and the fairground below. Into the night the wind blew and waves high it was an endurance survival!

The next day the sun came out and the wind still strong allowed us to enjoy our sailing and those who were poorly with seasickness to recover, we were loving our adventure, especially when dolphins crossed our path with a welcome and a jump.
Posted by: First Class Sailing