Our Norway Sailing Adventure 2019 begins
1,085 views |
June 18th, 2019

Our 2 week Norway adventure for 2019 has begun. Skipper Jim and Mate Tony are guiding the crew aboard Challenger 4, on their way to Stavanger, Norway. Once there they'll cruise the fjords for a few days before heading homeward again. They'll have to sail through one of the busiest shipping lanes in the world, the Dover Strait, before crossing the North Sea on their way up to the land of Vikings. Having settled into their rhythm a bit now, we have been sent our first two blogs from Days 1 & 2:
Day 1: First Class sailing adventure to Norway
Unlike my fellow sailing companions, I am entirely new to life aboard a boat (or a yacht, as I am reliably informed). In fact, it would be quite apt to describe myself as totally – but perhaps blissfully – ignorant to the challenges of an oceanic voyage north.
So, unfortunately, I can't speak much of our latitude or longitude, knots or COG; no doubt useful measurements to describe our journey's past and present. Other than to assure readers they are logged routinely in a navy blue book embossed with a golden buoy, and, recorded with the sort of masterly precision one can always find comfort in.
What I am able to relay is the great sense of escapism that accompanies the vastness of the ocean, the adventure shared amongst those of us watching the sun rise and set over the horizon, and the growing camaraderie that continues to develop beyond our first twenty-four hours.
Flo
Skipper's Log
Portsmouth disappeared behind us in a rain squall which gusted 25 kts and tested our wet weather gear. Challenger 4 leaned over under Yankee 2 and 1 reef in her main. We lurched along at 10 knots, she has seen so much worse. I thought we were in for rain all day, but to my surprise, the weather backed and the boat flattened. In time we shook the reef and poled out the headsail as we moved east and the sun came out.
The morning finds us gently motoring past a wind farm in a windless morning filled with sun, we have a long way to go and much to see on the way.
Challenger 4 OUT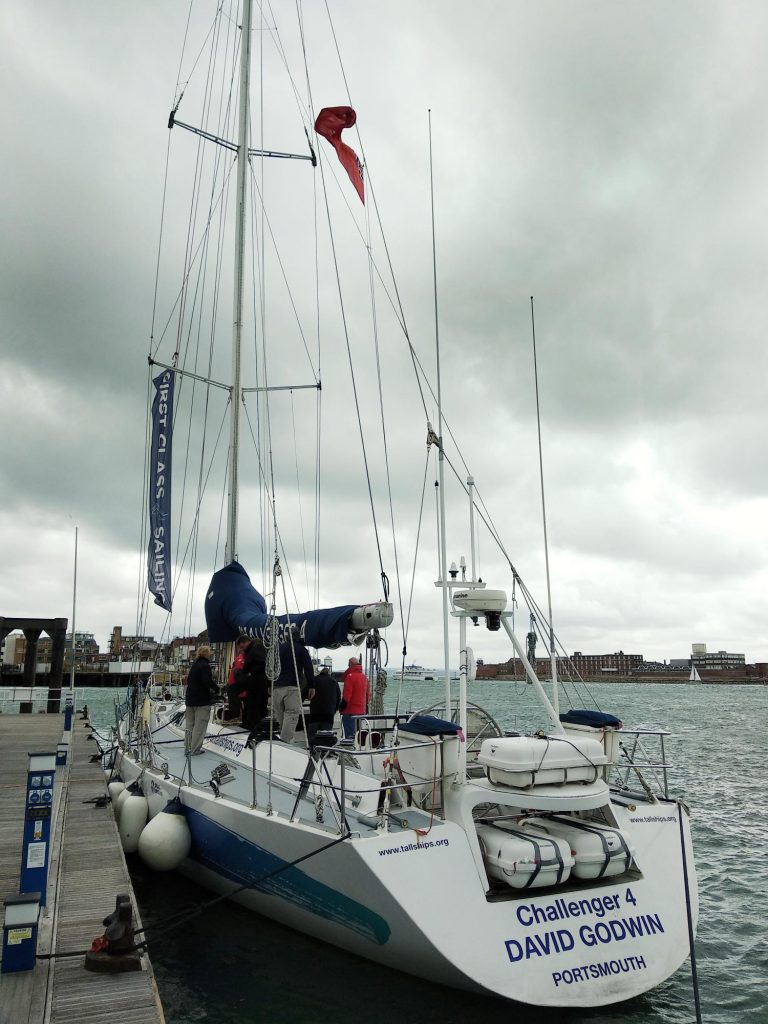 DAY 2: Wildlife Bonanza and faulty GPS
Tracking our progress on our Norway adventure through the shipping areas, we are currently in Humber and about to enter Dogger. Our ultimate goal of course, is North Utsire and South Utsire, so great, they named it twice.
Going through the Channel yesterday we saw a huge array of shipping but very little in the way of wildlife. However, since then things have changed starting with Mate Tony making a dubious and unconfirmed seal sighting. At around 4 in the morning we were joined by a pod of dolphins and later on, those that saw it, definitely saw a seal but in reality could have been a wave.
Perhaps not wild, but we currently have a racing pigeon in the snake pit who appears to have got stuck in some oil or tar somewhere and is recuperating before hopefully continuing his journey. We wish Pedro well when he eventually decides to leave us.
What started as a casual exercise in sun navigation using the sextant has led to confusion and disorientation. According to the sun's current trajectory across the sky, we are currently in Bournemouth. It is quite clear that the GPS is way off and some are questioning how we could have got our course so wrong.
Tony watch leader
SV Challenger 4
Follow our Norway sailing adventure and read more from our blog by clicking here
If you're interested in our other Norwegian sailing adventures then visit our dedicated online page at First Class Sailing
You can also check out our other sailing adventures across the Atlantic on Challenger 72's
Posted by: First Class Sailing