ARC 2018 Carribean Cruise
1,679 views |
December 19th, 2018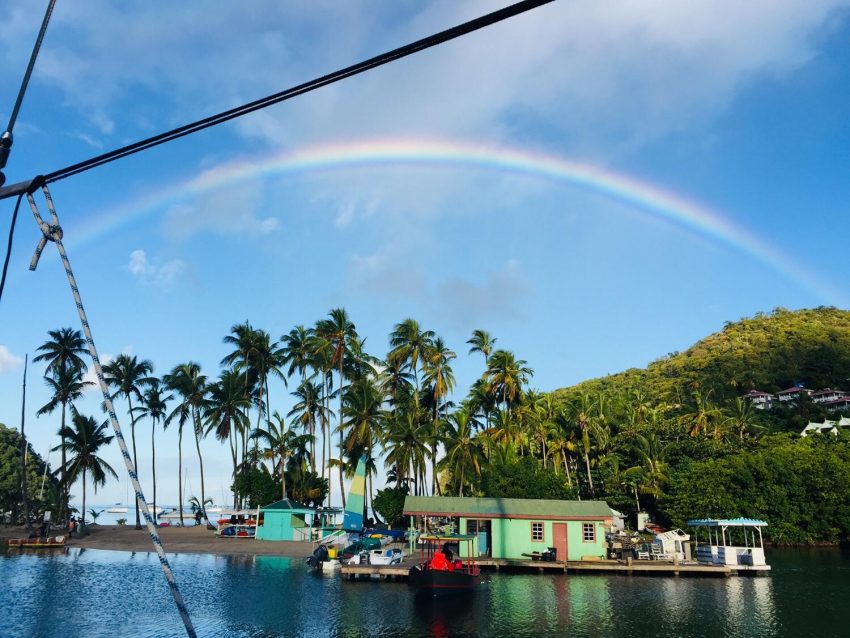 Ja mon! Well, the ARC is over and you're probably wondering what the crew have been up to for the past week. As they made great time, the crew of Challenger 4 have been able to spend an extra few days exploring some of the sights and sounds, and certainly rum, of the Carribean Islands. Below is a peek at what they got up to:
Finish And Shoreside December 10 to 12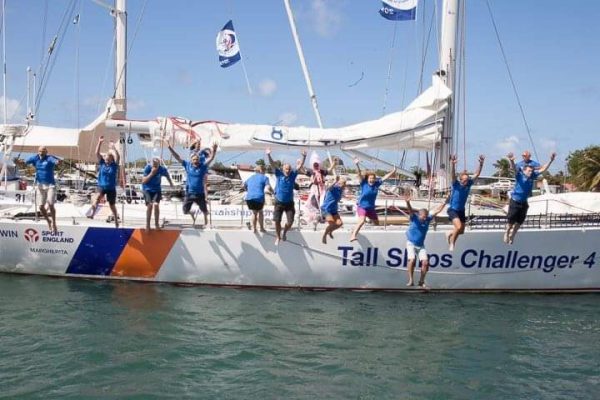 Rounding Pigeon Island and hardening up on the wind for the first time after 2900 downwind miles we paused to put a reef in. Simultaneously the event photographer appeared and asked us to line up on the rail for a photo. Somehow we juggled these demands and surged over the finishing line at 11.35 am winning Geri the sweepstake for Isaiah the Challenger mascot and us 5th place in our class and 22nd overall.
On the line to greet us was a catamaran full of Kate's friends from the ARC + fleet and many more cheering on the dock. A bit of fiddly manoeuvring saw us eventually alongside the pontoon with a wheelbarrow of fruit and rum and more photos. Tradition dictated a gleeful swim in the marina then off to the bar to celebrate with a Dark and Stormy and swap stories and put faces to the boat names we had been chasing night after night across the waves. Mark P says it only needs three letters to sum up the evening: R U M !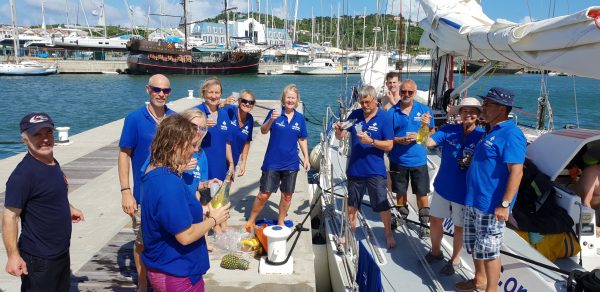 Tuesday 11 December
Today was a day of putting things to rights. Small issues needed fixing and the boat cleaning stem to stern as well revictualling and changing to cruising mode.  The crew worked hard all morning and enjoyed meeting John's lovely family and giving them a tour of the boat. How did Dad squeeze into that bunk? How indeed!
The afternoon involved a trip to the beach and for some the St Lucia Yacht Club and their famous rum punch at sundown.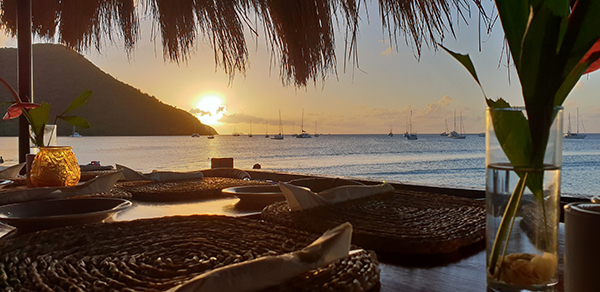 Marsh and Wendy left the boat to continue their honeymoon in a bit more comfort ashore but still met up with us for a delightful crew meal at Spinnakers Bar in the evening. Dancing followed and eventually the last of the crew found their way back to the boat in the small hours. It was sad to part with Marsh and Wendy and John but our crew was beginning to fragment as the real world intruded again.
Wednesday we collected the last of the clean laundry (and an alien batch from Hermes that somebody will be missing greatly). Then it was time to slip from the pontoon and head south for a bit of exploring and relaxation in the Grenadine islands. Wonderful! Beam reaching in sunshine into the unknown.
Kate
Caribbean Island Cruising – South Islands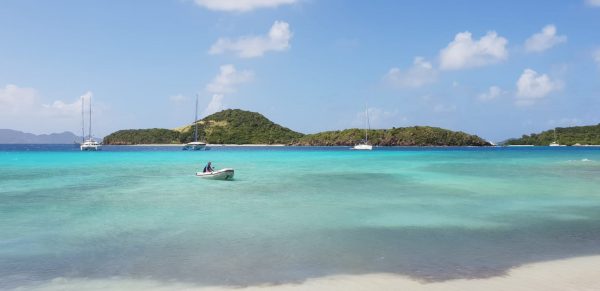 Thursday 13 Dec 2018
With our Yankee 2 and the occasional sound of the engine, this is definitely different to our Atlantic race! No sign of any poles …sailing on a reach feels strange after all the downwind sailing we've done. No Atlantic swell, but the wave pattern unsettled the stomachs of some of the crew and many chose to eat their spag bol on deck. Kate organised us into a rolling watch and which challenged some of whom had grown very familiar with our Atlantic watch system.
At 01.00, with head torches ablaze, the sails were expertly flaked, the hook dropped and the anchor light raised. Chatham Bay, Union Island was our anchorage for the night, but not much to see at this time of the morning, except for shooting stars, anchor lights of our neighbouring yachts and lots of fish excitedly feeding in our light.
Whilst the dinghy was inflated on the foredeck, and Alphonso visited again to try and sell us a lobster barbecue, Ricky and Kirstie kindly prepared our pancake breakfast.
Bev
15 December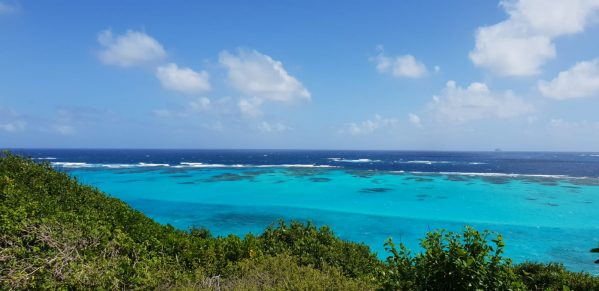 Challenger 4 has made the passage from Tobago Quays to Bequia and are now securely anchored in 5m of water outside Jacks Bar. Departed 0530, arrived 0930 Local.
Lots of swimming with lots of Turtles, Rays, baby reef Sharks and lots of fish (puffer fish, parrot fish, pike fish and many others). Great Lobster BBQ and some left over for lunch. Some sunburn issues – if the Port light goes out, I can just stand at the bow and use my nose.
Cracking sail to Bequia in 25-15 knots of breeze with a squall thrown in for good luck. Y2, Reef 1.
Planned departure from Bequia 0000 (midnight) for an early arrival at Marigot Bay on the morning of the 16th. Mikko departs for a ferry at 1400 and Mark for a flight at 1800. More crew departing 17th.
Hope all having a great time in the UK, and CH3 had a fantastic street party in Rodney Bay.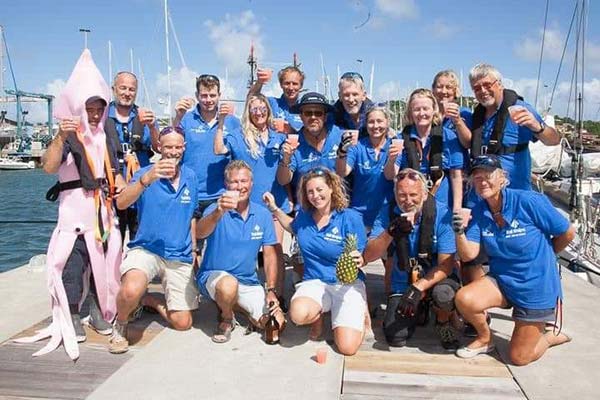 Book Your Own Atlantic Adventure
If this blog has inspired you to have a voyage across one of the world's oceans then start speaking to the team in the office. They can assess which Atlantic voyage will be good for you and, if you need it, what course would take you to that level.
Fill in the form below and they will call you back.
Posted by: First Class Sailing