Fastnet Race 2017: The Final Stretch, Still All To Play For
2,071 views |
August 11th, 2017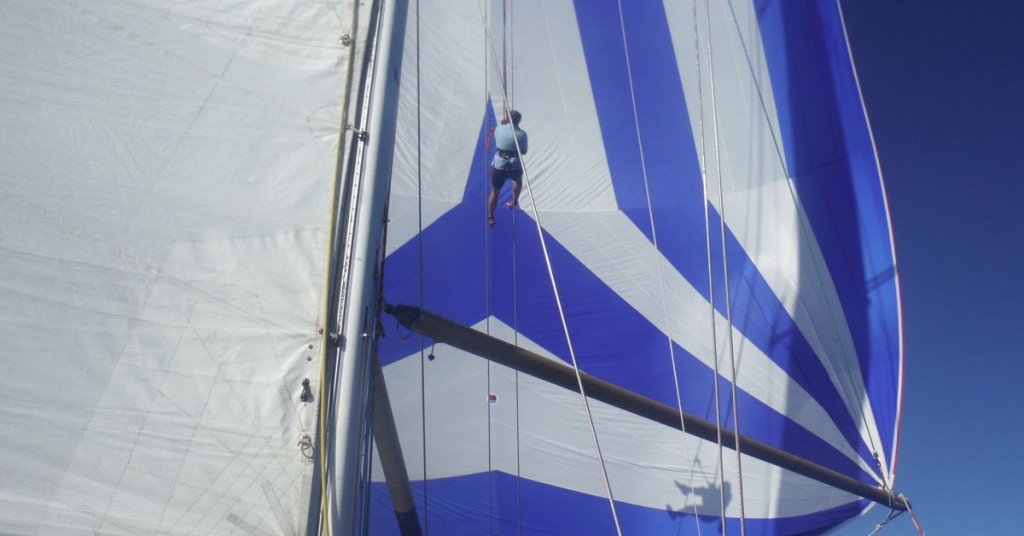 Challenger 3 spinnaker
August 11TH 2017 – Highlights of the race so far from Trevor and Beth plus news on the continual battle between Challenger 3 and Challenger 4
Still Leading…
Dear reader,
We are heading for the Lizard. Spinnaker aloft, flying beautifully, despite having been torn in the night. Given that our arch rivals in Challenger 4 are snapping at our heels we have been pushing all night. They are 7.9 miles behind, so if the race was another 600 miles they might overhaul us.
Last night we sped through moonlit sea under Yankee 1, whilst down below a team stitched up the tear and by early morning the spinnaker had arisen, as if from the dead. Our entourage of dolphins are still in attendance, so we have seen them all the way out to the rock and back. If we make it time we are inviting them to the post-race party, so lay on extra mackerel baps.
We've used every single sail on the boat. Not for fun, but as the weather conditions have been so variable. We've had glassy calm conditions right through to big rolling waves bursting over the bow in the night.
Highlights
Some highlights – finally spotting the flashing light atop of the Fastnet rock (it exists!!); seeing the Rock at night, silhouetted by a full moon; steering towards the setting sun whilst behind us the full moon hangs a hand's breadth above the horizon in gin clear skies; a dark ragged edged cloud spitting hail stones and then sweeping past to form a giant double-ended rainbow against the blackness; dolphins at dawn (and morning, lunchtime, afternoon, evening and night!).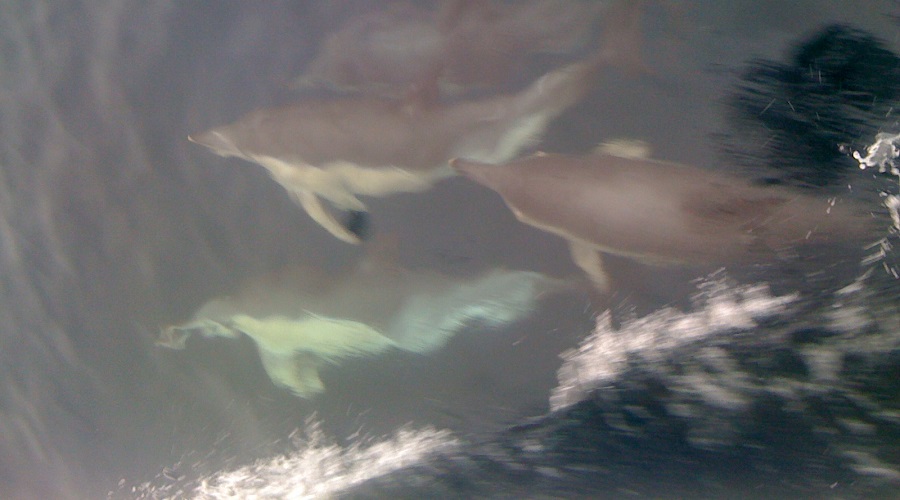 Challenger 4 are now 8.4nm to our stern – but over the radio comes a call from the Stavros S Niarchos, wishing us luck but threatening to block our way. It turns out that Sue (skipper of Challenger 4) previously was the cook on Stavros and so they favour helping her!
A Happy Ship – Ahhaarr
Those onboard Challenger 3- have all formed a tight bond – this is a happy ship with a happy crew. Made even happier by the prospect of finishing under sail, showers and beer (not necessarily in that order) – finally, all happening in the next 8 hours. We are now counting down.
As Trevor and I are eternally grateful we are able to write this blog without a sick bucket in sight, nearly a week at sea has made hardy sailors out of us. On that positive note, we'll sign off – listening on channel 16. Out.
Trevor and Beth – Challenger 3 Mother Watch.
You can read yesterday's blog here: Finally, The Rock
Posted by: First Class Sailing