Round The Island Race 2014 – A Skipper's View
3,037 views |
June 24th, 2014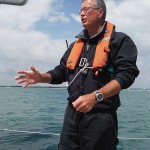 This year a crew from First Class Sailing took part in the 2014 Round the Island Race on Challenger 3, on the yachts from Tall Ships. As you may be aware it wasn't what everyone expected, but a great time was had by all, as you will read in the race blog by Skipper Ricky Chalmers!
Saturday 21 June, Race Day
8:20am After a (very) early 4:30am rise and a dash to the start line to wait for the race to begin. We un-ceremoniously bobbed over the line a good five minutes after the horn and began the race with enthusiasm despite the lack in winds.
After a fair few ducks behind some lighter boats we're not winning but there's a long way to go…
11.00am The wind picked up on nearing the needles which caused a little more action. A final tack allowed us time to prepare and raise the spinnaker.
The wind died a little as we cornered the back of the island allowing the crew time to relax for some needed refreshments of squash and crisps!
Those eagle eyed can sight the other challenger yachts not too far in the distance ahead of us… there is hope for a race yet!
12.45pm Currently passing Marsh Chine en route to St Katherine's Point. Sadly the spinnaker had to come down as it was restricting our ability to point high enough to clear St Katherine's without tacking.
Chris and Davide seemed to enjoy packing it away, though it did make them sweat a bit!
With the Yankee 1 and staysail up we're only making about 3.5kts over ground, not enough to catch the other Challengers, all of whom seem to be making over 4.0kts. Must be the big breakfasts we had slowing us down?!
13.45pm Having conferred with Challenger 1, discussions are being held on board as to when we should look to put the engine on and make our way back to Cowes under power.
Challenger 1 have made the decision to give up at St. Katherine's point – we're yet to see if this is a tactical announcement or if their intention is true!
All onboard Challenger 3, after a time break-down from Ricky, have decided to plough on ahead to see if we can make it further than the other Challenger boats (this would be a win of sorts…!) or to see if the wind picks up at all a bit later this afternoon.
We have plenty of biscuits on board, the sun is shining and the crew are content to remain as we are for the time being!
…
Running out of biscuits, so only one thing for it… engine on and gun for Cowes… ok, so maybe the fact that there's no wind and we've bobbing around for 10 ½ hours played a part in the decision to call it a day race wise, but a valiant effort was made and now we get to sit back and enjoy sailing past the smaller boats who are hanging in there spinnakers flapping in the wind.
If you would like to a crew member in a similar race we have two coming up that might interest you: Bookings are now taking place for Fastnet 2015 and of course the the next Round the Island Race.
Posted by: First Class Sailing